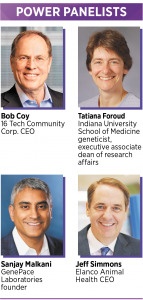 IBJ hosted its annual Life Sciences Power Panel virtually on April 30, with four of Indy's biosciences leaders: 16 Tech CEO Bob Coy, GenePace Laboratories founder Sanjay Malkani, Elanco Animal Health CEO Jeff Simmons and Indiana University School of Medicine geneticist Tatiana Foroud.
The panel, moderated by IBJ reporter John Russell, discussed the impact of remote work on research and collaboration, Indianapolis' place in the life sciences industry and what increased research funding means for the region, among other topics.
The following is a shortened and edited excerpt from the conversation. You can watch the entire conversation at ibj.com/videos.
How has the pandemic changed the life sciences industry in Indiana, with a year of work from home but a big push on product development in the wave of COVID-19, from testing to hospital treatments? Bob, can we start with you? You told me that you had a hard time even finding your suit this morning because you haven't been dressing up this year.
Coy: This is the second time I have had a sports jacket on in over a year.
So, how has the pandemic been treating 16 Tech?
Coy: In many ways, we have been fortunate because, at this stage of our development, there are a lot of real estate projects that are underway. During the pandemic, we were able to complete our first building, which houses the Indiana Biosciences Research Institute, the Central Indiana Corporate Partnership and the IU School of Medicine. … We were able to complete that project and open that building in August.
At the same time, we were working on another construction project, our innovation hub, which we call HqO, which is the former headquarters of the Indianapolis Water Co., and that building opened in March. The first building is fully leased and HqO is leasing up pretty quickly. So we may have threaded the needle just right.
Dr. Foroud, has the School of Medicine been operating on a remote basis or in person? Are researchers in the lab?
Foroud: A lot of people spent part of [the pandemic] … helping us tackle COVID. Within IU Health, there have been individuals who have obviously been treating patients. We have developed COVID laboratories so that we could do testing, we have been involved in clinical trials helping to try to get us out of COVID, and now there are studies that are starting to look at what happens to people long term, in terms of COVID long-haulers.
I would say the researchers have spent time writing grants, there has been a lot of work now that we are back into the laboratory, and there is a lot more work in the laboratories. So, I would say the same thing: People have learned how to be productive in lots of different settings and I hope we leave this thinking about how to do work in new ways and continue that productivity.
Mr. Malkani, the last time we talked, your startup was getting into the testing space for COVID-19. It sounds like COVID may have been a great opportunity for your company and not a huge setback.
Malkani: Obviously, [this is a] devastating time for humanity, but what is interesting … is that leaders are coming together—between small companies, education, major corporate players and government-supported entities. And it is nice to see this kind of focus and collaboration that's possible. … It is easier now than ever for any one of us to contact each other and begin working on something that is critical for humanity.
I think more so than ever, it is easier to hire in this economy better people with a mission to do something good. … I think [that] really will empower all of us into the next kind of wave post-COVID.
It sounds like the pandemic hasn't really battered the life sciences industry. Is that unique to our industry?
Simmons: I think it's the quickness. I think you need collaboration to drive an ideation and partnership, which ultimately is innovation. This goes down to ideas, people and capital. That's what Aaron Schacht, our head of R&D, always says. And I think a virtual world has made us faster.
An idea that happens at 8 a.m. can be a Zoom call at 2 p.m., and it can include a whole bunch of people, and you can share more quickly and more openly. I think also the virtual world has created partnership in another level as well. The virtual world quickly made us get into telemedicine, artificial intelligence, and being able to partner with four biotechs that we would have never had time to arrange the plane ride to go see.
Dr. Foroud, for the fifth straight year … the IU School of Medicine set a school record for research funding, received from the NIH, pulling down more than $214 million in funding in the 2020 federal fiscal year. Over the past five years, the school has increased its NIH funding by more than $100 million, or 95%. Does that mean the NIH funding pool is growing, or is winning this money just as competitive as ever for your researchers?
Foroud: The National Institutes of Health is the largest single funder of biomedical research in the world. So, it is an incredible opportunity for Indiana University to grow our research.
As you have said, we have basically doubled the amount of funding we have had from the NIH over the past five years. And you ask: Well, how does that compare to the funding that's available from NIH? Well, that's actually gone up about 5% each year. … Our proportion of NIH funding has grown faster than the increase of NIH funding.
If you look at that in terms of ranking, we have moved from 38th to 29th in terms of funding for NIH among all institutions. A lot of that growth has been in multiple areas, but I would particularly point out neuroscience, in the area of Alzheimer's disease. There has been a lot of growth in terms of cancer.
Is all that money allowing your researchers to expand their labs, to hire more lab workers, technicians, to do more partnerships with local companies?
Foroud: In terms of growing jobs, that's an absolute critical part of what we have been able to do, and I think what we are talking about is talent. We are right now the No. 5 institution in the country in terms of NIA funding—that's the National Institute of Aging—and that's really related to the strength that we have around neuroscience. What does that mean? This becomes a place people want to come and want to be in terms of neuroscience research. It is a great way to attract talent and really expand the areas of strength across our entire city.
Mr. Malkani, you formerly worked for … the toxicology division of Alere, which was bought by Abbott Labs. Can Indiana play a larger role in toxicology, from collecting specimens to running lab tests?
Malkani: It will, and by accident. I will explain that. So, one of the world's three top toxicologists is our chief scientific officer down at GenePace, and we actually weren't going to locate our laboratory here in Indianapolis. I hate to admit that here on stage. But he had sold his lab in Texas … and he said, "I want to open up a lab and deploy this new toxicology technology we have been working on."
And so, we looked at the University of Illinois Chicago, because he was from Chicago and was 70 years old and got tired of traveling. And I said, "Well, let's take a look at this [Indiana] Biosciences Research Institute." And we actually stopped in and saw 16 Tech and saw the IBRI, and he tugged my sleeve and said, "This is the best I have ever seen in the world." … And on his drive back to Chicago, he said, "I think we should do our toxicology business after we start a molecular lab in that building … ."
So, yes, not only [do] we already have a very supportive state, we have a big need here in the Midwest. We have a great FedEx center—I think it is the third-largest in the world after China. … We reach the country; next-day turnaround is very easy. … Indianapolis is very well-positioned logistically and with talent and with great universities to kind of fuel and feed that fire for toxicology here. It is coming.
Mr. Simmons, in December, you announced [Elanco] would build a new $100 million headquarters campus on the former GM stamping plant west of downtown and leave your current headquarters in Greenfield. How will moving downtown benefit Elanco and how will it benefit the life sciences community?
Simmons: We are excited about this. This is big news. It would start a little bit with the vision of what Elanco wants to do and then how we chose Indiana. … That will lead to the answer of what impact it can have.
Our vision in acquiring Bayer is, we are one of only a couple [of] companies in the world that can reach the world's animals. Nineteen species … well over a hundred countries. So, tilapia in China, water buffalo in India, cattle in southern Brazil, and cats in Seattle, we cover it. …
Our goal is to create an epicenter that can actually bring other partners in here—artificial intelligence, telemedicine, digital, that can actually be part of it. … We can create an epicenter here that then becomes a destination.
There is a little bit of intimidation for us to build a post-COVID facility, but there are very few cities with a GM stamping plant equivalent of 20, 30 acres open inside an urban setting. … Why Indianapolis? It was culture. And we say, with culture you don't know what it is until you are somewhere else. … It was the governor and the Mayor's Office. It was [Central Indiana Community Partnership] and 16 Tech and AgriNovus and BioCrossroads. There is a culture here of collaboration and partnership. But I think some boldness, too, to be able to say, "Hey, we want to make this city be something."
So this headquarters … is going to the west side. We believe and we want it to be not only a destination, this epicenter, this campus, but hopefully a catalyst to revitalize downtown and say: Hey, flyover states are cool now.
Coy: Your campus, the new IU health campus, and 16 Tech are all on the west side and they are all going to be under construction roughly at the same time. It is really going to be transformative for the city.
Simmons: We have to have a campus where there is collaboration, not just with traditional inside people, but outside.•
Please enable JavaScript to view this content.