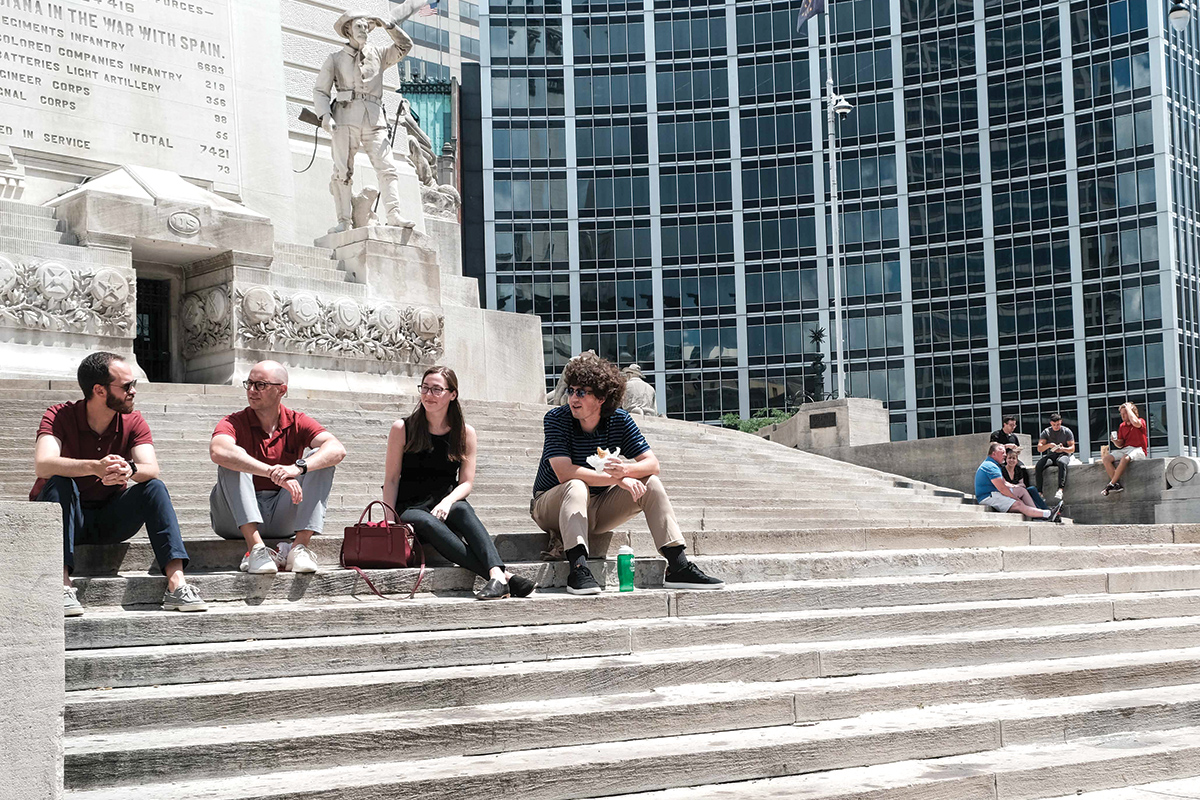 Although increasing numbers of downtown employers are calling their workers back to the office, it might be months before those offices return to their pre-pandemic capacity—if they ever do.
Some large downtown employers say they expect most or all of their workforce to return to the office full time. Others, however, say the pandemic opened their eyes to new ways of working, leading them to adopt hybrid models that now offer employees the option of working remotely at least part of the time.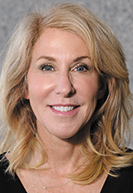 Pre-pandemic, 155,000 people worked downtown, said Downtown Indy Inc. CEO Sherry Seiwert. That includes companies between 16th Street on the north, interstates 65 and 70 on the east and south and the White River on the west.
But Seiwert said she won't predict what that number will be once companies return to whatever the "new normal'' might be.
"I think it's too soon to tell, honestly I do," she said.
At the moment, downtown office towers are about 52% occupied, compared with about 40% a month and a half ago, she said. Seiwert expects more employees to return after July 4 and then again after Labor Day.
Rich Forslund, an office broker with the Indianapolis office of Colliers International, said the downtown market is beginning to correct its 2020 losses, and he expects downtown to have most of its pre-pandemic office population back in the next year.
"We're probably going to acknowledge this remote work setup more than ever before, coming out of the pandemic," he said. "But I believe, over time, it'll right itself and people will be in the office again.
"I'm not saying that remote work will go away; it just won't be what it has been over the past year, nor will it be" something used by most downtown employers.
The numbers matter to downtown service providers, restaurants and retailers that depend on the traffic to keep their businesses afloat.
But even when more companies require employees to return to work downtown, it's not clear how often they will actually be in their offices.
According to Downtown Indy Inc.'s informal research, about 80% of employers are operating under a hybrid model, with employees in the office two or three days a week.
Most of those employers say they would like to transition their workforce back to the office full time over the next several months, Seiwert said. But not all.
Permanent shift
One of the most dramatic examples of a workplace shift has been Rolls-Royce Corp. The aircraft engine manufacturer confirmed this week that it plans to vacate most of its Meridian Center downtown campus by the middle of next year as most of its office employees shift to a remote-work model. Before the pandemic, about 3,000 people worked at the three-building complex at 450 S. Meridian St.
But Forslund said Rolls-Royce is something of a downtown anomaly, as that company was discussing a shift to remote work even before the pandemic. Toronto-based Colliers controls 4 million square feet of office space in Indianapolis, and in most locations—including downtown—plans that were tabled during the pandemic are being revisited.
"It's not like [most companies] are scrapping how they were working before and redrawing it to work differently," he said. "They're coming into the office … and their plans look just like they did before."
However, other downtown employers, including Indiana Farm Bureau Insurance, say they plan to use a hybrid work model permanently, as well.
Pre-pandemic, 486 of the insurer's 643 corporate employees worked from the company's East Street headquarters downtown. Another 90 worked remotely some of the time and 67 worked remotely all the time.
The company did a workstyle analysis during the pandemic and realized most of its employees didn't have to be in the office all the time, said Suzanne Henderson, its director of public relations and communications.
Under the company's new approach, only 33 corporate employees hold positions in which they need to be in the office full time. Another 501 employees have flexible positions in which they're expected to spend at least half of their work hours in the office. The remaining 109 hold jobs that they can do totally remotely.
The company formally adopted its new workstyle structure on June 14.
Since then, Indiana Farm Bureau Insurance has had an average of 200 employees a day at its offices, said Jennifer Brown, the company's director of integrated risk and strategy.
Brown said some employees are coordinating their in-office days with departmental colleagues so groups can interact face-to-face for meetings or projects. "We didn't necessarily anticipate that, but we are seeing it," Brown said.
She hasn't heard any indication that Indiana Farm Bureau Insurance will downsize or move its headquarters, she said. The company reconfigured its offices in 2017 and 2018, doing away with fixed workspaces and moving to a setup in which employees can use any workspace they choose. That arrangement is well-suited to the company's new workstyle structure, Brown said.
Flexibility, the new norm
Indiana Farm Bureau Insurance's downtown neighbor, the health insurer Anthem Inc., said it plans to return to its Lytle Center headquarters, on Virginia Avenue, after Labor Day. But return to the office is voluntary and for those who are fully vaccinated.
At the same time, the company—which announced three years ago it would spend $20 million to renovate its operations center near downtown into a new headquarters, after vacating its longtime headquarters on Monument Circle—is embarking on a more flexible plan for its more than 3,000 downtown office workers.
"While Anthem will remain an office-based company, the role of our offices is evolving to serve as collaboration spaces for greater flexibility, productivity, enterprise thinking and innovation," the company said in an email to IBJ.
Anthem officials did not respond to several emails asking specifically how many workers are expected to return to the office, or whether the company plans to downsize its office footprint. But the company noted that it is operating under a long-term lease at its Lytle Center campus.
OneAmerica Financial Partners Inc., which is planning a return to the office in September, also intends to shift to a hybrid work structure.
Pre-pandemic, the insurance and retirement-services company had 1,700 employees working at three office sites downtown.
Chris Pohl, vice president of total rewards, talent acquisition and human resources services at OneAmerica, said the company is "embracing a hybrid future, which will bring our associates together weekly while giving many the flexibility to also work remotely as their roles and responsibilities allow."
Pohl also said OneAmerica has reopened its offices "on a voluntary and limited basis" so employees can gradually adjust to on-site work.
Indiana University Health, which has 15,000 hospital and administrative employees downtown, reopened all its offices June 1. The health care system said hybrid work will be rare, but employees will have the option to work totally remotely if their job duties allow it. IU Health said its facilities and office space should remain about the same.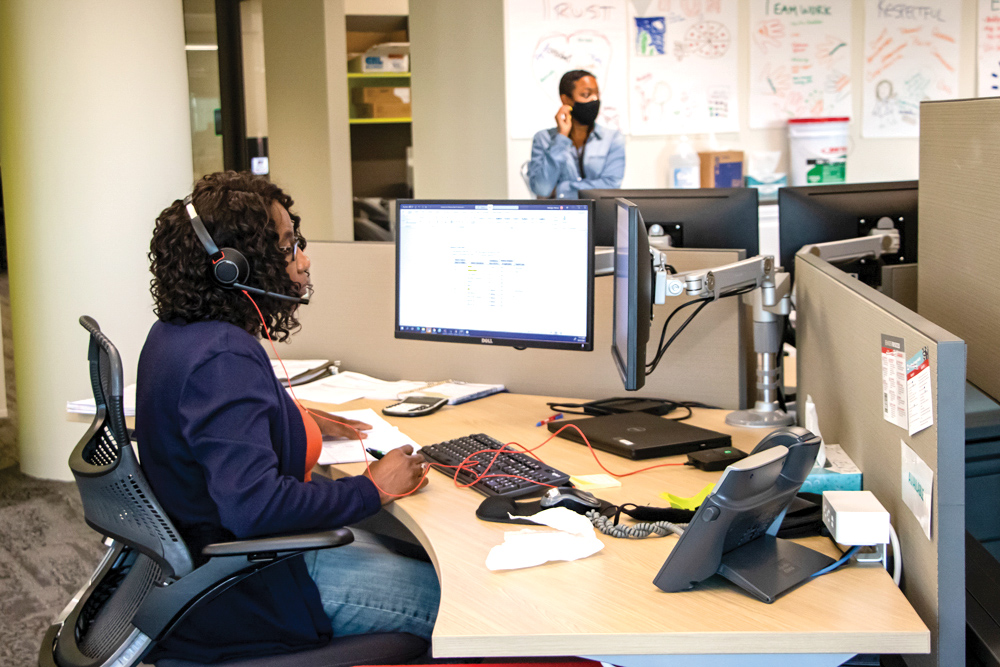 Government returns
Other employers say they're expecting most of their downtown workforce to return to the office.
The city of Indianapolis, which has 2,600 employees at six sites within downtown's Mile Square, began its phased-in approach in April, at 25% capacity, before moving to 50% capacity in May. It expects to have employees fully in-person on Tuesday, according to Mayor's Office spokesman Mark Bode. The office doesn't know the number of employees returning, he said, noting that some workers have been working a hybrid or wholly in-person schedule since the pandemic started.
State employees are expected to return to their offices full time on Tuesday, said Eric Burch, spokesman for the Indiana State Personnel Department. All pandemic-related hybrid work schedules will end at that time. Employees who worked remotely for other reasons before the pandemic will continue to do so.
Burch said he couldn't give an exact number of how many state employees will return to work specifically downtown because that will vary based on agency needs.
Pharmaceutical giant Eli Lilly and Co. announced in May it would open its downtown locations to all employees by July 12, barring a reversal of the downward trend in COVID-19 cases.
Lilly typically has 11,000 employees at locations downtown, including its corporate headquarters on South Delaware Street and its nearby technology center.
About 7,000 switched to remote work at the pandemic's onset. The company said it is not planning to offload any office space, because it expects most staff to return to a largely office-based work schedule.
Not all employers have finalized their return-to-office plans.
Employees at Cummins Inc.'s downtown facility, which serves as the headquarters for the engine-maker's distribution business, haven't yet returned to that site.
The company said it launched its "back to the office" efforts June 14 at its Columbus headquarters and considers that step to be a pilot that will influence how and when the company brings the rest of its workforce back.
About 500 people worked at Cummins' downtown Indianapolis location before the pandemic, although the company said the number fluctuated because some worked from multiple locations.
'A slow recovery'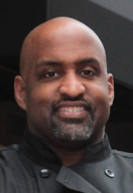 The return of workers downtown can't happen soon enough for restaurant owners like Terry Anthony. Anthony and his wife, Tennille, own The Block Bistro and Grill, which opened in February at 115 W. Market St. in downtown's historic Block Building. They also own a sandwich shop, Stars, at 443 Pennsylvania St.
Of the two restaurants, Anthony said, The Block is faring better because it's drawing some local customers who are venturing back downtown, plus some out-of-towners who are visiting from places like St. Louis or Cincinnati.
Stars is not doing so well, Anthony said, because it's several blocks north of Monument Circle in an area that's much more dependent on office workers and lunchtime traffic. "The commercial traffic that makes that vibrant and makes it viable hasn't come back."
But Anthony said he's optimistic, and he's seen fellow business owners work together to help one another make it through. "We've weathered the worst of the storm. Now, it's just a slow recovery."
Colliers' Forslund said he's "seen nothing to suggest" that remote work will be a long-term solution for most downtown employers. But if it did happen, he said, "it would obviously be a detrimental thing for downtown; it would be an issue. You would see an increase in [retail] vacancies, too, because office workers are arguably the lifeblood of downtown."•
Please enable JavaScript to view this content.