What does the nation need to do to curb gun violence?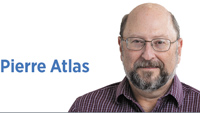 When is a mass shooting an act of terrorism and when is it not? This question was a topic of discussion in my Terrorism and Public Policy class at IUPUI. Two deadly incidents last month provide heinous answers to the question.
The FBI defines domestic terrorism as, "Violent, criminal acts committed by individuals and/or groups to further ideological goals stemming from domestic influences, such as those of a political, religious, social, racial or environmental nature."
The May 14 mass shooting at a grocery store in Buffalo, New York, checked many boxes for domestic terrorism. The heavily armed and body-armored shooter, who was captured alive and will remain nameless here, is a self-declared white supremacist, neo-Nazi and anti-Semite. He drove hours to perpetrate his live-streamed mass murder targeting Blacks in a predominantly Black neighborhood.
The killer was a lone wolf domestic violent extremist but, according to his 180-page manifesto, was radicalized by far-right social media and heavily influenced by replacement theory. The white supremacist "great replacement" conspiracy theory asserts that Jews are encouraging non-whites to commit "white genocide" through immigration and interracial marriage. Replacement theory was an ideological motivation for the mass killers of Jews at the Pittsburgh synagogue and Latinos at the Walmart in El Paso, Texas. The Buffalo shooter will face hate crimes as well as murder charges, but there is no federal law specifically criminalizing domestic terrorism. Republicans in Congress have long blocked any proposed legislation, and they did so again last month.
On May 24, 19 fourth-graders and two teachers were shot to death at Robb Elementary School in Uvalde, Texas. Based on what we know about the shooter at this point, he did not have a political or ideological motive and was not a domestic violent extremist. As vile and horrific as this massacre was, it should not be classified as domestic terrorism.
Despite their differences, the two killers shared several things in common. Both had exhibited evidence of mental instability and the potential for violence. Both were 18 years old, purchased their AR-platform rifles legally, and stockpiled high-capacity magazines and hundreds of rounds of ammunition for their planned attacks. It is no coincidence that they both used the same type of rifle. The AR is a weapon of choice for mass shooters because the widely available weapon is lightweight, extremely accurate, easy to shoot with virtually no recoil, accepts high-capacity magazines, and fires a military round that is devastating to the human body.
When I was in Army basic training in the 1980s, a small female drill sergeant held an M-16A1 one-handed against her breast and fired off a 20-round magazine in full-auto mode, demonstrating just how easy it was to shoot. The AR-15 and its numerous variants, semiautomatic versions of one of the best battle rifles of all time, are the most popular civilian rifles in the United States. But should an 18-year-old be allowed to buy one?
Mass shootings account for only a small number of America's 40,000 annual gun deaths, which are caused mostly by handguns. The majority of gun deaths are suicides, single homicides or accidental shootings, and there are thousands of non-fatal shootings as well.
As a parent, educator and responsible gun owner who understands that no right is absolute, I support reasonable reforms to help reduce gun violence. No single law will likely stop a determined sociopath or domestic terrorist, and there are constitutional limits on what can be done. But that doesn't mean we should stand back and do nothing.•
__________
Atlas, a political scientist, is a senior lecturer at the Paul H. O'Neill School of Public and Environmental Affairs at IUPUI. Send comments to ibjedit@ibj.com.

Click here for more Forefront columns.
Please enable JavaScript to view this content.