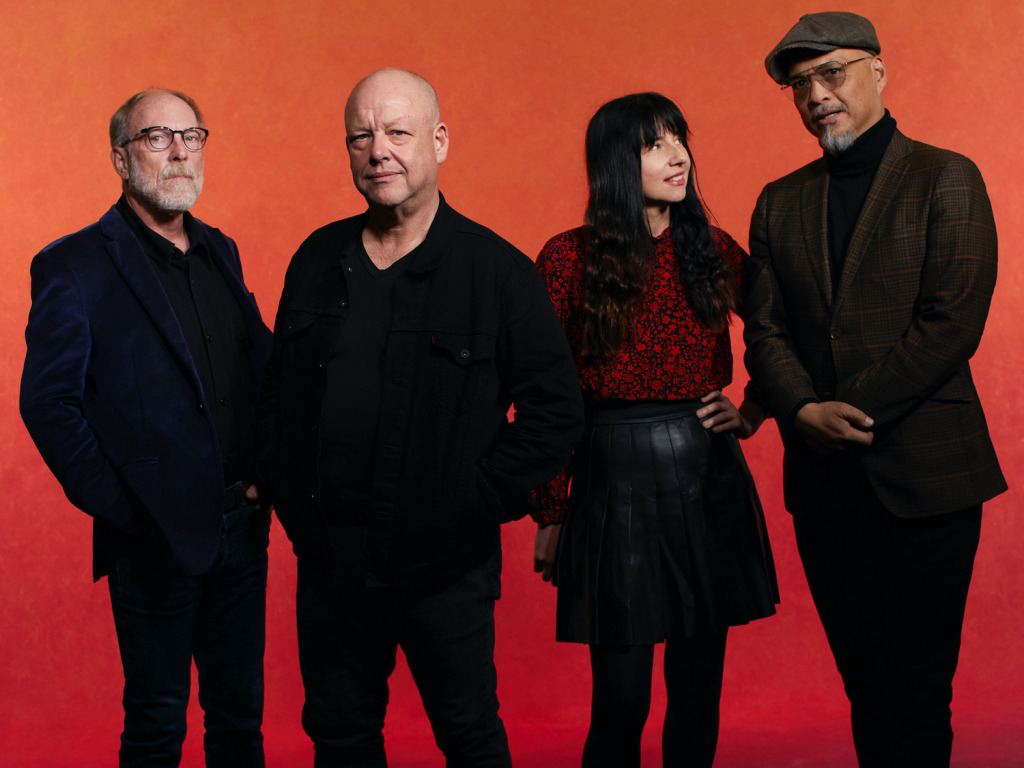 The Pixies exist on the periphery of pop culture, but it's a place visited by many.
Guitarist Joey Santiago has seen the rock band discovered enough times to know how it works. He said his two children, for instance, were elementary school students who lacked a grasp of what Santiago did for a living.
"I told them, 'You guys will know when you get to high school,'" Santiago said. "It's almost a rite of passage. You have to go through our band. You go through the Velvet Underground and other things, but, lo and behold, the teachers and the students know our band."
Founded in Boston in 1986, the Pixies have released eight studio albums, with just one—1989's "Doolittle"—reaching platinum certification for sales of more than 1 million copies. "Where is My Mind?" from 1988 album "Surfer Rosa" has become the signature Pixies song, largely because of its use in 1999 film "Fight Club" and subsequent movies, TV shows and commercials.
But the band's influence is immense. Members of Nirvana, Pearl Jam, Radiohead and Weezer have spent decades praising the Pixies' playful yet literate, powerful yet restrained work.
Headed to TCU Amphitheater at White River State Park for an Aug 29 show that includes Modest Mouse and Cat Power on the bill, the Pixies helped shape the trajectory of modern rock music.
"It made sense to me," Santiago said. "But it wasn't just us. There were people before us. It all started with the Gregorian chant. It just moves on. It's a thing that has to happen to music. You can't stay stagnant or we'd still be chanting right now."
The Pixies—made up of vocalist Charles "Black Francis" Thompson IV, drummer David Lovering, bass player Paz Lenchantin and Santiago—don't operate as a nostalgia act. The band issued studio album "Doggerel" last September, and the project included two writing credits for Santiago.
He and Thompson collaborated on the songs "Dregs of the Wine" and "Pagan Man."
Santiago said "Dregs of the Wine" was inspired by a hedonistic lifestyle he and Thompson embraced in Los Angeles in the 1990s. The guitarist nicknamed a specific bar "The Dregs," where he occasionally saw late Indianapolis jazz trumpet great Freddie Hubbard.
"He would pick up takeout," Santiago said. "The bartender used to tell me, 'That's Freddie Hubbard, you should say hello to him.' I said, 'No.' What would you even say?"
Hubbard wasn't the only Indianapolis jazz icon respected by Santiago. Guitarist Wes Montgomery directly influenced the musician who was born in the Philippines and grew up in Massachusetts.
Santiago cites Montgomery's "octaves," a technique of playing two notes a register apart, as something he's borrowed for songs such as the Pixies' 1991 cover of the Jesus & Mary Chain's "Head On."
"In my notations, I write 'Wes' for playing octaves," Santiago said. "And it's Jimi Hendrix when I bend notes up. So I have 'Jimi' and 'Wes' in my notes."
The original lineup of the Pixies, featuring Kim Deal on bass and vocals, disbanded in 1993 and reunited in 2004. For a 2005 show at the Murat Theatre in Old National Centre, the band played an unusual set list delivered in alphabetical order.
The show opened with "Allison," from 1990 album "Bossanova," and concluded with a cover of Neil Young's "Winterlong."
Santiago said it's not the only alphabetical show in the band's history.
"I guess it's making a point that the order of the songs doesn't really matter," he said.
These days, the Pixies plan nothing beyond a show's opening song.
"We don't even have a set list," Santiago said. "Charles calls out songs or we use hand signals."
The Pixies
With: Modest Mouse, Cat Power
When: 7 p.m. Aug. 29
Where: TCU Amphitheater at White River State Park
Tickets: $39.50 to $79.50
Info: Visit livenation.com
Please enable JavaScript to view this content.