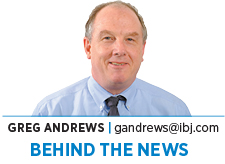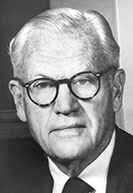 Score one for J. Irwin Miller, who during his quarter century atop Cummins Inc. championed corporate social responsibility—a stance that put him at odds with economist Milton Friedman, the 20th century's most prominent advocate of free markets.
In The New York Times Magazine in 1970, Friedman, a University of Chicago economist, famously declared, "The social responsibility of business is to increase its profits."
Miller, whose philosophy helped turn Columbus, Indiana, into a mecca of Mid-Century Modern architecture, countered in 1975, "You have to operate in a fair and balanced way" that serves the needs of customers, suppliers, employees, the community and shareholders.
"You have to treat them equally because they are all equally essential," he said.
On Aug. 19—15 years to the day after Miller's death at age 95—corporate America officially came around to his way of thinking. On that date, the Business Roundtable, whose members are the leaders of many of the nation's largest companies, recast its statement on "the purpose of a corporation."
The group said decisions no longer should be based solely on whether they will yield higher profits for shareholders. Instead, top brass should factor in the needs of "all stakeholders."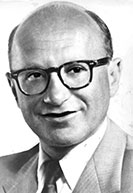 Writing for the Harvard Business Review, professors Claudine Gartenberg and George Serafeim said the new statement "represents a very public rebuke of the Milton Friedman worldview that guides business decisions behind closed doors."
The 181 CEOs signing the statement included Cummins' Tom Linebarger and Anthem's Gail Boudreaux—the only Indiana representatives on the roundtable.
Linebarger, who is on the roundtable's 22-person board and provided input for the new statement, told IBJ the old one was out of step with the times.
"For more than a decade, the statement has not spoken to the majority of the Business Roundtable," he said.
He added: "For us, it was the old one that didn't fit. This one fits us a lot better."
Linebarger said serving the full spectrum of stakeholders might crimp companies' quarterly profits, but doing so sets them up for long-term success and profitability.
For example, he said, after Cummins in 2012 announced a $200 million, 290-job expansion of its Seymour engine plant, it funneled the incentives it received from the state into improving education in Seymour and surrounding Jackson County.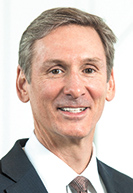 "Short term, I could have reported higher profits," Linebarger said, "but long term, I can easily make the case" that helping the community become a more desirable place to live and work was a better investment.
Anthem's Boudreaux declined an interview request.
In their Harvard Business Review article, Gartenberg and Serafeim said it's difficult to assess the impact of the Business Roundtable's new stance.
"On the one hand, it might be a cynical response to election-year rhetoric and policy proposals that worry the member companies of this powerful lobbying group," they wrote. "On the other hand, it may reflect a deeper response of national leaders to the falling social mobility, toxic polarization, and reduced trust in institutions that we are grappling with today."
Linebarger said Business Roundtable leaders hope the statement advances efforts to foster "inclusive growth"—lifting up those on the fringes of the economy who are missing out on opportunity.
Amid their frustration, he said, "we are worried that people might misunderstand the benefits of capitalism and switch to something worse."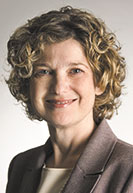 Idie Kesner, dean of Indiana University's Kelley School of Business, said the balanced approach the new statement advocates actually already is common in corporate America—a reality she said many Americans might not realize.
In addition to being a management professor, Kesner is on the board of two publicly traded companies—Evansville-based Berry Global and Ohio-based Olympic Steel—and consults with many others. She said the mission statements she reviews routinely highlight the need to serve multiple constituencies.
Kesner praised the new statement, saying "it still reinforces free market principles" while also emphasizing the importance of other stakeholders.
"I think a lot of companies already do this in many ways," she said. "For any that might have felt they could have been vulnerable by not prioritizing the shareholder exclusively, this opens the door for them to now think more broadly."
Kesner said the statement also squares with the mindset of many younger workers entering the workforce.
"They are interested in employers that have a holistic view of stakeholders, not just a single stakeholder," she said.
A 2017 American Express survey of millennials documents that reality. It found that 62% considered it important to make a positive difference in the world.
At the same time, they don't disavow capitalism. The survey found that 58% believed successful businesses maximize profits.•
Please enable JavaScript to view this content.