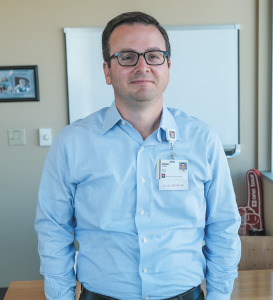 Jeremy Rogers is the digital guru at Indiana University Health. His job is to connect the sprawling hospital network, with 16 hospitals and hundreds of clinics, to patients and the public online.
Rogers, 44, is executive director of digital marketing and experience, meaning he plans and implements ways to keep patients informed and to hear what's on their minds. Before joining IU Health six years ago, he worked at technology company Ingram Micro as director of e-business. He grew up in Speedway and now lives in Zionsville.
How transparent are hospitals, generally speaking?
I think most health systems are a lot more transparent than they were even five years ago. Some of it is driven by regulation. Some of it is driven by consumerism. Nowadays, there are far more choices in health care than there used to be. And transparency, whether it be for quality, prices or experience, those are all key pieces of that consumer journey of making a choice.
IU Health was one of the first hospital systems to publish patient reviews, starting in 2017. How many have you received and published so far?
We're taking in about half a million survey responses every year. And because our policy is to show them over a two-year rolling window, at any given time, we have more than 2 million patient ratings that may be out there. So it's a very large number across the health system. So far, we've published reviews on almost 2,000 providers, and we now do it for over 600 of our locations, too.
Do any doctors complain about the ratings system?
They do, indeed. It happens fairly regularly. We do have times where they may say, "This actually wasn't my patient," or, "There's a clinical reason why they were diagnosed this way." And so we have a process where doctors would work with the chief medical officer to vet those comments.
And from the patients?
We have patients who may leave comments about the pandemic. They may say, "The doctor was asking me why I wasn't vaccinated; I don't like that." Or, "I don't like to have to wear a mask in the office," things like that. If you look at our emergency departments, it's heavily tied toward the wait time, the overall patient experience. There's high variability there around our system. But again, being transparent, you can't hide from the results. So the score is what the patient says it is. And so we have to own that. And we have to try to drive improvement there.
Can you just give me one example of how you connect with patients who are going in for major surgery? What are the key digital experiences they would have?
Let's say you have a procedure scheduled. We may send you a text message that tells you the things you need to get done before your procedure, whether it be medication, bowel prep, what have you. After your procedure, there may be other outreach we do, like, "Can you take a picture of your wound? Can you let us know if your pain is better or worse?" And then even, like, 30 days later, we may say, "Can you rate your pain on a scale of one to 10? And can you tell us about your mobility? Are you following up on your physical therapy?"
I see you grew up in Speedway. Who's your favorite IndyCar driver of all time?
I've been to over 20 races. Rick Mears was my favorite driver. He was very successful. And his last two wins were when I was really young, in my formative years.•
Please enable JavaScript to view this content.