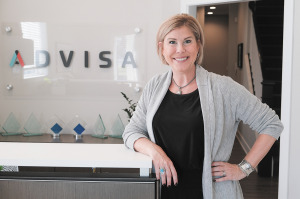 Heather Haas used to teach sixth-graders in the classroom. Now, she teaches leaders in the boardroom.
Haas, president of Carmel-based Advisa, where she has worked for 18 years, leads a team of 35 people who work to help company executives build effective teams and improve their workplace culture.
Founded in 1986, Advisa is currently focused on helping bosses adjust to new workplace environments. The pandemic and a generational shift of baby boomers retiring and a younger generation moving in have created plenty of work for Haas and her firm.
Advisa works with companies ranging from startups to large, multinational firms. Locally, clients include Katz Sapper & Miller, Franciscan Health and Firefly.
How did you go from the teaching world to the business world?
I kind of realized that, while my passion is teaching and learning, the environment of public education—I wasn't loving it. There was a lot changing in education at that time. There still is. So, I had the opportunity to jump out of education and take some of my skills and talents and apply them in business.
What are some similarities betweenteaching in a classroom and your work at Advisa?
I think some of the similarities between teaching adults and teaching kids is that learning should be engaging. At its best, it's fun. You've got to create an environment where people are intrigued and where you're really showing both kids and adults … the relevance of what they're learning.
What have you learned throughout your career about positive work culture?
Magnetic work culture can be a distinct competitive advantage because it's not something you can easily copy. … In an environment still where many organizations are struggling to find the talent and the labor pool they need to just do their work, not even to grow but just to continue on, I've learned that culture can really be kind of a secret weapon but something that many people don't think much about.
How has Advisa's work changed since the pandemic?
I would say what's changed is just the demand, because what happened during the pandemic is that you really started to see people's true leadership capabilities emerge. When you have to lead through adversity, you really start to see who rises to the occasion and who is able to provide direction and reassurance and bring empathy at the right moments and offer flexibility when it makes sense and adapt and shift and change, versus leaders who are not able to do that.
Who are some leaders who have influenced you?
Mitch Daniels at Purdue University, and I actually went to IU. … He's definitely someone that caught my attention during the pandemic and someone who I think has just done an incredible job.
What have you learned about your own management style over time?
I enjoy thinking about the future, and I enjoy coming up with creative ways to get people excited and inspired about the future. … I've learned that it's really important to build a team around you and have other leaders who are different—that diversity of thought, race, gender, identity. Diversity is what gives you creativity and innovation in the face of adversity.
What motivates you each day at work?
I'm very motivated to create a life for my family. I'm also extremely motivated by the work that we do here at Advisa. I believe that leadership is our best hope for peace and prosperity in the world.•
Please enable JavaScript to view this content.