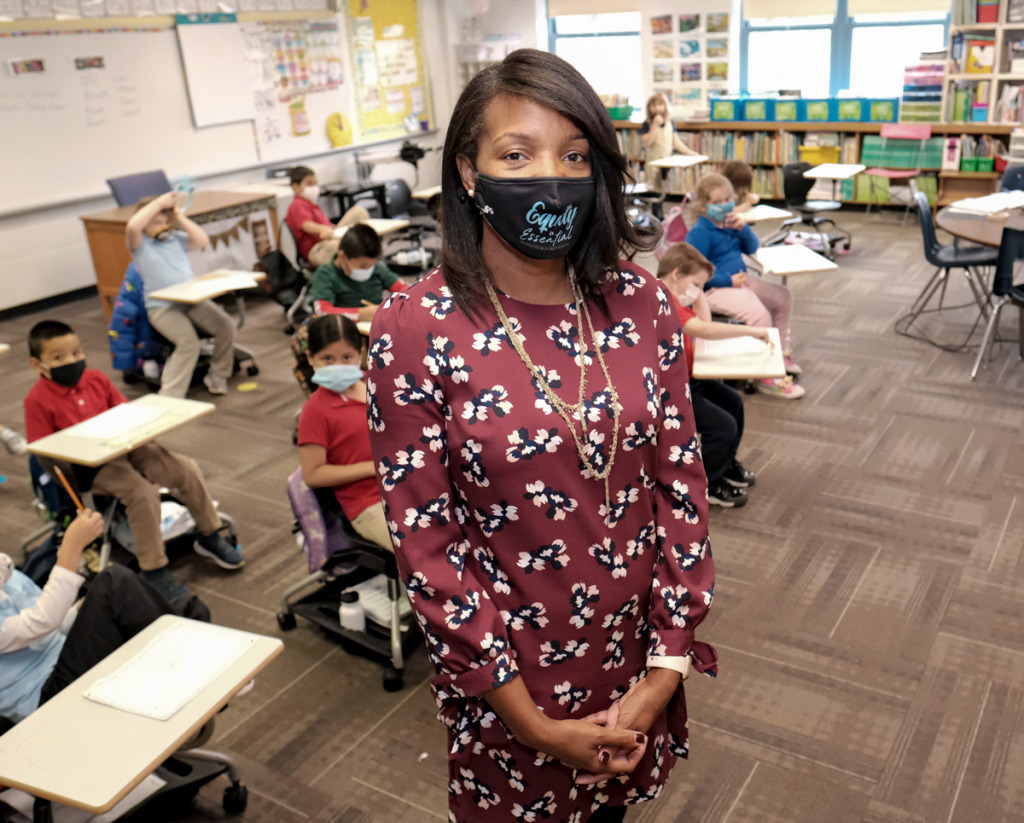 After beginning the school year virtually, Indianapolis Public Schools students returned to the classroom this month.
Elementary students are in school full time, while middle and high school students operate on a hybrid schedule, working remotely some days and in the classroom on others.
IBJ reporter Samm Quinn talked with Superintendent Aleesia Johnson about how returning has gone so far and other impacts COVID-19 has had on the state's largest public school system.
Starting last week, all IPS students have returned to the classroom at least part time. How has that adjustment gone so far?
Overall, it's been a good week back. We brought back our youngest learners two weeks ago, at the beginning of October, which gave us the opportunity to see how well our plans have been executed and to course-correct if we needed to, although that was a very good week as well.
And so it's been the same for this round two, or as I say, back-to-school part three. For our older students, it's been a good week.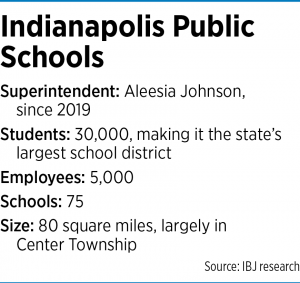 Middle school and high school students have a hybrid schedule, learning in the classroom for part of the week and working remotely the other part. Why did school leaders choose that approach?
Right now, we're still under the guidance of [the] Marion County Public Health Department [that], as a county, we needed to be under the 5% threshold in order to bring our high school students, secondary students, back every day.
We've not yet reached that as a community. We've come certainly very close, but we have not gotten there yet as a community. So right now, we are in the hybrid model until we're otherwise directed by the Marion County Public Health Department.
What were some of the challenges encountered starting a new school year remotely?
We're used to having school, you know, being able to see and communicate directly with our families and our students. That's the model of how school works. And so having to try to build and establish those relationships and communicate virtually through a computer certainly brought challenges for schools, for our teachers and just making sure we are communicating and we're able to get in contact with families and that they knew what to expect in this sort of new reality.
Obviously, being in a remote learning environment, it's a lot of responsibility—particularly for our younger learners—on parents having to help supervise and make sure their children are logged in and in the right place. We were all learning those technical structures and protocols together. So, certainly we ran into some of those technology hiccups that we had to navigate and work through at the beginning of the year.
How engaged were students? What were attendance rates for students during virtual learning?
We certainly have seen lower attendance than we have seen when we've just been in our normal go-to-school-in-person, everyday routines, and that's something that we continue to problem-solve around. How do we be sure we are reaching every student that we would expect to be seeing in our building—that we're reaching them, communicating with them and knowing what's going on and if they need some additional support?
I think if you talk to any district across the country, they would tell you, particularly an urban district, that's one of the challenges that we're all trying to solve.
Retrospectively, do you still feel IPS made the right decision to start the school year virtually?
I do. You know, I think part of the reason why we've been able to have a smooth return back to in-person is, we had time for the community spread to decrease. That, you know, unfortunately is not the way we're trending currently, but we came back at a point in time when those numbers were going down. And it gave us the opportunity—and I think the community the opportunity—to see, for the districts who did go back, sort of how things were working and perhaps calm some of the stress that folks were feeling about the unknown and returning back to school.
So we were able to learn from and through partnerships with my superintendent colleagues. We continue to do that even now so that we can create the best environment for our kids.
What data will IPS be watching to determine whether schools can stay open?
When we came back, we modified our criteria for return to be more aligned with the Marion County Health Department. It's not exactly the same, but it's pretty close to what MCPHD has set out. We're looking at that Marion County public health dashboard.
Positivity rate is a big criteria indicator. We're watching and monitoring what that positivity rate is in the community and in our schools and in the district: the number of students or staff who are having to quarantine or who have positive cases.
You know, there could perhaps be instances where several students or several staff are quarantining, which would then trigger a shift in what mode of learning students are doing. All of that we're going to have to sort of play it by scenario and by context.
There aren't really hard-and-fast numbers behind those things because it really does matter what the context of the situation of the school is to make those decisions.
Are students being offered a virtual option if families don't feel comfortable returning to the classroom?
Yes, so you have both a virtual and in-person option. About 80% of our families chose to come back in person. About 20% of our families are in our virtual-learning option.
Has IPS learned anything from watching schools that opened at the start of the year?
Yeah, we definitely were watching. We were doing our planning really on that same cadence and time, because we had been intending to open at that same time and pulled back once our numbers were going up.
I think mostly for us, it was looking at the ways in which districts were communicating to their families and sharing information and being sure everyone was aware of what those protocols were and how they were reinforcing those things in the school building, as well as support for their teachers. So, again, it's been great to be in this community and have collaborative conversations with other superintendents in Indianapolis so that we can share information and trade ideas. That's been a really helpful network to have during this time. Nobody's done this before, so we're all navigating it together.
When will secondary students return to the classroom full time?
We don't know yet, which is why it's so important for the community to do their part, because our ability to bring our students back, particularly high-schoolers back every day, really does rest on what's happening in the greater community. So it's really important that people are still wearing their masks, still social distancing, still washing their hands, so that we have a chance to do that.
I would expect, if we got down to those numbers, we would certainly want to bring our high-schoolers back. We know transmission with younger children and younger grade students tends to be lower. They don't experience illness in the same way, but that's not necessarily holding true for your older kiddos, your high-schoolers, and so that's why it's important to be more cautious with that age group.
Are you concerned about the high number of new cases Indiana has seen in the past two weeks?
Yeah. It's certainly something I'm looking at—you know, going to the state dashboard every day to see what's happening. We have weekly touch points with the Marion County Public Health Department, again, so they can share information with us and we can share back what we're experiencing across our schools.
But the goal is to keep our kids in our buildings as long as we can. … We know that's where learning happens.
How is IPS reporting COVID-19 cases in schools?
Folks can go to our website and to our COVID-19 page and we have a dashboard already on the page that's tracking both the number of positive cases by school location as well as the number of people who are quarantined by school location.
What protocols are in place to protect students and staff from COVID-19?
Every student and staff member is required to wear a mask and that's across all of our grade levels.
We've made sure to social-distance in terms of desks in the classrooms and table spaces, so you don't see a normal cafeteria table where all the seats are filled and students are eating together. They're having to spread out in the cafeteria or eat in the classroom, which is different.
We actually are in the process of installing touchless water fountains across all of our school buildings so students can get water. We've provided bottled water to students until those fountains are complete, because we can no longer share the water fountain. Schools are being much more structured around bathroom usage and monitoring that to just try to mitigate having unstructured spaces where kids are together and congregating.
Those are a few of the things that are different when you go into our schools. You'll notice a lot more signage and arrows around which ways to walk in hallways and where to stand in the hallway to make sure we're meeting distancing.
And what about transportation? There are probably a lot of students who rely on the bus to get them to and from school. Have you had to make any changes to transportation?
Wearing masks on buses is required. We've also really explicitly pushed our families, if they are able to transport their child to school to do so, with the goal of opening up spaces on buses so that, where possible, we have just one student per seat, per bus for social distancing.
We've made a substantial investment in bus monitors, so that the bus driver can do their job getting students to school safely, but there's also an adult who can do things like make sure students are sitting in an assigned seat and gather that information in the event that we need to do contact tracing.
We're talking about many added expenses. What impact financially has this all had on the district?
I don't think you will talk to a superintendent anywhere who is not feeling the anxiety of the unexpected costs that we've had to bear this year to make sure we have safe learning environments for kids.
So, we've expended $27 million in COVID-related expenses thus far. Now, we've received CARES Act funding from the federal government, the IPS philanthropic community has contributed as well through things like the IPS E-Learning Fund and the governor's Education Relief Fund as well.
That said, we still have about a $7 million gap from what we have expended to what has actually come into the district to support our ability to respond. And so you take that—coupled with knowing that our legislators are going into a budget session and dealing with constrained state resources—and that brings a lot of anxiety about some very tough decisions that I know we'll have to make in order to actually have a sustainable budget.
What do you hope the rest of the school year brings for IPS students?
I hope it brings the opportunity for us to be in our school buildings with our students every day. I hope that it brings our ability to keep our students and staff healthy and safe and able to experience some of the things that really make school a special place. You know, small groups and getting the chance to play sports and theater and choir and band and all those things that make school a special place. Things that we can do right now, but either in very restricted ways or not at all.
So, looking forward to that community feel that we're working hard to create right now.•
Please enable JavaScript to view this content.