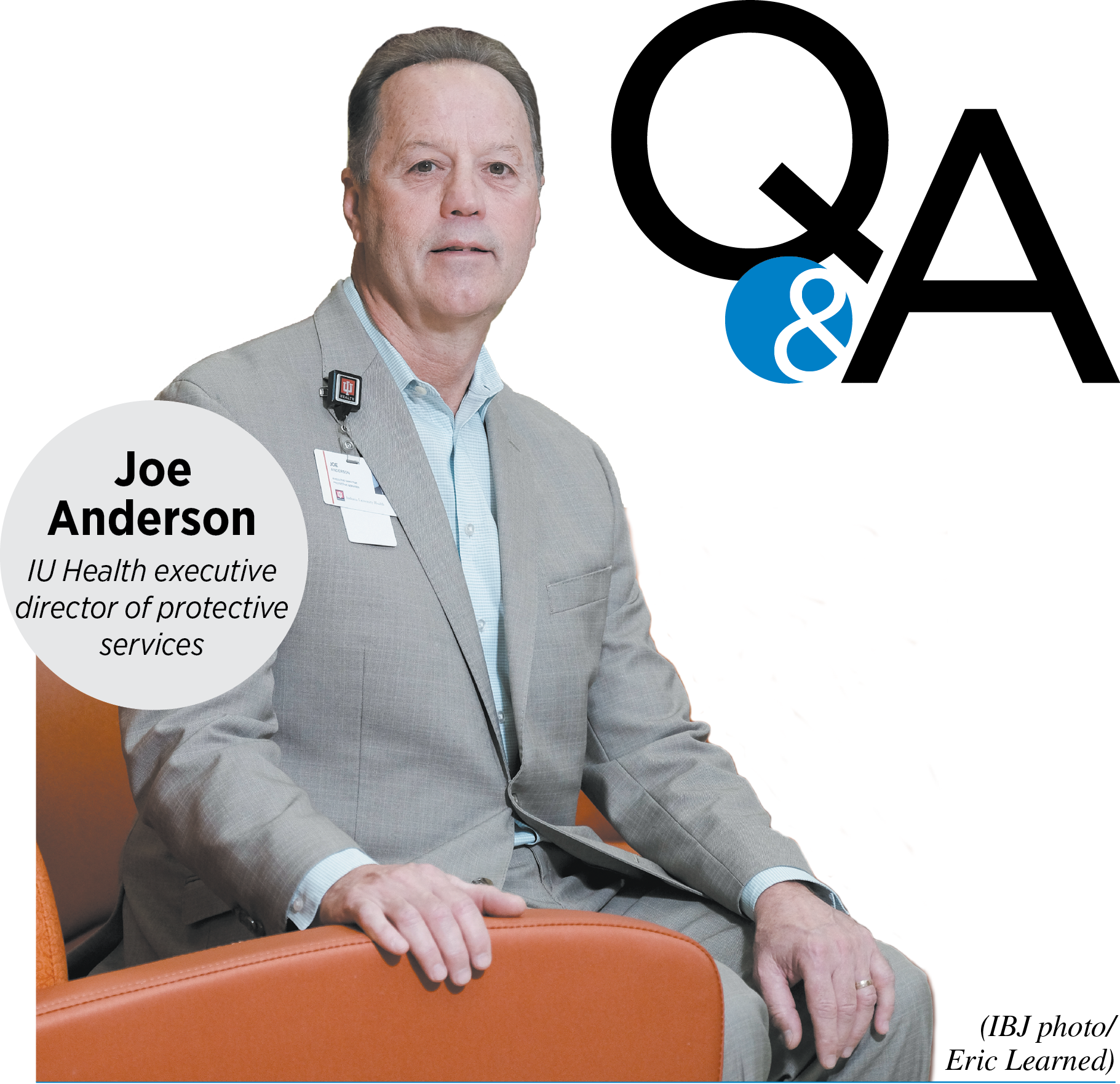 Hospital workers face a higher risk of being punched, shoved or threatened than almost every other type of worker in the United States. At Indiana University Health, it's Joe Anderson's job to keep workers, patients and visitors safe.
Anderson, 62, is executive director of protective services for Methodist, University and Riley hospitals, responsible for physical security for more than 4,500 employees and property of more than 10 million square feet.
Q: How often are doctors and nurses and other health care workers assaulted or threatened?
A: Nationally, the numbers are fairly high, some 40% higher than other industries. The thing you need to remember about the hospital setting is, people come to us with a set of stressors that can increase the risk of disruptive behavior. If they have a lack of social support or addictions or financial difficulties, that can put them at risk for escalating behavior. Then you add the stress of being sick or a loved one being sick, and it doesn't take much of an issue for folks to escalate.
Q: What are some other causes?
A: A patient may have a particular grievance. They may want to go and smoke a cigarette. Or they're a fall risk, and they want to get out of bed. Or they don't feel like they're getting their meds in a timely fashion. And so if we can recognize those things early and respond, we're taking care of our patients while seeing that they don't escalate into something that can put our staff at risk.
Q: Has an IU Health worker ever been hospitalized or incapacitated from an assault?
A: I can't recall in the six years that I've been here a nurse or other clinician being injured to the degree that they had to miss work. What's gratifying is that, through the programs that we've enacted, the chance of assault is relatively low now in our hospitals. While assaults against health care workers nationally has gone up 40% since 2016, assaults against our staff have been reduced by 30%.
Q: How do you protect the staff?
A: We have a cross-trained group of folks … a social worker, a police officer and a chaplain. Any person in the hospital can call for this rapid-response team if they feel like a behavior is becoming an obstacle to care or if they're feeling threatened.
The social worker is responsible for de-escalating the behavior … . The police officer stands by. And the chaplain is there to support the staff and any other family members or visitors who might have been impacted by the behavior.
At that point, we also fold in the clinician because a lot of these problems are clinical. It could be a patient coming out of an anesthetic. It could be a traumatic-brain-injury patient who's confused. And so it becomes important that we have a clinical addition to our team.
So the first two tiers are recognition and response. Then the final tier is recovery. Our chaplains are responsible for employee assistance programs and they're there to support staff and will continue to support staff as necessary if there was one injury, either emotional or physical.
Q: What do you like to do in your free time, when you're not thinking about violent patients?
A: I'm a motorcycle enthusiast. I have a Harley Davidson, a touring motorcycle. My brother-in-law also likes to ride and at least once a year we take a 10-day motorcycle trip somewhere. We've gone as far west as Montana and Utah, and as far east as Maine.•
Please enable JavaScript to view this content.