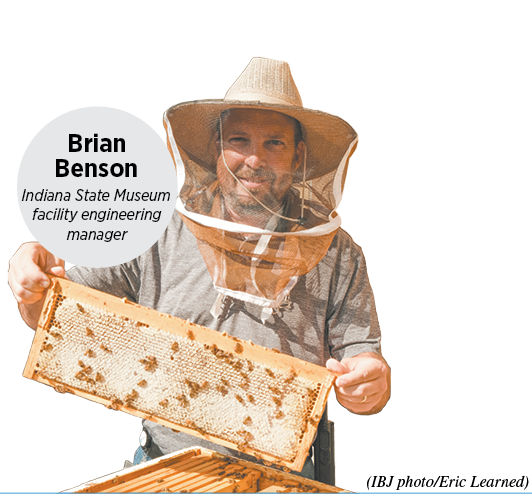 Brian Benson's official title with the Indiana State Museum is facility engineering manager, so he's often busy taking care of the heating and cooling in the building and monitoring the security system and fire alarms. But he's also earned the title of chief beekeeper and is responsible for the museum's two honeybee hives, which are on the east-side balcony that overlooks the Watanabe Family Gardens.
How did you become the chief beekeeper?
My boss, who was the former beekeeper, retired and I saw an opportunity. For years now, I've been wanting to get involved with beekeeping. … He retired back in April, but I would say last summer he kind of handed it over. But I've been involved with them since we brought them in about four years ago.
Had you worked with bees before?
I hadn't. Maybe 10 years ago, we had a swarm in our front yard. I didn't know anything about bees or what it was, and I don't know if you've ever seen a swarm, but it is pretty scary if you're not familiar with what's going on. So I did a little research at that time and realized, hey, it's a swarm, they're honeybees, and they're typically not aggressive. They flew off about an hour later.
So, I guess a swarm is what kind of drew my interest to it.
Why does the state museum have beehives?
I think a lot of it was finding a direction to engage our visitors as a learning resource … just kind of educating our visitors that were passing through the gardens. And it has kind of grown from there. We went from one hive for two years, and I added a second hive last year. And then we put two cameras out there.
One camera shows the front of the hives and then … there's an observation window and there's a camera mounted up to it so you can actually see inside the hive. We went live with it about four or five months ago, so now all our visitors that go on the Indiana State Museum website can view those cameras, which is really neat.
People who don't know anything about bees are terrified of them. They don't want to get near them. Then they tell you stories about, maybe they've been stung. And then my question is, "Well, was it a honeybee?" They're not sure, just that it was a bee. I think in most cases you'd find it wasn't a honeybee.
Have you been stung?
Oh, yeah. But not as much as you'd probably think. I pretty much wear a veil only.
What does taking care of the hives here entail?
It depends on the season.
I need to prevent them from swarming, so in the springtime I get into the hive once a week to make sure they don't swarm. We almost swarmed this year.
Late summer to fall, I'm treating for mites and doing mite counts … . In the wintertime, I just kind of cross my fingers and hope they make it through.
How do you keep them from swarming?
In the springtime, the honeybees' population increases quite a bit. If they outgrow that box, the queen will leave with about half the hive. So I will go in to make sure they have enough space and that the queen has enough space to lay eggs.
Do they produce honey?
Yes. We are exploring ways to put it in our gift shop so visitors could purchase it there. One of the hives is just tremendous. I'm expecting maybe around 50 pounds. In the past, we've given it away.•
Please enable JavaScript to view this content.