There may be no one more associated with Indiana's gambling industry than Rod Ratcliff.
Over three decades and through four different companies, Ratcliff, 61, has been involved in casinos and horse racing across the state, from the southeast corner in Lawrenceburg through the northwest corner in Gary.
"He is a pivotal figure in the history of Indiana gaming," said Matt Bell, a former Republican state lawmaker and CEO of the Casino Association of Indiana.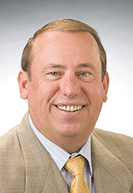 But at nearly every turn, Ratcliff or his companies or his associates have run into questions and concerns about the way they interact with the public officials who make the rules associated with the industry.
And today, investigators are looking into whether one of Ratcliff's previous companies was involved in an illegal campaign-finance scheme—a question that threatens to derail his newest venture, a proposed casino in Terre Haute.
The Indiana Gaming Commission on Jan. 24 announced that it has postponed approval of the Terre Haute casino license that Ratcliff's newest venture, Indianapolis-based Spectacle Entertainment, is pursuing while the commission investigates allegations that his former racino business, Centaur Gaming, and one of its executives were involved in illegally directing campaign contributions to an Indiana congressional candidate in 2015.
Federal authorities already have charged a Maryland political strategist in the case and reached a plea agreement under which he agreed to testify against others. Prosecutors say the strategist was funneling money from an Indiana gambling company to a candidate that Federal Election Commission records indicate is Brent Waltz, who lost a bid in 2016 for the Republican nomination in the 9th District U.S. House seat.
Court documents didn't name Centaur, but the gaming commission confirmed it's the company involved, prompting the agency to investigate as well.
It won't be the first time that Ratcliff or his companies have been investigated for wrongdoing or conflicts of interest. But they have rarely faced consequences for their actions, and state regulators have repeatedly deemed Ratcliff and his companies suitable to hold gambling licenses.
Consider that:
◗ State police in the mid-1990s investigated the circumstances under which the state awarded a casino license in Lawrenceburg—the very first casino Ratcliff was involved with.
◗ The Indiana Horse Racing Commission in 2000 sanctioned Centaur for failing to disclose it had offered two lobbyists options to buy into Hoosier Park, which Centaur partly owned.
◗ Ratcliff, his companies and associates have repeatedly hired state lawmakers for jobs they say are unrelated to pending gambling legislation. But the moves have raised conflict-of-interest concerns nonetheless.
◗ Several lawmakers were required to amend campaign finance reports after failing to disclose from 2013 to 2015 who paid for fundraisers held at Centaur's Winner's Circle off-track betting parlor. Gambling companies and the people who own them are prohibited by law from making in-kind or direct contribution to state campaigns.
◗ Just before announcing a new company and the purchase of two Gary casinos—for which the company would need to be licensed—Ratcliff paid for private flights to take Gov. Eric Holcomb to Republican Governors Association events. Just after, Ratcliff asked state lawmakers to make significant changes in state law to benefit his new casinos.
Those and similar moves have raised eyebrows at the Statehouse for years.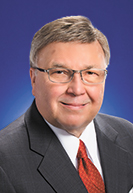 Democratic state Rep. Pat Bauer of South Bend, who helped push some of the state's first gambling laws, said "most people put up a caution sign" when Centaur officials came around.
Still, legislative leaders have generally brushed off the notion that Ratcliff or his companies have had undue influence over gambling legislation.
But the most recent allegations about campaign finance violations have rattled the industry. That's because Ratcliff's newest company, Spectacle Entertainment, is building a $300 million casino in Gary, where it will merge the operations of the city's two floating casinos, and the company is planning a casino for Terre Haute, where it was the only applicant for a new license.
"Of course, there's concern that this news sidetracks those opportunities," Bell said. "But we don't know enough to know that yet."
Campaign-finance probe
The latest controversy involves Annapolis, Maryland-based Strategic Campaign Group, which federal prosecutors say took part in an illegal scheme to funnel corporate contributions to political candidates.
Republican strategist Chip O'Neil, who worked as vice president for Strategic Campaign Group, pleaded guilty to conspiracy in federal court in Virginia in January and admitted to using several individuals as conduits to give money to candidates but hide the true funding source.
Court records implicate an unnamed Indianapolis gaming company (which it calls Company A) and its vice president and general counsel in the scheme. The Gaming Commission has said it understands that company is Centaur. Centaur's vice president and general counsel was John Keeler, a lobbyist and former lawmaker.
Indianapolis criminal defense attorney Robert Hammerle, who is not involved in the case, said that when a company or person isn't named specifically in a court document, "it generally refers to the fact that those are people cooperating."
"Does that mean that 'Company A' or 'Person A' will not be charged?" Hammerle said. "No."
Current and former lawmakers and others connected to the horse racing and casino industry say Keeler—who served in the Indiana House from 1982-1998—is a respected person and the allegation connecting him to a campaign finance scheme is surprising.
But the sentiment is not universally positive about Centaur as a whole or Ratcliff.
"If there are additional investigations out, it doesn't surprise me. Look at what they had at stake—the opportunity to make billions," Bauer said. "But I don't know if they're guilty as speculated."
Damage done?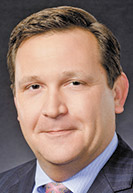 Regardless of whether Centaur and its officials face legal consequences, the accusations may already have damaged Indiana's gambling industry.
"The allegation itself is a black eye for the industry," Bell said. "We're all watching very closely. I'd love to wake up tomorrow and hear there's been a massive mistake."
In a statement, Spectacle Entertainment highlighted the economic impact Indianapolis-based Centaur had in Indiana until Ratcliff sold the company to Las Vegas-based Caesars Entertainment in 2018 for $1.7 billion.
"Centaur Gaming and its principals had a consistent track record of integrity, providing a fully integrated gaming, racing, dining and entertainment experience," the statement read.
"As a privately held Indiana company, managed by Hoosiers, Centaur focused on bringing world-class entertainment and economic development benefits to Indiana."
Centaur "infused more than $1.37 billion into the economies of its host communities" in the decade prior to the acquisition by Caesars, employed more than 2,000 individuals and had managers volunteering on boards for 68 organizations, the Spectacle statement said.
"These are just a few of the many positive contributions Centaur Gaming provided during its years of operation," the statement read. "It was a record of accomplishment throughout the state and a tradition that Spectacle will build upon."
The company did not make Ratcliff or Keeler available for comment for this story or after the guilty plea in the campaign finance case became public.
Building an industry
Ratcliff got the itch to introduce gambling to Indiana after visiting an off-track betting parlor in Chicago, where he lived at the time.
After the Indiana native returned to the state in 1990, he got to work, forming a company known as Pegasus Group.
Lawmakers already had legalized wagering on horse racing, and Ratcliff's hope was to open a track at the Indiana State Fairgrounds. He worked with Louisville-based Churchill Downs on a proposal, and started lobbying lawmakers to legalize off-track betting, which he believed was necessary to make any pari-mutuel horse racing track viable.
He helped win the fight for OTBs in 1992, but the Indiana State Fair Commission rejected all horse racing proposals.
Churchill Downs, meanwhile, opened a horse track in Anderson in 1994 and Centaur came in as a partner.
At about the same time, Ratcliff was turning his attention to riverboat casinos, which lawmakers authorized in 1993. He brokered a deal with the city of Lawrenceburg to lobby on its behalf for a casino license, agreeing to forgo fees in return for a role in development if his efforts succeeded.
Centaur and Conseco (now CNO Financial) became minority partners in the casino development at Lawrenceburg, with Argosy Gaming Co. owning the majority and overseeing operations.
In 2003, Centaur bought the Fortune Valley Hotel & Casino in Central City, Colorado. Four years later, Centaur bought out Churchill Downs to take sole ownership of Hoosier Park. And in 2013, it acquired Indiana Downs, a horse track and casino in Shelbyville.
Along the way, Ratcliff has been an influential but often behind-the-scenes voice at the Indiana Statehouse, successfully lobbying to legalize slot machines at the racinos, add live dealer card games at the tracks and—potentially the biggest change of all—getting the OK to open a casino off the water in Gary.
"Rod was very persuasive," longtime former Senate President Pro Tem Bob Garton, R-Columbus, said.
Questions in Lawrenceburg
But it wasn't long before questions emerged about the way Ratcliff, his companies and his associates influenced—or at least appeared to influence—public officials, starting with the Lawrenceburg casino.
The legislation authorizing casinos specified that five would be along Lake Michigan, five along the Ohio River and one on Patoka Lake. It didn't specify which cities would get casinos, other than to assign two to Gary, one of the state's most economically depressed communities.
The Indiana Gaming Commission—appointed by Gov. Evan Bayh—was responsible for awarding the 11 licenses, choosing both the cities where they would be located and the companies that would develop them.
Ratcliff and his partners Argosy and Conseco were trying to land a license for Lawrenceburg, which would entail persuading local voters, the city council and eventually state regulators to support it.
Conseco already had political connections—the company was a big Bayh supporter, shelling out $122,000 for his 1992 campaign.
And that wasn't the governor's only tie to Lawrenceburg. By the end of 1993, Bayh's close friend and former chief of staff, William Moreau, was advising Lawrenceburg on the casino project.
At the same time, the engineering company that was working on the Lawrenceburg casino was paying Republican state Rep. Sam Turpin $1,500 per month. Turpin earned more than $50,000 from American Consulting Engineers (now known as American Structurepoint) from 1993 to 1996, but he did not disclose it on the annual personal income form that lawmakers are required to file. He said the work was unrelated to the casino or any gambling project.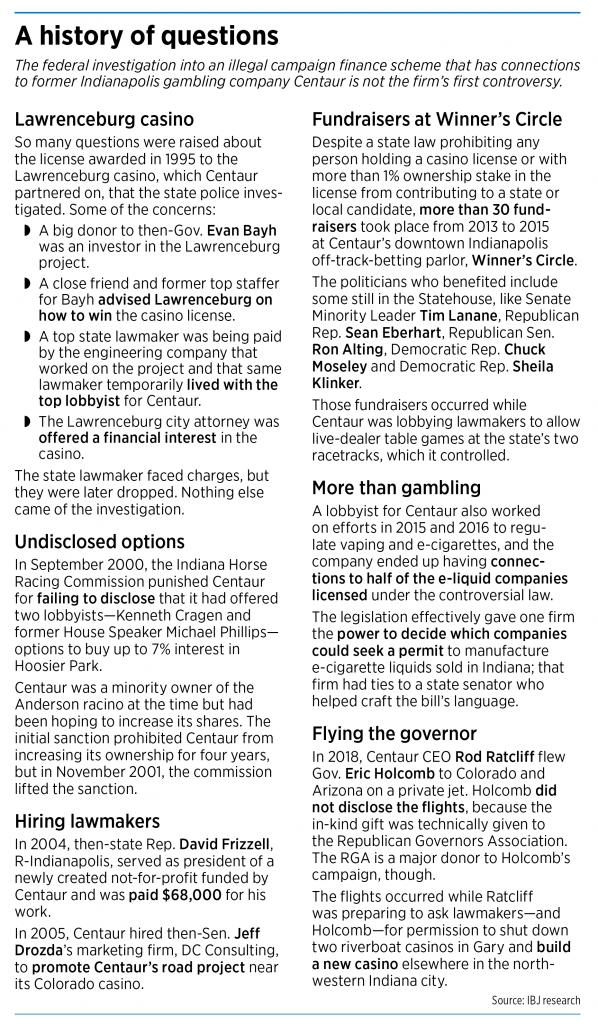 Also, in 1995, Turpin temporarily lived with Jim Purucker, a lobbyist for Centaur and Conseco.
A grand jury indicted Turpin for bribery in 1997, but the Indiana Supreme Court threw out the case two years later.
Purucker's involvement went beyond helping Turpin. He donated $9,000 to then-Republican state Sen. Johnny Nugent's 1994 campaign after Nugent pushed for the legislation legalizing riverboat casinos.
Purucker told The Indianapolis Star at that time that the donation did not involve a quid-pro-quo connecting the money to the bill. And Nugent wasn't the only politician Purucker contributed to—in 1994, Purucker gave nearly $21,000 to political campaigns, which was more than any other lobbyist at the time.
Purucker did not return IBJ's calls for this story.
Local Lawrenceburg officials also benefited.
Ratcliff offered Lawrenceburg city attorney David Zerbe a financial interest in the casino in exchange for his help building local support for the effort.
Indiana State Police investigated the Zerbe arrangement. But no criminal charges were filed, because Zerbe disclosed the relationship to the Lawrenceburg City Council before the council opted to give preference to Ratcliff and Argosy for the casino.
The Indianapolis Star reported that state police also spent months investigating legislative decisions and campaign contributions surrounding the riverboat licenses—and specifically looked into Lawrenceburg—but ultimately, no charges were filed.
Then in March 1998, following questions about the Lawrenceburg casino license, the Marion County Prosecutor's Office searched Purucker's home. But officials wouldn't specify the purpose of the search, and Purucker never faced charges.
Direct donations
For the first several years of legalized gambling in Indiana, there were no restrictions on casinos or casino executives donating to political campaigns.
Still, in 1995, Ratcliff received criticism after he, along with his wife, Purucker, Pegasus Group and two lobbyists for Churchill Downs donated nearly $20,000 to then-Indianapolis Mayor Steve Goldsmith.
The cash contributions came as Ratcliff was trying to open an off-track-betting parlor in downtown Indianapolis.
But those direct contributions were cut off in 1996 when the Legislature passed a law that prohibited any person holding a casino license or with more than 1% ownership stake in the license from contributing to a state or local candidate's campaign.
There is a loophole, though: Lobbyists for casinos were not restricted. So, Purucker continued to be a big donor. And Steve Hilbert, co-founder of Conseco, did not believe the law applied to him because he didn't personally have ownership stake in any casino—Conseco did—so he still freely gave to campaigns, despite his involvement in the gambling industry.
The law also didn't make clear whether campaign fundraisers could be hosted at casinos or off-track-betting parlors.
An investigation by The Indianapolis Star found that, from 2013 to 2015, more than 30 legislative fundraisers took place at the downtown Indianapolis OTB known as Winner's Circle, which at the time was owned by Centaur.
The list of politicians who benefited included some who are still in the Statehouse today, including Senate Minority Leader Tim Lanane, Republican Rep. Sean Eberhart, Republican Sen. Ron Alting, Democratic Rep. Chuck Moseley and Democratic Rep. Sheila Klinker.
The Star reported that most of the lawmakers failed to list any expenses or in-kind contributions for at least 20 of those fundraisers, which occurred while Centaur was lobbying lawmakers to allow live-dealer table games at the state's two racetracks, which it controlled at the time.
After The Star's investigation, several lawmakers filed amended reports, in some cases saying the mistakes were oversights and in others saying that Purucker—the Centaur lobbyist—paid.
Creative with cash
Ratcliff and Purucker found other ways to get money into the hands of elected leaders and former lawmakers.
For example, Purucker has employed former state lawmakers, including Democrat Mike Phillips, who served 22 years in the House, including three terms as House speaker.
Purucker's lobbying firm also hired former state Sen. Richard Thompson the year after Thompson carried a bill that many believed was designed to limit competition for Hoosier Park, which Centaur owned a stake in.
Lobbyists and lawmakers also have been offered investment opportunities through Centaur—sometimes quietly so.
In September 2000, the Indiana Horse Racing Commission punished Centaur for failing to disclose that lobbyist Kenneth Cragen and Phillips, who was also a lobbyist at that point, had received options to buy up to a 7% interest in Hoosier Park.
The commission's sanctions prohibited Centaur from increasing its ownership share in Hoosier Park, which it was trying to do, for four years.
But in November 2001, the commission lifted the sanction and cleared the way for Centaur to increase its ownership stake, which it went on to do before the year ended.
Joe Gorajec, who was the commission's executive director at the time, told IBJ that Centaur was "duly disciplined."
"Absent that one issue … they were model citizens," he said of Centaur.
A few years later, in 2004, Ratcliff created a Centaur-backed not-for-profit, known as Third Millennium Foundation, and hired then-state Rep. David Frizzell, R-Indianapolis. Frizzell served as president of the charity and earned $68,000.
Ratcliff served as chairman of the board and Purucker was a board member.
When asked about the potential conflict of interest, House Speaker Brian Bosma told The Indianapolis Star that "the influence of the industry should be of concern to us. But I think they have no influence over Dave Frizzell."
Centaur also supported politicians by hiring their companies. In January 2005, Centaur hired then-state Sen. Jeff Drozda's marketing firm, DC Consulting, to help promote the company's road project near its casino in Colorado.
Not just casinos
While Centaur's influence in the Statehouse has focused largely on gambling legislation, its associates have been involved with other issues as well.
In 2012, Purucker—while he was lobbying for Centaur—created a company known as Hoosier Emerging Technologies and recruited a variety of the state's top Democrats and Republicans to invest in the venture, with a goal of cashing in once the state eventually legalized marijuana. Some of these pitch meetings took place at Winner's Circle, which was then owned by Centaur.
Purucker pushed to legalize marijuana for the next several years. In 2015 and 2016, Purucker shifted his focus to vaping legislation.
In a controversial move, the Legislature passed a law that set new rules for who could manufacture the vaping liquids used in e-cigarettes and required that each applicant contract with a security firm. But the law was so specific that only one security firm qualified—and it had ties to a state senator who helped craft the bill's language.
The security firm agreed to do business with only a handful of manufacturers—half of them had connections with Centaur.
The FBI investigated the connections and several lawmakers acknowledged they had been contacted about the bill and its impact, but no charges resulted. Within a year, lawmakers rewrote the law and scrapped the security company requirements.
Flying the governor
After Centaur completed the sale of its horse track casinos to Caesars in 2018, Ratcliff prepared to launch Spectacle Entertainment and buy the Gary casinos.
That same year, Ratcliff flew Holcomb to Republican Governors Association events in Colorado and Arizona on a private jet—with one flight taking place just one day before Ratcliff announced the new company and Gary acquisitions.
Holcomb said he did not disclose the flights because they were considered gifts to the Republican Governors Association, not to him.
But the flights raised questions.
Bauer, the Democratic lawmaker, said he doesn't understand how those flights did not violate the state's prohibition on gambling companies donating to campaigns.
"I think they had a great deal of influence over the governor," Bauer said.
Holcomb has previously said he did not discuss gambling legislation with Ratcliff on the flights.
The Indiana Inspector General's Office investigated whether Holcomb violated any ethics rules after the private flights from Ratcliff became public but found no wrongdoing.
"It just seems like everything goes, and everything did," Bauer said.
Legislation Holcomb went on to sign in May 2019 allowed Ratcliff to shuffle the Gary casinos as he wanted. Plus, it legalized sports betting, which has been a boon to the casino industry.
The law also allowed the gaming commission to award a license for a Terre Haute casino, which was something else Ratcliff wanted to pursue. Spectacle has proposed building a $150 million casino there.
"They wanted too much as far as I was concerned," Bauer said about the 2019 gambling legislation, which he voted against. "They were gonna get what they wanted, obviously."•
Please enable JavaScript to view this content.