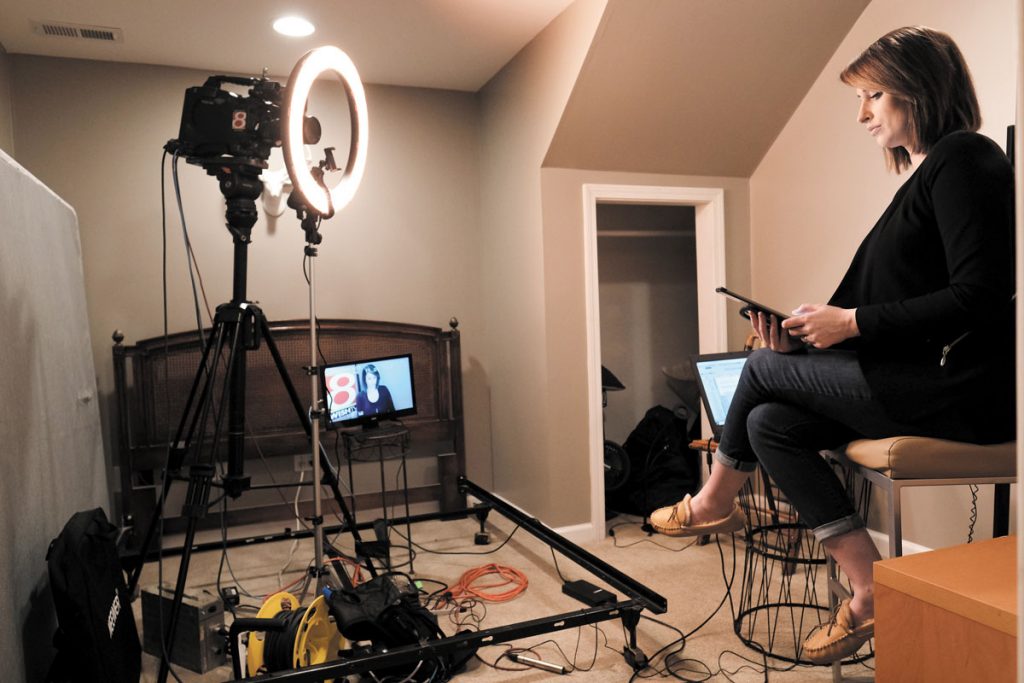 Television viewership is up significantly over the last month, with local TV newscasts seeing some of the biggest increases.
The jump from late February to late March is one of the biggest one-month increases in local TV news ratings in years, industry analysts said.
Unfortunately for local station owners and managers, the very thing that is driving the increase—the coronavirus outbreak—is also preventing stations from cashing in on those ratings increases.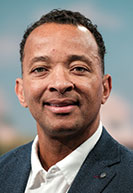 "This is a very strange situation. Among the strangest I've encountered," said DuJuan McCoy, a longtime TV station executive and owner, who last year bought WISH-TV Channel 8. "We simply can't monetize this. There are more advertisers canceling right now than buying."
And that's not the case only at WISH.
Carrie Wood, media planner and buyer for local advertising and public relations agency Borshoff, said her agency's clients are canceling ads across all local stations.
Wood said stations usually require two weeks' notice to cancel ads, but under the current situation, "all the stations are being extremely flexible in support of the agencies and advertisers."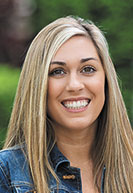 "The biggest challenge right now is the unknown," Wood said. "We normally plan advertising runs a quarter in advance. Right now, we just don't know what the future is going to bring. No one does."
Gov. Eric Holcomb issued a two-week stay-at-home order on March 23—taking effect two days later—that caused many businesses either to scale back significantly or close entirely. He extended that order—with some tweaks—through April 20, though many expect it to be extended again.
That's produced plenty of stories for local TV newscasts to cover—and those newscasts are crucial for stations because they typically generate 40% to 70% of the stations' ad revenue.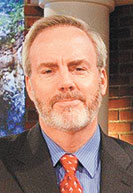 According to Nielsen, local TV news ratings in the Indianapolis market are up across the board, with the biggest increases—12%—during the early- and late-evening newscasts.
"WTHR saw significant increases in TV viewership and digital engagement across all dayparts, especially as the effects of the coronavirus spread across central Indiana," Michael Brouder, general manager of WTHR-TV Channel 13, said in a statement emailed to IBJ. "This audience growth continues to this day and further demonstrates the need for timely, comprehensive and relevant information by local broadcasters."
McCoy said WISH news ratings are up at least 10% across the board, and that the station's increases are outpacing those of other local stations in the morning because of its all-local offerings.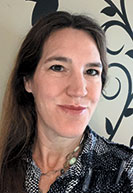 As local residents observe the governor's stay-at-home order, WISH's entertainment content is up 15% in the last month, McCoy added.
According to Nielsen, people of all ages are watching more TV news since the coronavirus outbreak erupted in the United States the first week of March. The biggest increase—20.4%—is among viewers 17 and younger.
"With the stay-at-home order, what we're seeing is, more young people are hunkered down at home and spending more time with their parents—who are more apt to be seeking news and information about the pandemic," said Kristine Warski, media director for MKR, a local full-service advertising agency.
TV stations' digital traffic is also up dramatically in the past month. The number of unique visitors to WISH's website is up more than 30%, McCoy said. That's the biggest jump in such a short period McCoy has ever seen from one of his stations.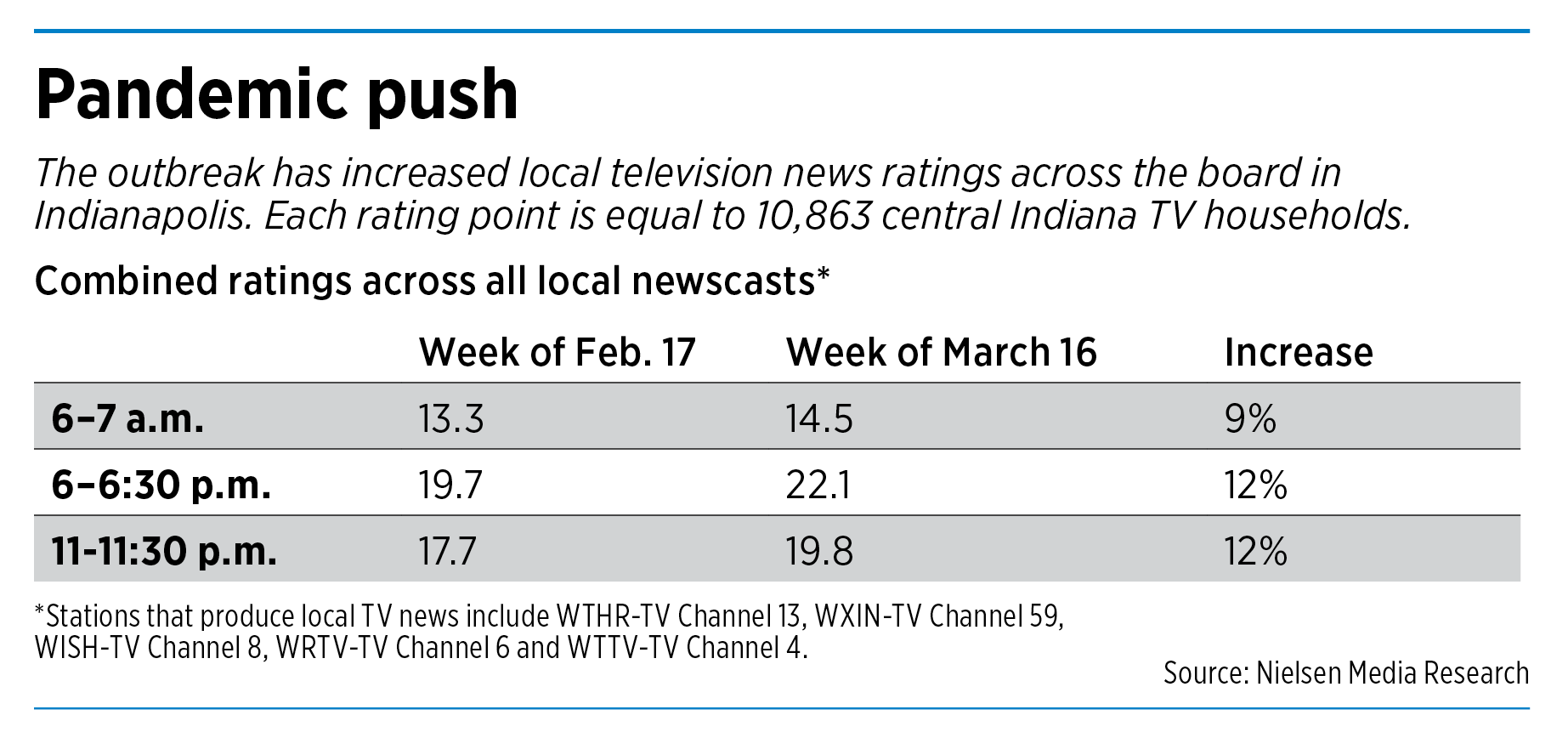 "People right now more than ever are searching for information, and the easiest way to get it is often online because they can do that on their own time schedule," he said. "We have to be where our viewer wants to be, not where we want our viewers to be."
Plummeting revenue
But despite those viewership increases, local TV ad revenue is down across the board, analysts said. Stations that are part of a highly leveraged company or conglomerate are most at risk, analysts added.
WISH's ad revenue is "off 30% to 50% in the last month," McCoy said.
"You can't do anything about it," he told IBJ. "We accepted all cancellations."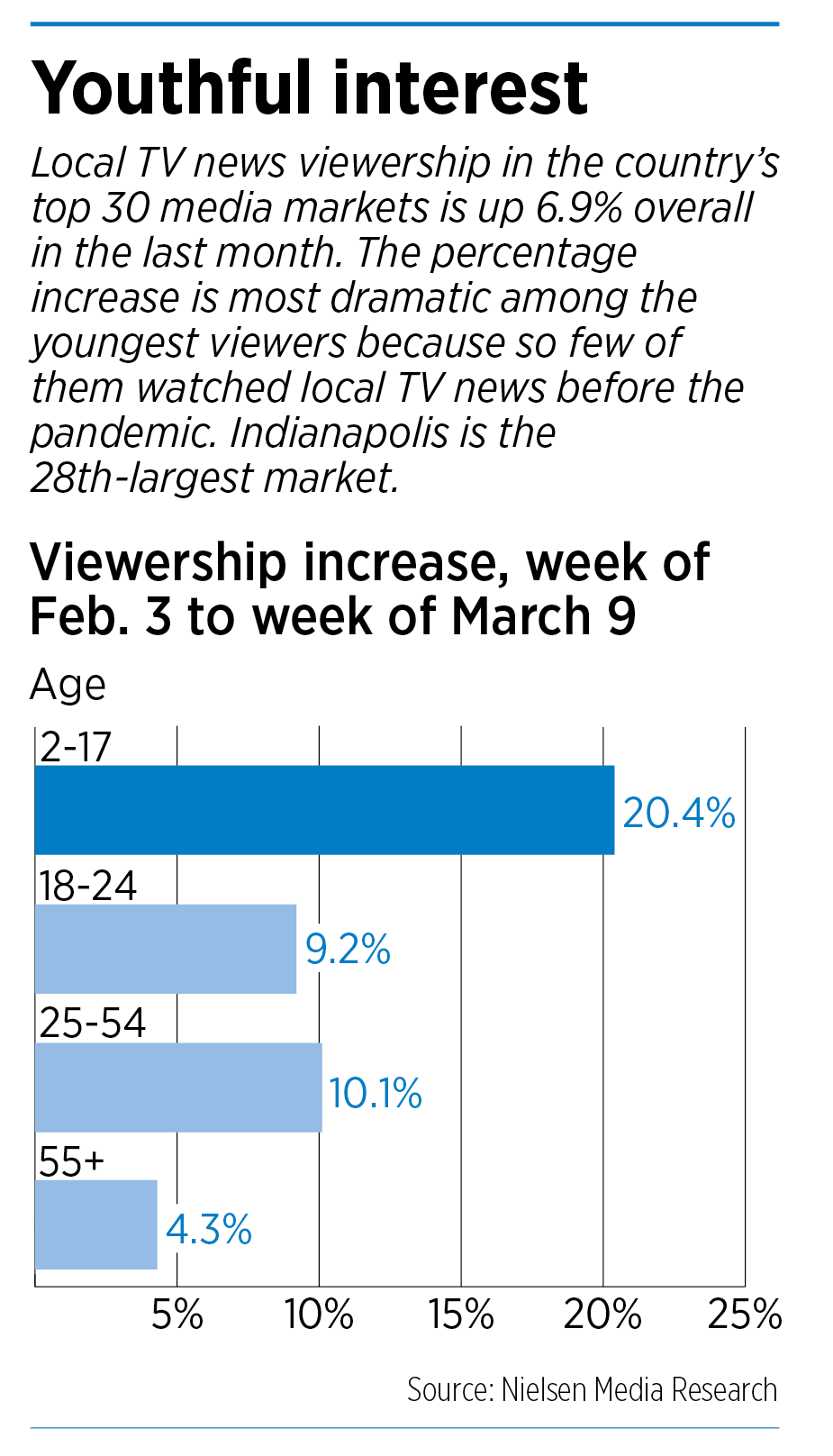 Advertisers who have canceled include sports teams, entertainment companies and destinations, furniture stores, restaurants and other retailers. But no pullback has stung more than car dealerships.
"Car dealers are some of the biggest advertisers in TV," McCoy said. "When the [auto] manufacturers shut down and employees are not coming to work, it's difficult to spend ad money."
While some car dealers have adjusted their message to reflect the times and kept advertising, many have scaled back and some have checked out altogether.
"Most brands are pausing their campaigns and pivoting what they want to say and how they say it," said Justin Wojtowicz, Borshoff's executive strategy director. "Brands want to stress being good community partners right now and want to be less salesy. The last thing any brand wants to do right now is to seem tone deaf to the situation we're all in."
Car dealer ads are the "bread and butter" for local TV stations, said Kevin Finch, an assistant professor of journalism at Washington and Lee University in Virginia and a veteran Indiana journalist who worked as news director for WISH and WRTV-TV Channel 6 as well as an executive producer for WTHR.
"Local TV station operators have to be asking themselves, 'How are we going to keep producing news when revenue is in serious decline?'" Finch said.
As concerns over the coronavirus outbreak and the struggling economy persist, he said, the need for the latest news will continue. Nielsen continues to report week-over-week double-digit percentage increases in local TV news viewership into the second week of April.
That hunger for information will continue because "we have two clashing forces: slowing the spread of the coronavirus and getting the economy rejuvenated," Finch said. "There's a real heightened interest in both of those issues."
Staying profitable?
Despite the revenue losses, McCoy said WISH remains profitable.
"I buy stations based on the worst-case scenario," he said. "Our debt load is manageable. We're profitable, and we'll remain profitable."
Other stations might not be so fortunate.
Officials from WTHR and WRTV sent a short email reply in response to a request for an interview for this story and declined to elaborate on TV ratings or ad revenue.
Dave Lougee, CEO of Virginia-based Tegna Inc., the owner of WTHR, sent an email to employees April 6 announcing companywide week-long furloughs to be taken in the second quarter of this year.
Lougee said that, while the TV stations have seen big gains in audiences on all platforms, "many businesses have decreased or in some cases pulled their current advertising and marketing campaigns because of COVID-19."
According to Lougee's email, the company is implementing a "one week furlough for most employees to be taken between the week of April 20 and the week of June 26. In lieu of one-week furloughs, news directors and station heads of technology will receive a commensurate 8% temporary pay reduction and general managers and corporate senior vice presidents and above will receive a 20% temporary pay reduction."
Officials for Nexstar Media Group—which owns WTTV-TV Channel 4 and WXIN-TV Channel 59—did not respond to requests for comment.
Production difficulties
Just keeping local newscasts running smoothly has been a challenge in itself.
A number of anchors and weathercasters have opted to work from home during the pandemic.
"If an employee wants to work from home, there are no debates," McCoy said.
While news organizations have been deemed essential—and therefore exempt from many restrictions—McCoy said only six or seven of his station's 150 staffers are coming into the office on a given day. And because field reporters and photographers are most at risk for being exposed to the coronavirus, they are not coming into the office "for the safety of everyone," he said.
"Our first priority right now is the safety of our employees. Second is the fiduciary responsibility we have to the public and profit is third," McCoy said.
"We have eight engineers working on distance and remote work situations," he said. "Setting up on-air people—whether those are anchors or meteorologists or someone else—it's much like doing a remote shoot at a sporting event. We're pretty nimble. We're set up for the long haul."
Nimble or not, having your news team dispersed triggers serious complications.
"It's very difficult to make last-second changes in a newscast when your people are scattered hither and yon," said Finch, who worked on WTHR's 1996 Olympics coverage. "It's live TV, and you're constantly making subtle, on-the-fly adjustments that make a big difference, and that gets difficult when you have various people working in various locations."
There are technical challenges, too.
"The quality of the video signal is a major concern. Super-high-speed and consistent internet is going to be key," he said. "Picture break-up so far has been a major concern even for national broadcasters. Viewers will start to notice that and get frustrated."
Just having a staff meeting is tricky.
"Brainstorming stories and exchanging ideas is critical for any news operation," Finch said. "Talking on a Zoom meeting will only get you so far. What you tend to have is a series of soliloquies rather than a true exchange of ideas in a back-and-forth conversation."
Despite the obstacles, broadcasters and industry experts say the pandemic presents an opportunity.
"People are so hungry for information, TV viewers are going to be sampling various news stations, and stations will be exposed to some new viewers," MKR's Warski said. "So there's a real opportunity for local stations and not just in the near term."
Finch said if he were still leading a newsroom, "my message would be that we've always been relevant, but now we're essential. You can't lose site of that."•
Please enable JavaScript to view this content.