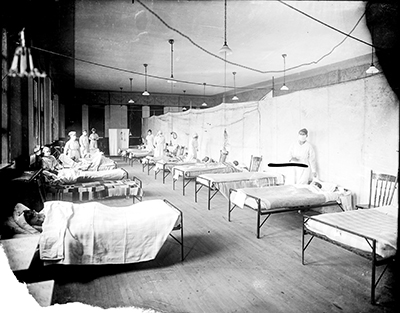 This year marks the 100th anniversary of the end of one of the most famous pandemics in history, the great influenza of 1918-1920, which is thought to have killed at least 50 million people worldwide. Indianapolis did not escape the onslaught, and the conjunction of the COVID-19 pandemic and May's National Nurses Month provides a timely opportunity to recall nurses' contributions.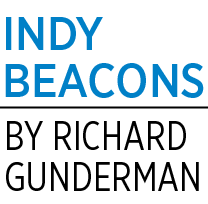 In 1920, there were no specific treatments for influenza—no anti-viral medications and no vaccine. The best way to combat the virus was to prevent people from becoming infected with it, but once patients fell ill, good nursing care was key.
Nurses were in short supply in the United States. Many had been sent overseas to serve in World War I, and those who remained were often assigned to military camps. The shortage hit Indiana hard, partly because some nurses, believing the state would be largely spared in the pandemic, volunteered to serve in East Coast cities.
Recognizing the importance of nurses, the State Board of Health issued guidelines to prevent them from becoming infected, including "Wear a mask, wash your hands each time you come in contact with the patient, walk in the fresh air daily, sleep with your windows open, and insist that the patient, cough, sneeze, or expectorate into cloths that may be disinfected or burned."
When influenza first appeared in Indianapolis, at Fort Benjamin Harrison, fewer than two dozen nurses were on hand to care for sick soldiers that would eventually number over 1,500.
An Indianapolis News headline read, "Fort Harrison Soldiers in Dire Need of Nurses," and the accompanying story noted that the few nurses available to serve were "worn to the point of exhaustion." Responding to such pleas, 10 nurses from Fort Wayne's Lutheran Hospital, motivated by "patriotic devotion," voluntarily traveled by train to Fort Harrison.
Methodist Hospital's nursing school also answered the call, sending a supervisor and 13 students to Fort Harrison. Every one of the students fell ill during their service there, and the supervisor, Edna Fletcher, soon developed symptoms of the flu, eventually succumbing to the disease.
Nurses worldwide exhibited remarkable courage and dedication. One British physician wrote, "Each day the difficulties became more pronounced as the patients increased and the nurses decreased, going down like ninepins themselves. … As I write I can see some of them now fighting to save their friends and then going down and dying themselves."
Nurses also visited sick patients and families in their homes, where they often encountered heart-rending situations. One report of the day read, "As a nurse was leaving one patient's home, she was called from a house across the street. A 10-year-old girl met her at the door, telling her that her father, mother, brother and sister were ill in bed. She found the mother desperately ill. In a crib beside her was a six-week-old baby, who had not been bathed for four days. The father had a fever of 103 degrees but had to get out of bed to care for his wife and children."
The demands placed on nurses could be overwhelming. One superintendent of visiting nurses wrote, "When nurses arrived in a neighborhood, they often found people watching at their doors and windows, beckoning them to come in. One day a nurse who started out with 15 patients saw 58. Sometimes a nurse would be surrounded by people asking her to go with them to see other patients."
Perhaps in part because the influenza pandemic coincided with the war, nurses' contributions in combatting the pandemic frequently did not receive the attention they deserved. People were frequently too preoccupied with recognizing fallen and returning soldiers. Today each of us can avoid repeating this omission by thanking a nurse.•
__________
Indy Beacons celebrates the history of Indianapolis in the year leading up to its 2021 bicentennial by telling the stories of famous city residents. It appears the second and fourth issues of every month. Gunderman is chancellor's professor at Indiana University.
Please enable JavaScript to view this content.