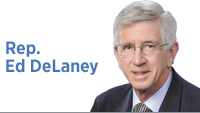 I can't be angry at Mike Pence, but I sure can be disappointed. And I am not talking about his leaving the presidential race.
I have known and followed the career of the former vice president for years. I remember his vicious campaign against congressman Phil Sharp and his resultant conversion to decency in politics.
I met him when he had my wife, Ann, on his talk radio talk shows as a Democratic voice. I saw somewhat more of him when he became governor while I was serving in the Indiana House. I was always aware that we have a lot in common. We are the grandsons of Irish immigrants and products of Catholic education. We had both been tempted to give all to religion. I had briefly been a Jesuit, while Mike became an evangelical and worked to put religion into the Statehouse. Mike failed to put the lessons of faith to work when it came to Donald Trump. Otherwise, how could he have provided cover for that man?
Mike's number one accomplishment as governor was the extension of health care benefits to hundreds of thousands of Hoosiers. He has downplayed this success. His second accomplishment came on Jan. 6, 2021, when he played his limited and proper role in the counting of electoral votes. Once again, he ran away from having done the right thing.
Let us dig into these decisions in which Mike took no pride. Mike used his executive powers as governor of Indiana to expand Medicaid under the Affordable Care Act. He used executive authority, albeit to do good, and he provided the benefit of Obamacare to Hoosier voters.
But he hid the program under an acronym (HIP 2.0) and never touted its success or his role. Remember, his Republican legislators would not have given more Hoosiers health care coverage. It is rare for a politician to walk away from something that called for him to be proud. Mike somehow thought he could do a good thing and not be punished politically by his party if he just went to ground.
His Jan. 6 error shows the same thinking but was far more grievous. Rather than take pride in his refusal to help Trump overturn an election, he made it appear he had reluctantly acted out of duty, that he had no choice. He did not immediately express anger at Trump and separate himself from that man. He took no pride in his action, but rather ran from it. Then in his own campaign for president, he struggled to explain away his action as nothing more than the equivalent of stopping at a red light.
Mike exhibited no pride in what he had done and no anger as to what Trump had attempted. He avoided testifying in the congressional hearings. He should have volunteered to tell all he knew.
Mike's good qualities were more than offset by blinding ambition. He believed so deeply in his foreordained future that he thought he could flirt with the devil known as Trump. He could both restrain Trump and become president after him. Did he really think he could bring that man around or at least restrain him?
Mike has not practiced enough law to know that a sociopath as a client is still a sociopath and will remain so, despite his lawyer. So Mike will be known not for his victories but for his failed ambition.•
__________
DeLaney, an Indianapolis attorney, is a Democrat representing the 86th District in the Indiana House of Representatives. Send comments to ibjedit@ibj.com.

Click here for more Forefront columns.
Please enable JavaScript to view this content.