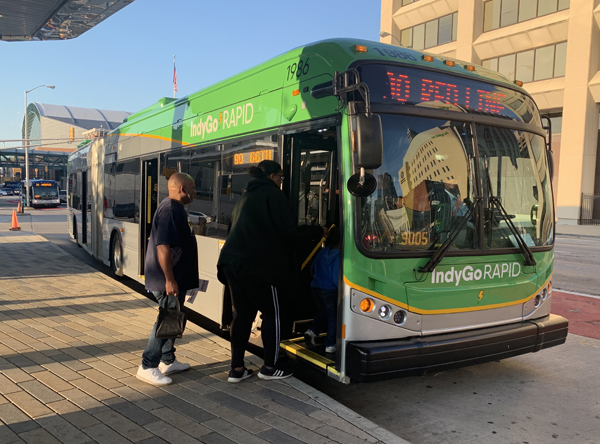 Political tensions over IndyGo spilled into the transit agency's budget hearing Thursday evening, as Republicans raised concerns over the rising costs associated with the bus rapid transit lines.
Republican Councilor Brian Mowery said he wanted the system to succeed but raised questions about why reconstruction was needed around some Red Line bus stops only three years after its launch and if such work would be needed for future lines.
"In the budgeting for the new line, are we budgeting for ripping up the streets and having to rebuild them after three years?" Mowery said.
IndyGo CEO Inez Evans said reconstruction was needed to increase the depth as hybrid buses approached charging rails to achieve better efficiency, and that the Purple Line would be built with this knowledge.
The $5.6 million in Red Line alterations came out of IndyGo's capital budget, Evans said.
Republicans also expressed concerns about IndyGo's recent revelations that the cost of the Blue Line is now projected to go $300 million over its initial price tag, mostly due to the cost of connecting to Citizens Energy Group's sewer system on Washington Street.
Alternatives for the increased price tag are being explored, but one hasn't been chosen, according to spokeswoman Carrie Black. Investments in the Blue Line wouldn't be made until 2024, so the line won't have a direct effect on the 2023 budget.
Regardless, it was a hot topic at the hearing. IndyGo's proposed $130-million budget includes expected decreases in fare revenue through 2027, but funds from $83 million in local taxes, $29 million in federal assistance and $11 million in state funds and grants. 
The largest investments for 2023 will be the Purple Line, at $51 million, and the East Campus garage, at $19 million. Neither of the projects will be completed in 2023. The proposed budget has been approved by the IndyGo board and now awaits approvals from the Democratic -controlled City-County Council and the Department of Local Government Finance.
Republican Councilor Michael-Paul Hart compared IndyGo's Blue Line situation to if he had hired a contractor for a project at his house and received a higher-than-expected estimate.
"I'd start looking at cutting things," Hart said. "That's my stance on the position that you're in, but I recognize the situation and then I just encourage you to do your best to look at the lessons learned moving forward."
When the price increase was announced, the IndyGo board discussed potential changes to the rapid transit line, like moving the western part of the route onto Interstate 70 or shifting to hybrid buses from all-electric ones. 
Democratic Councilors Ali Brown and Jared Evans expressed concerns about the issues caused by the price increase, with Jared Evans going as far as to say Citizens is "holding hostage" the city and IndyGo.
"I can't speak negatively enough about CEG," Jared Evans said. "My comments here are as toned as they will get, because what I'd really like to say isn't good for TV. We'd have to be on HBO."
Citizens told IBJ the stormwater work is needed to comply with a legal agreement that Citizens became a part of in 2011, which aims to prevent combined sewer overflow.
After collaboration on drainage for the first two rapid transit lines, a stormwater master plan was created, Laura O'Brien of Citizens told IBJ in an email.
"Conclusions presented in the final Stormwater Master Plan indicated that additional storm sewers would be needed to meet drainage requirements to accommodate street improvements proposed for the Blue Line," O'Brien said.
After a lot of discussion about the costs of IndyGo, Democratic Councilor Keith Graves said it was important to keep in mind IndyGo's purpose of connectivity.
"There's so many people in our city who have transportation barriers and are unable to get to medical appointments, school, work and to visit their loved ones," Graves said. "I don't want us to get caught up and forget what this is about."
Democratic Councilor Monroe Gray, chair of the Municipal Corporations Committee, joked that a political divide was apparent during councilors' questioning of Evans, the IndyGo CEO.
"It's not hard to tell which side of the aisle where all the bus routes are going," Gray said.
Gray laughed and ended the budget hearing, but Mowery—still in front of a microphone—told Gray the statement was "sad."
Please enable JavaScript to view this content.