IndyGo said Wednesday that a new estimate for the Blue Line—which would be the city's third rapid-transit bus route—has grown to $520 million, up a whopping $300 million from initial projections released in 2019.
And it's looking for ways to cut costs.
Inflation, rising costs for staffing and new drainage requirements have pushed up the costs of the line, an east/west route meant to connect the Indianapolis International Airport to Cumberland.
But the new price tag doesn't include the far western segment, which originally was to run along Washington Street, west of Holt Road. (The original $220 million price tag included all six segments of the route.)
Now, IndyGo is considering moving the western part of the route onto Interstate 70, which officials say could reduce the cost of the project and save time for riders trying to get to Indianapolis International Airport.
The original Blue Line route was 24 miles long; IndyGo did not say how using I-70 would change the distance.
Jennifer Pyrz, IndyGo's chief development officer, said moving part of the route to the interstate—which runs south of Washington Street—could save $50 million in capital costs and require four to five fewer buses. It could also cut operating costs by $1.65 million per year, she said.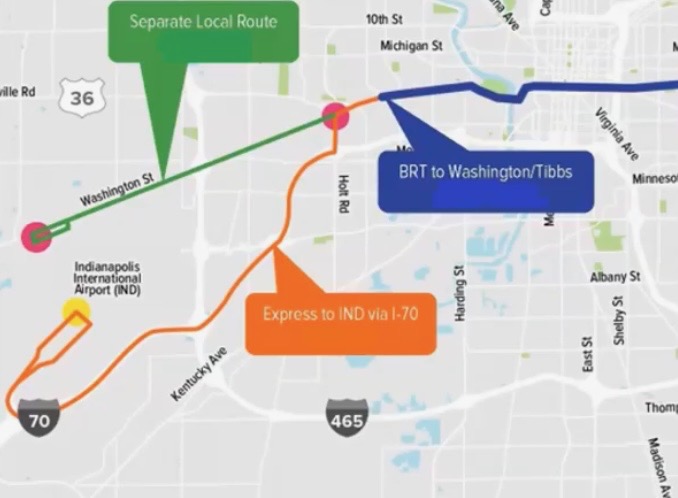 Pyrz said legislative pressure also led the transit authority to reconsider using Washington Street for the western segment. Earlier this year, two Republican state senators from Indianapolis filed legislation to ban dedicated bus lanes on Washington Street, a move that IndyGo said would have killed the project. That's because $100 million in federal funding the agency plans to use for the route requires dedicated bus lanes.
Senate leaders killed the bill, but it was just the latest attempt by Republicans in Indianapolis to derail the city's rapid-transit projects.
Even if IndyGo makes the I-70 change, Washington Street west of Holt Road—which is currently part of IndyGo's Route 8—could still see infrastructure improvements, dedicated lanes and 60-foot buses, Pyrz said.
Meanwhile, IndyGo officials told the board they will be searching for additional funding for the Blue Line route, which they hope to open in 2027.. The route's design is now 60% done, which allows for more accurate costs estimates.
IndyGo budgeted $220 million for the line in 2019, while the design was just 30% complete. It received a new independent cost estimate in June.
The agency said vehicles for the route will cost $128 million. The cost of drainage improvements increased from 30% of the line's total price tag to 42% to comply with requirements set by the Department of Public Works and Citizens.
The board also heard ways the price tag could drop, which included a switch to hybrid buses—rather than all-electric buses—that could save $96 million, Pyrz said.
Please enable JavaScript to view this content.