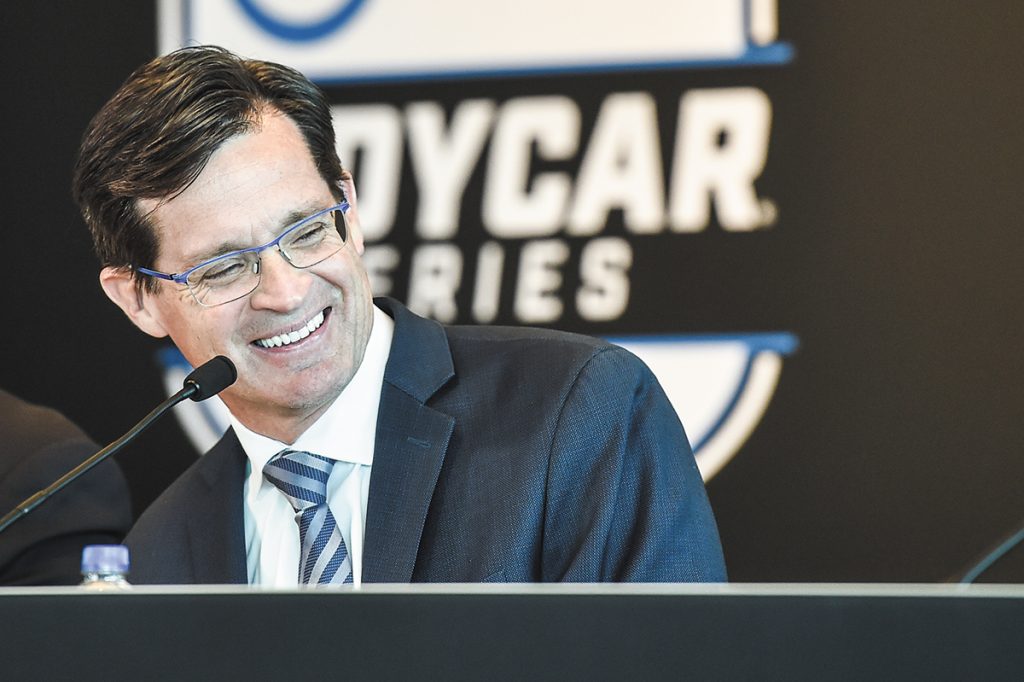 Indianapolis Motor Speedway and IndyCar Series owner Roger Penske shocked the racing world this week when, talking about the Indianapolis 500, he told Racer magazine, "We will run it only with fans."
It appeared Penske could pull the plug on this year's race—by far the IndyCar Series' biggest event—if it couldn't be run with fans in the stands. In a typical year, 250,000 to 300,000 fans attend the race.
The comment came just days after the Indianapolis Motor Speedway announced that NASCAR's Brickyard 400 and an associated IndyCar race would run during the July 4 weekend without fans. That, said Speedway President Doug Boles, was a "massive disappointment" for fans.
So IBJ talked to Boles about plans for the Indy 500, which is scheduled for Aug. 23. That's about seven weeks after the state's reopening plan calls for sporting events to resume.
Marion County has been moving through the reopening phases a couple of weeks behind the state's dates, meaning that—if all goes according to plan—the state might have no restrictions when the Indy 500 takes place.
Here's what Boles had to say.
It wasn't quite clear what Roger Penske meant in his interview with Racer magazine about racing the Indianapolis 500 this year "only with fans." Could you clarify the situation?
What makes the Indianapolis 500 special is our fans. What he meant is, we fully intend to run the Indianapolis 500 with our fans. Our intent is to run with as many fans as would like to attend in August. Having the Indianapolis 500 in August with fans is our 100% focus.
How big of a crowd do you envision having at this year's Indianapolis 500?
That's a great question. Our ticket sales have started to pick up significantly in the last couple of weeks. I think the crowd will be well over 200,000.
How can you be certain city and state officials will allow you to have a large crowd at this year's Indy 500?
Where the state is expecting to be is phase 5 [of reopening the state]—which allows large sporting events—by July 4. We think the city will move into phase 5 shortly after that. That gives us two months for things to progress. So we feel very confident about our race in August.
The Racer article also mentions that, if fans can't attend the race in August, it could be moved to October. Is that a possibility?
That's just a contingency we have. We have a date [in October] if we need it. But, I'll reiterate: Right now, we're fully focused on racing with fans in August.
If the Speedway isn't allowed to have fans in the stands in August or October, will the race be canceled?
I honestly don't think we've had a conversation about that. I honestly believe we will have the race with fans. Things are going the right direction, we are an outdoor venue, and we have time to prepare and to do this.
Would Indianapolis Motor Speedway officials consider running this race without fans in the stands?
Aug. 23 will be the Indy 500 with fans. If we continue on the path we are on today, I'm certain we'll have it in August with a lot of fans.
How can you be so certain?
Of course, if the situation with the COVID-19 pandemic starts to go in the opposite direction, we'll have to adjust. But we're confident, based on the current situation and trends, that we'll have the race with fans in August.
What measures will be in place at this year's race to deal with the ongoing pandemic?
We don't know the answer to that question right now. We are planning for a number of scenarios.
Can you give some examples of contingency plans Speedway officials are considering?
We're monitoring the situation. We will likely hand out face masks and hand sanitizer to fans as they enter. I don't know that we would require fans to wear masks, but we want to make sure they have them if they feel more comfortable wearing them. We'll have to consider other measures.
Is there any contingency for any of the track's numerous grandstands to be closed?
If fans want to come, we want them to be here. At this point, we're not planning on any of our grandstands being closed.
What will be required of staffers at the track on race day in terms of masks and things like that?
We're still evaluating policies and procedures in place for staff, with multiple approaches under consideration.
Do you think some race fans will be afraid to come to this year's race due to the pandemic?
I would expect some race fans would be uncomfortable coming to the race, just as some people are not comfortable going to a grocery store.
Is that fear justified?
I think it depends on who you are. A person can make their own argument. It's not our job to decide for our fans. They have to decide for themselves what's safe and what isn't.
Will there be a ticket-refund option for fans who don't want to attend due to the coronavirus?
At this point in time, we have maintained the long-term policy … it does not include an option for a refund. We'll continue to monitor the situation as we get closer.
What are you hearing from your fans about this year's race?
The vast majority of the Indianapolis 500 fans want to be here in August. We're hearing from a lot of them. That's why we're focused on holding the race in August. The fans' reaction to holding the Brickyard 400 with no fans in the stands [on July 5] was massive disappointment. That's a strong indication of how our fans feel.
How critical is the revenue generated from the Indianapolis 500 for the track and the IndyCar Series?
The Indianapolis 500 is obviously the biggest event we hold at the Speedway and on the IndyCar schedule. It's important [financially] not just to the track but to the entire IndyCar ecosystem.•
Please enable JavaScript to view this content.