What criteria should lawmakers consider when drawing the maps?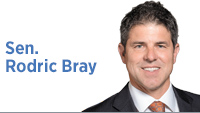 Indiana is about to redraw its legislative districts. In doing so, Indiana must abide by all constitutional requirements and other relevant laws, such as the Voting Rights Act, and concepts such as contiguity and population equity.
That said, redistricting decisions are complicated. Does the General Assembly prioritize making districts compact or keeping communities of interest together? Should district lines follow natural geographic boundaries or lines that separate cities, counties and towns? These and other commonly discussed criteria are all worthy of debate. They are also often in competition with one another.
For a very simple example, consider a county that is too large to be its own district. To keep communities of interest together, does one draw districts that follow school corporation lines, municipal lines, township lines, or some other boundary? In choosing to follow one of these, or several, does the district risk losing its compactness? Map-drawing decisions in one district create ripples impacting districts all across the state.
I commit to Hoosiers the Indiana General Assembly, which is constitutionally charged with the duty of drawing the congressional and state legislative maps, will redistrict in a public and transparent way that meets all legal requirements and serves Hoosiers well.
First and foremost, citizens should always remember their best line to the Statehouse is through their state senators and representatives. We invite citizens to contact us throughout this process. Contact information for each member can be found at iga.in.gov.
Second, we traveled the state to gather feedback from Hoosiers in each congressional district during our statewide redistricting hearings. In addition to in-person attendance, this year we expanded our reach by streaming and archiving these meetings online so anyone could and still can watch the discussion.
These meetings were designed to get feedback from Hoosiers before the maps were drawn so that lawmakers go into the map-drawing process aware of Hoosiers' priorities.
Once the data is ready, we also plan to make available a software tool that will allow citizens to draw and submit their own maps for review and consideration. We expect this tool to be available at Ivy Tech campuses across the state and online on our redistricting resource page, iga.in.gov/redistricting, so Hoosiers can use their personal computers to submit their ideas.
Sometime in mid to late September, the Legislature will reconvene to draw and consider the maps. This process will be subject to the regular legislative process, which will give the public additional opportunities to participate. The bills containing the maps, like all bills before the Legislature, will receive full committee hearings where members of the public can testify, floor debate where any member of the General Assembly can offer amendments, and a final vote by lawmakers in each chamber of the General Assembly before going to Gov. Holcomb for his consideration.
We all know how important redistricting is, and I take that responsibility very seriously. Hoosiers should be assured their voices are being heard in this process as we work to draw maps that will serve our state well for the next decade.•
__________
Bray, an attorney, is a Republican representing the 37th District in the Indiana Senate and President Pro Tempore. Send comments to ibjedit@ibj.com.
Please enable JavaScript to view this content.