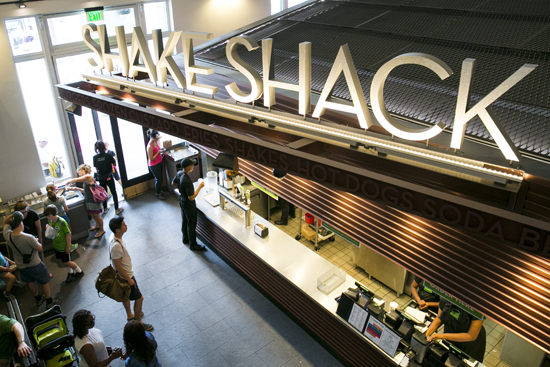 Fast-casual burger chain Shake Shack Inc. plans to open a third Indy-area location next year, this one on the first floor of a ritzy downtown apartment building now under construction.
The restaurant will occupy 3,459 square feet at the southwest corner of New York and Delaware streets as part of the 131-unit, $45 million Ardmore apartments being developed by Deylen Realty Inc. and Gershman Partners. Shake Shack is expected to open the location in the third quarter of 2021.
"We're thrilled to welcome Shake Shack to downtown as part of this exciting project for the city of Indianapolis," Gershman Partners principal Ryan Gershman said. "Ardmore offers a first-of-its-kind draw for new-to-market retail concepts for the city, and a tenant like this is a real win not only for this development, but for the city as a whole."
Shake Shack has established something of a cult following in the cities in which it's located. The restaurant serves Angus beef burgers, along with chicken sandwiches and hotdogs, crinkle-cut fries, frozen custards and shakes.
The New York City-based chain previously announced plans for Indy-area restaurants at The Yard in Fishers, in February, and at the Indianapolis International Airport, in March 2019.  The company has more than 200 locations in the United States, including more than a dozen in the Midwest. It also has several international locations.
"Shake Shack may have gotten its start on the East Coast, but we've seen great enthusiasm and reception from Midwest markets," said Andrew McCaughan, Shake Shack's chief development officer. "We are excited to continue to grow our footprint with the downtown Indianapolis location opening in 2021."
Ryan Gershman said that the proximity of The Ardmore to the Mass Ave Cultural District to the northeast will be a perfect fit for Shake Shack and other unique dining and retail concepts.
Construction on the Ardmore broke ground in January 2019 and is expected to be complete by the end of next week. The development includes 20,000 square feet of retail space and a parking garage with more than 300 spaces, including designated spots for retail users.
Dozens of apartment leases have already been signed for the project—specific figures weren't immediately available—and tenants are expected to begin moving in sometime in November.
Gershman Partners plans to announce additional retail tenants in the coming weeks, with a focus on new-to-market, urban and edgy concepts.
In written remarks, Downtown Indy Inc. President Sherry Seiwert lauded Shake Shack's plans to open downtown.
"We couldn't be happier about what the Shake Shack opening announcement means for downtown and all of Indianapolis," she said. "It's really exciting to see a company with tremendous national fanfare and popularity investing in our community."
She said downtown residents, workers and visitors "are hungry for fresh new concepts like this one" and said Shake Shack's arrival will appeal to those now making their way back to the city's central business district.
Plans for the Fishers and airport restaurants have been delayed to at least the second half of 2021 or later because of the coronavirus pandemic.
The chain said in May it was pausing design and construction of all new restaurants because of COVID-19, but in late July it resumed development activity.
In an earnings release on July 30, Shake Shack CEO Randy Garutti said the company planned to open between six and 11 new locations by the end of the year, bringing its total 2020 new-store openings to between 15 and 20.
"We have a strong identified pipeline of leases in negotiation and believe additional and improved development opportunities may be available over time due to the impact of COVID-19 on the overall retail and real estate environment," Garutti said.
Shake Shack is scheduled to release its third-quarter financial results Thursday afternoon.
The company grew out of a hot dog stand that celebrity chef Danny Meyer opened in New York City's Madison Square Park in 2000 as part of an effort to revitalize the park.
In 2004, Meyer and Garutti converted the cart into a full restaurant serving hot dogs, hamburgers, crinkle-cut fries and milkshakes. The restaurant quickly developed a cult following, with diners drawn to its simplicity and quality, ethically sourced food and excellent customer service.
Shake Shack restaurants average more than $4 million in annual revenue—far higher than most fast-food chains. McDonald's restaurants average $2.6 million.
IBJ reporter Susan Orr contributed to this story.
Please enable JavaScript to view this content.