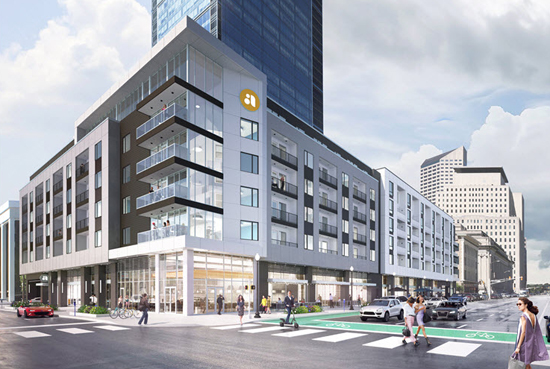 After months of delays, the developers of a $45 million mixed-use project in the Mile Square plan to begin construction early next week, with plans to have the building move-in ready by the end of 2020.
Work on The Ardmore, a five-story apartment and retail building on the southwest corner of North Delaware and East New York streets, is expected to start Jan. 13, with a formal groundbreaking ceremony slated for Jan. 30. The project is a joint venture between Indianapolis-based Gershman Partners Inc. and Deylen Realty Inc.
Designs for the building call for 131 apartments and 19,000 square feet of retail space, along with a 316-car parking garage. Those numbers are slight revisions from the originally proposed design, which had five fewer units and a dozen less parking spaces.
When the project was first announced in late 2016, work was expected to be completed by early this year, but permitting and delays in acquiring the property—then held by Nightingale Properties, which also owns the 35-story Regions Tower in the same block—pushed the start date back significantly.
Eric Gershman of Gershman Partners Inc. said the buildout for the project is expected to take about 22 months, with retail space ready for move-in by the middle of 2020. The apartment units would be completed by the end of 2020.
The units are expected to range in size from about 550 square feet to more than 1,600 square feet.
The project is taking place on an existing surface parking lot that has long been used by people working in the downtown area. Those using the lot were informed of an order to vacate by the end of 2018 and have been temporarily moved to other lots, Gershman said.
The developers acquired the 2.8-acres parcel in mid-December for an undisclosed price.
The project, designed by local architecture firm Blackline Studio, in 2017 received $7.2 in developer-backed tax-increment financing bonds from the city to partially fund its development. Total investment in the project was originally expected to clock in around $41 million.
The funding model has been pushed by the Mayor Joe Hogsett's administration in recent years to help finance several projects that have sought city assistance. With traditional TIF deals, the city assumes the risk of a bond issue, and is on the hook for any shortfalls if additional property tax revenue generated in a defined district falls short of debt payments. The new model moves that burden to the developer, meaning it must back the bonds and account for any shortcomings in tax revenue.
Amid the Ardmore's buildout, the developers are expected to continue looking for tenants for the first-floor retail space. Gershman said they are having conversations with several possible retailers.
"We're talking to a variety of different tenants—mostly new-to-market, which is exciting," he said. "It's going to be a combination of restaurants and services and traditional retail."
He said the tenants could range from restaurants and coffee shops to clothing retailers and fitness studios. He declined to address whether those interested in the space include Target, which recently has promoted its strategy of opening more small-format stores in densely populated areas. Local speculation for a modest downtown Target has tended to focus on the Ardmore site and the former home of Carson's in Circle Centre.
Target told IBJ it doesn't "have anything to share regarding plans for a new Target store in downtown Indianapolis."
Gershman said he believes Ardmore will help tie together the Massachusetts Avenue corridor, which on its opposite, northeast end is seeing the development of the $300 million Bottleworks mixed use project including apartments and condos, as well as office and retail space.
"I think they can complement each other nicely by kind of being the bookends of Mass Ave.," he said. "We think this is a really dynamite retail location."
Please enable JavaScript to view this content.