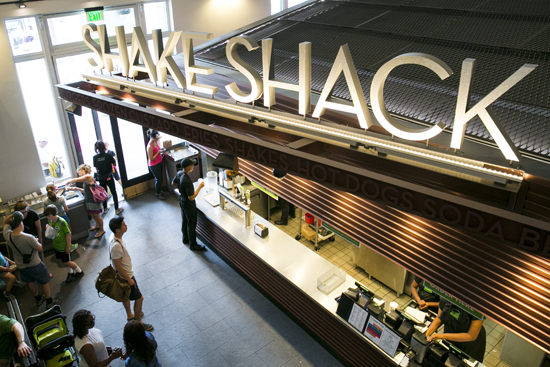 With a restaurant already in the works at Indianapolis International Airport, Shake Shack also is paving the way for a Fishers location and is in the hunt for spot in downtown Indianapolis.
A construction design permit filed for 9701 E. 116th St. on behalf of Shake Shack Indiana LLC indicates the popular burger chain will fill an outlot building at the northwest corner of the Fishers District mixed-use development.
After being contacted by IBJ, Shake Shack confirmed late Thursday morning that it planned to open the 4,200-square-foot eatery in late 2020. It also said that it planned to hire 70 full- and part-time employees.
Retail real estate broker Steve Delaney, a first vice president with CBRE who specializes in restaurants, also confirmed the Fishers District location and said there might be another Shake Shack in the works.
"I know they're looking downtown, but I don't think they've got anything signed yet," Delaney said.
Andrew Clifford, a partner in the Indianapolis office of 7D Commercial Real Estate who is representing the chain in selecting sites, declined to comment.
Last March, IBJ reported that the popular New York-based chain was scouting sites in the Indianapolis-area market and running ads to recruit managers. Its first confirmed location is in the airport, which is in the midst of a major retail overhaul.
The restaurant is scheduled to open this summer, according to an airport spokeswoman.
Shake Shack grew out of a hot dog stand that celebrity chef Danny Meyer opened in New York City's Madison Square Park in 2000 as part of an effort to revitalize the park.
In 2004, Meyer and Garutti converted the cart into a full restaurant serving hot dogs, hamburgers, crinkle-cut fries and milkshakes. The restaurant quickly developed a cult following, with diners drawn to its simplicity and quality, ethically sourced food and excellent customer service.
Shake Shack restaurants average more than $4 million in annual revenue—far higher than most fast-food chains. McDonald's restaurants average $2.6 million.
The chain now has more than 280 locations in 30 U.S. States and the District of Columbia. Shake Shack also has more than 95 international locations including London, Hong Kong, Shanghai, Singapore, Philippines, Mexico, Istanbul, Dubai, Tokyo, Moscow, Seoul and other countries.
Please enable JavaScript to view this content.