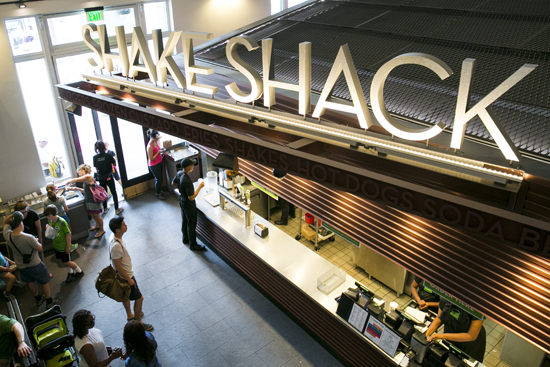 Shake Shack's plans to open a restaurant in Fishers are on hold now that the burger chain has paused all design and construction of new locations as a result of the coronavirus crisis.
IBJ reported in February that the New York City-based company intended to fill an outlot building at the northwest corner of the Fishers District mixed-use development on 116th Street east of Interstate 69.
At the time, Shake Shack confirmed to IBJ that it planned to open the 4,200-square-foot eatery in late 2020. It also said that it planned to hire 70 full- and part-time employees.
However, CEO Randy Garutti told Wall Street analysts on Monday afternoon that the chain was postponing its expansion plans.
"During this COVID-19 crisis, we have paused all design and construction of new Shacks," Garutti said.
"At this point it's too early to give any specific guidance around the timing or number of Shacks for either 2020 or beyond, but we will update you as our planning here evolves," Garutti said.
The status of the firm's progress on the Fishers District site wasn't immediately clear. The company did not respond to a request for comment from IBJ on Tuesday morning.
The status of the location planned for Indianapolis International Airport, set to open this summer, also was unclear. An independent operator with a licensing agreement with Shake Shack would run the store, which might preclude it from the corporate pause in expansion.
HMSHost, part of Italy-based Autogrill S.p.A., would operate Shake Shack in a 745-square-foot space in Concourse B. HMSHost did not immediately respond to a request for comment on Tuesday afternoon.
Like most restaurant chains, Shake Shack saw sales plummet in the first quarter. Its same-store sales fell 12.8%. Nearly 80 of the chain's 287 restaurants are temporarily closed, and others have shifted to carryout-only business.
Shake Shack's expenses have risen during the coronavirus crisis as it acquires safety equipment, such as face coverings, gloves, cleaning supplies and additional secure packaging for all orders, according to its earnings report. In addition, beef prices have been climbing.
The company was the subject of controversy last month when it received a $10 million loan through the federal Paycheck Protection Program, which was meant to aid small businesses. Shake Shack was eligible via a loophole: Its outlets employ fewer than 500 workers each.
Following a backlash against large publicly traded firms that received PPP loans, Shake Shack returned the money, saying it had found new funding through "an equity transaction."
Shake Shack grew out of a hot dog stand that celebrity chef Danny Meyer opened in New York City's Madison Square Park in 2000 as part of an effort to revitalize the park.
In 2004, Meyer and Garutti converted the cart into a full restaurant serving hot dogs, hamburgers, crinkle-cut fries and milkshakes. The restaurant quickly developed a cult following, with diners drawn to its simplicity and quality, ethically sourced food and excellent customer service.
Shake Shack restaurants average more than $4 million in annual revenue—far higher than most fast-food chains. McDonald's restaurants average $2.6 million.
The chain now has more than 280 locations in 30 U.S. States and the District of Columbia. Shake Shack also has more than 95 international locations including London, Hong Kong, Shanghai, Singapore, Philippines, Mexico, Istanbul, Dubai, Tokyo, Moscow, Seoul and other countries.
Please enable JavaScript to view this content.