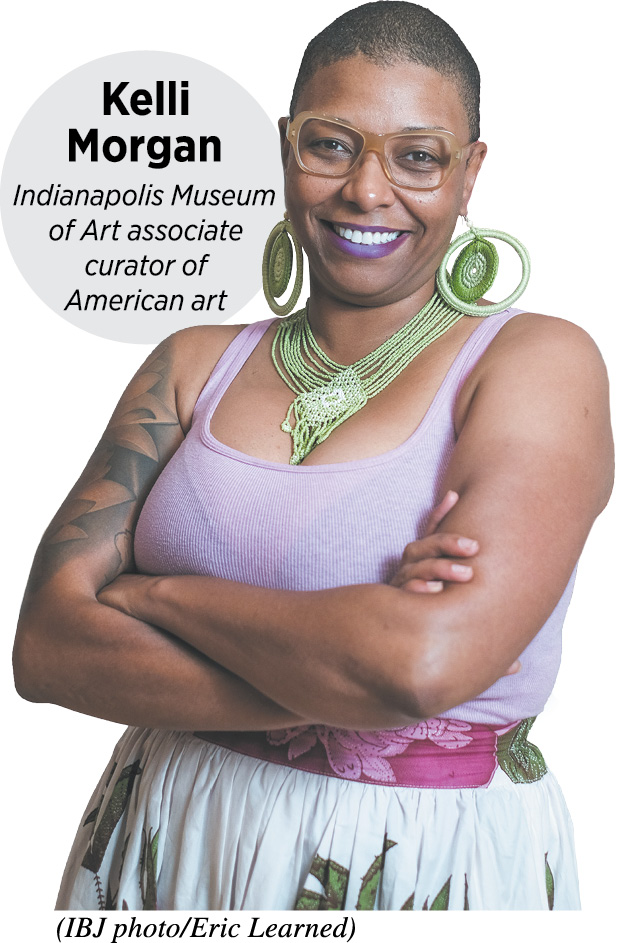 The Indianapolis Museum of Art at Newfields hired Kelli Morgan last year as associate curator of American art, but her basic job description is to shake things up.
Her specialty as a critical race cultural historian is to identify how artists and museums create narratives about American culture that belittle, deemphasize or oppress black populations and other ethnicities. She then can alter the presentation and juxtapositions of objects to be more inclusive and provide more revealing context.
She already has staged the first major solo exhibition of an Indiana black artist's work in the IMA's history—"Samuel Levi Jones: Left of Center," which runs through Sept. 1. Based in Indianapolis, Jones comments on the duplicitous nature of American power structures, using sets of encyclopedias, law books and medical texts as media for abstract paintings and sculptures.
Morgan, 39, also is rethinking the museum's collection of Native American and pre-Columbian work for an exhibit to be titled "See the People: (Re) Framing the Americas." In June, IMA was awarded a $50,000 grant from the Henry Luce Foundation for the project.
What have you been doing to make the museum more welcoming to people of color?
"Samuel Levi Jones: Left of Center" is probably the biggest thing. Sam is a black artist; he's a local artist. This show had a lot of involvement from people of color. The curator is black. My co-curator is a queer curator of color. The designer is a young African-American woman on staff. So there's been a lot of black and brown love put into this show.
It's a huge shift for the museum. You think about the lopsidedness in terms of how much we uphold T.C. Steele, John Ottis Adams, Richard Gruelle and, you know, just name an Indiana impressionist. You don't have to search for those people when you walk through this building. And so I'm very adamant about not having to search for black artists.
How do you define your mission?
To literally, in the most responsible way that I can, shift the American art historical narrative to make it more truthful.
I'll tell you exactly what (IMA CEO Charles Venable) said. He said, "I don't want you to come and do what I want you to do. I want you to come and do what you do, and I will give you the resources and the support to make it greater." And I'd never had a director say that to me.
When you say "do what I do," what is it that you do?
I apply critical race theory and black feminist theory to American art from the colonial period up until the 1970s. And I'm not necessarily as interested in the objects themselves as I'm interested in the systems that they uphold. I'll flesh out how visual narratives of patriarchy were established at the same time that the Republic was being established. How visual narratives of class and race were actually established through American fine art.
What are you trying to accomplish with "See the People: (Re) Framing the Americas"?
I want to de-center the United States, to look at the Americas as a whole, to look at it as a region, to really broaden the context and include more voices. What the region looked like prior to European colonization. And then how the presence of each European country changes the region.•
Please enable JavaScript to view this content.