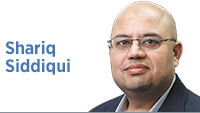 The Fund Raising School at Indiana University Lilly Family School of Philanthropy (TFRS) is one of the oldest not-for-profit fundraising training programs in the world. It trains thousands of development professionals across the country.
Over the past 12 months, I have volunteered to teach this curriculum across the world to help communities that might normally be unable to receive these trainings. This partially funded pilot research program is seeking to learn whether this training would be in demand and how we can best provide it.
Over this period, close to 1,000 participants have received over 2,500 program certificates in Bahrain, Canada, Colombia, Guatemala, Indonesia, Kenya, Kuwait, Nigeria, Malaysia, Morocco, South Africa and Turkey. These trainings have drawn participants from other countries, including Australia, Sweden, Syria, Yemen, Bangladesh, Pakistan, Sierra Leone and Rwanda. Many of those trained are displaced people seeking to make lives for themselves and other displaced people better.
These trainings provide fundraising practices that can uplift these communities while helping them focus on local as well as global fundraising. At a time when funding from government and international agencies is declining, these fundraising trainings are especially important.
I have been overwhelmed by how these trainings have been embraced and seen as game-changers. I have also learned as much from these participants as they have from me. I am incredibly grateful to TFRS and our funder for their investing considerable resources to subsidize these trainings in their commitment to inclusion and equity.
But it would be a mistake to assume that, just because we have the best curriculum or resources, we cannot learn from these communities. Training highly diverse audiences globally requires a special skill set that goes beyond scientific knowledge and professional curriculums.
First, we must have the humility to realize that the people in the room are experts in their local communities. We cannot cut and paste ideas from the Global North in all communities. We must find ways to make our participants feel comfortable to critique what we present and suggest how (if at all) this knowledge can be used in their local context. Also, realize that some ideas and best practices just won't work everywhere.
Second, be willing to be vulnerable and bring your authentic self to the classroom. Participants need to see who you are and how you are willing to help. They should also see you as someone who is open to learning and growing.
Third, recognize that we have a unique privilege and power living in the United States. Many challenges these local organizations face are partly caused by growing professionalization and bureaucratization of the international non-governmental organization sector because of regulations and best practices that have originated in the Global North. Regardless of whether you agree with this characterization, be empathetic to the challenges that participants articulate.
Fourth, be honest about how you can help the participants. Don't promise anything you cannot live up to once you leave. If you are driven by emotion to commit to help—then make sure you do help.
Fifth, realize that, for centuries, the globalization of social good has failed. We must embrace and invest in a localization agenda. Recognize that some of our globalization policies are seen as another form of colonization.
Finally, remember we can learn a great deal about navigating diversity, inclusive practices, justice, innovation and resilience from these participants. Remember to recognize, value and document this knowledge transfer from the Global South to your community.•
__________
Siddiqui is assistant professor and director of the Muslim Philanthropy Initiative at the Lilly Family School of Philanthropy at Indiana University. Send comments to ibjedit@ibj.com.

Click here for more Forefront columns.
Please enable JavaScript to view this content.