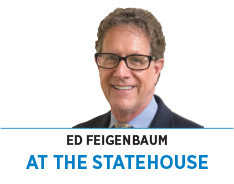 We told you early in January that the 2020 legislative session broke from the gate at a speed even long-tenured lawmakers found remarkable. Scores of bills quickly received committee hearings—particularly in the Senate—and rapidly moved to—and through—the floor.
The pace felt unrelenting until the unofficial midpoint of the session, when bills moved across the rotunda from their respective chambers of origin.
But as the second half of proceedings opened, there seemed to be far less urgency, with fewer committee meetings and fewer bills being heard.
This latter phenomenon might be good for some—those who believe fewer new laws are needed or those seeking to defeat a given measure that has passed either the Senate or the House.
However, there are two other implications, one which might affect things simply through the end of the session, and the other perhaps a longer-term concern.
Fewer bills in general proceeding through the legislative labyrinth poses dilemmas for bill authors and potential problems for passage of legislation going forward.
The legislative process is a puzzle-solving exercise, dependent upon precisely positioning those pieces. The committee to which a bill is assigned might portend a fast-track or slow death. Even a "good" bill could find itself behind the legislative eight-ball should several other major bills be scheduled for a hearing, and simply die from lack of time.
Leaders might also assign the bill to a panel whose chairman or chairwoman has no intention of holding a hearing on it, and backers might have to instead resort to resolving matters on the floor (facing cries about "legislation pending" precipitating rule debates) where party caucuses might have more input and outcomes might be more uncontrollable than in committee.
But you will also start seeing bills amended in both committee and on the floor for no apparent reason, with language only slightly altered to no apparent objection. That's because, with a limited number of bills on a given topic—or in general—remaining, solons find it more difficult to identify a potential vehicle in conference committee deliberations as an appropriate home for their bills.
Chamber rules, rules committees and leadership all come into play in such circumstances, and it is best to avoid such disputes. Beyond just germaneness issues, two years ago, bills surprisingly languished because rules panels found insufficient time for consideration on the session's final night.
A dearth of bills could make finding a home difficult.
Another reason fewer bills are emerging is because some panels simply aren't meeting.
We recently related the story about scorched-earth lobbying efforts by two groups focused on House bills those entities wanted that were not being considered by the House Committee on Public Policy. Rep. Ben Smaltz, R-Auburn, a principal target of the lobbying effort, didn't convene even a single hearing of his panel during the session's first half, despite its being a key filter in the past generation for bills on gambling, abortion, firearms and alcohol.
Fifteen House bills assigned to his committee died without a hearing.
A trio of low-profile Senate bills were directed to the Smaltz panel for the second half, and it wasn't clear as of this writing whether he would hold a hearing, so Senate authors could be scrambling to find new homes in a small, low-vacancy neighborhood.
Facing not only a slew of white-hot issues, but also highly personal negative pressures, House public policy panel chairs tend to have shorter tenures, often leaving the Legislature shortly after this high-wire act.
That doesn't portend well for the process—particularly if the unseemly tactics (not simply intense lobbying that doesn't include picketing lawmakers' homes and churches) can change the script for the next round.•
__________
Feigenbaum publishes Indiana Legislative Insight for Hannah News Service. He can be reached at EDF@hannah-in.com.
Please enable JavaScript to view this content.