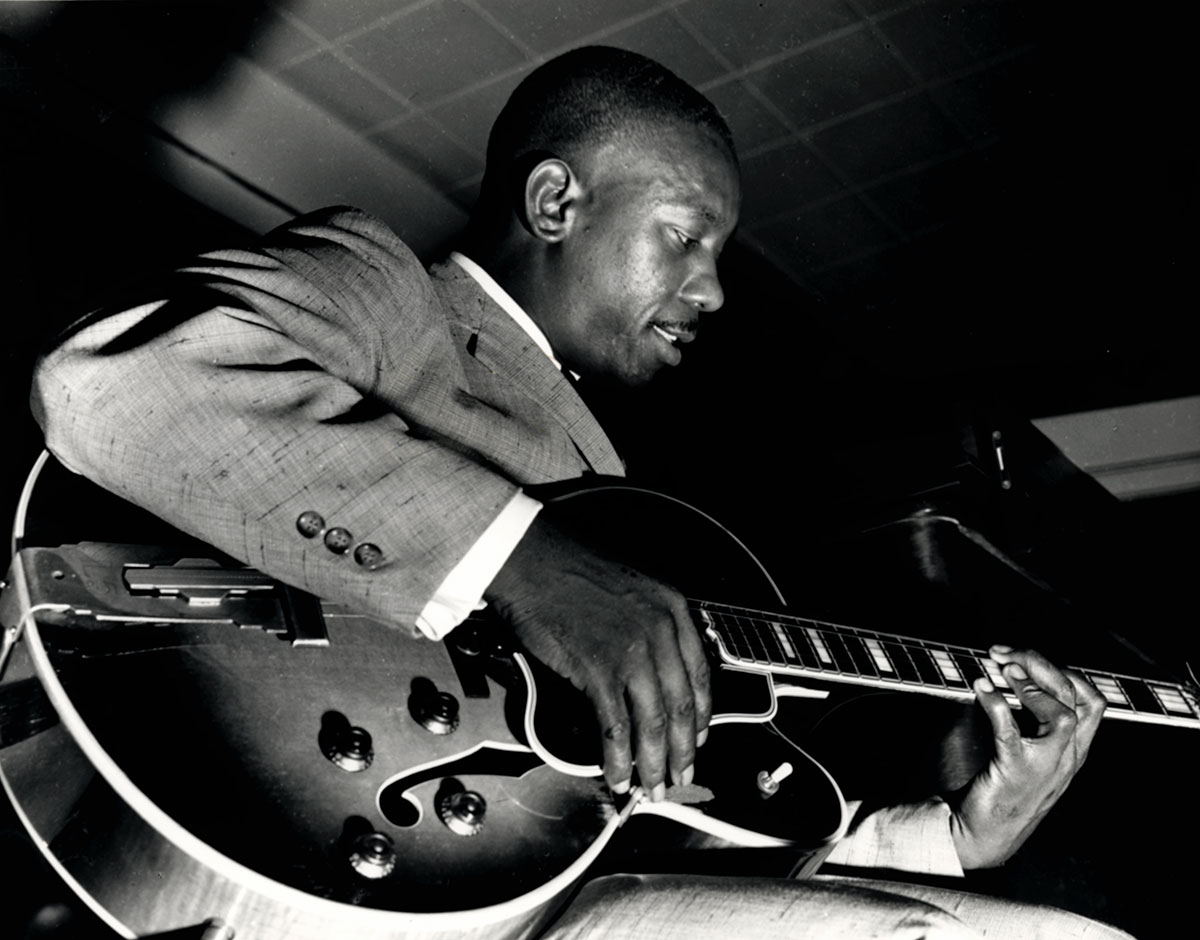 Before Wes Montgomery found fame as a jazz guitarist, the Indianapolis native developed a Herculean work ethic.
Montgomery and his wife, Serene, adopted the respective roles of breadwinner and homemaker in their mid-century family that eventually grew to include seven children. Wes worked at battery maker P.R. Mallory and Co. and Polk's Dairy before he won a Grammy Award and crossed over to the pop charts.
Montgomery was a workaholic, in the words of Kevin Finch, producer and director of new documentary film "Wes Bound: The Genius of Wes Montgomery."
"His job was to go out and work," Finch said. "He worked a day job from 7 a.m. to 3 p.m. Then he came home to maybe take a nap and certainly to practice [guitar]. The first gig would be 9 p.m. to 1 a.m., and then the after-hours gig. Then he would come home, and Serene would fix him breakfast. He ate and went back to the 7-to-3 job. The hours he put in were incredible."
"Wes Bound," scheduled to premiere Feb. 26 on Bloomington public television station WTIU-TV Channel 30, is a centennial tribute to Montgomery, who was born on March 6, 1923. A string of local concerts, including a Feb. 25 event at the Indianapolis Artsgarden, will celebrate the legacy of the musician who played in bygone nightclubs such as the Turf Bar, 2320 W. 16th St., and Missile Room, 518 N. West St., as part of his around-the-clock schedule in the 1950s.
"Working three gigs all that time was not the worst thing that could have happened to me," Montgomery told Down Beat magazine in 1968. "From all that scuffling, I learned a lot about discipline as an entertainer."
As a youngster, Montgomery didn't dream about being an entertainer. Montgomery already was married to Serene when he taught himself how to play guitar after hearing Charlie Christian's recordings with Benny Goodman's band.
Finch interviewed Serene for the "Wes Bound" film in 2019.
"We were first, and then the guitar was next," she says in the film. Serene Montgomery-Woods, who was born in Mississippi and met Wes in church, died in 2020.
Montgomery initially was recruited to play guitar in the band of vibraphone player Lionel Hampton in the late 1940s. But life on the road didn't appeal to the guitarist, who returned home to Indianapolis after a few years.
Eventually, saxophone player Cannonball Adderly "discovered" Montgomery playing in a local club, setting in motion roughly a decade of work in which Montgomery focused solely on music and transformed the role of guitar in the jazz genre.
Instead of using a plastic or metal pick, Montgomery played with his thumb to establish a smooth, warm sound. He also innovated an "octaves" technique by simultaneously playing two notes a register apart.
As the most influential and revered of all the world-class musicians who emerged from Indiana Avenue after World War II, Montgomery personified the term "quiet storm" that's been used to describe R&B radio formats in recent decades. When All About Jazz reviewed a 2008 reissue of Montgomery's 1960 album "The Incredible Jazz Guitar of Wes Montgomery," critic Chris May wrote that the album represented a "benign hurricane."
Montgomery was 45 when he suffered a fatal heart attack in 1968 at his home just south of Butler University's campus.
Indianapolis-based saxophone player Rob Dixon will pay tribute to Montgomery at the Feb. 25 Artsgarden event, as well as at a March 11 show at The Jazz Kitchen featuring New York-based guitarist Mimi Fox and a May 13 show at The Cabaret featuring Chicago-based guitarist Bobby Broom.
In 2016, Dixon helped organize an Indy Jazz Fest celebration of Montgomery that brought noted guitarists Russell Malone, Pat Martino, Chuck Loeb and Fareed Haque to town.
"Usually, if you ask a musician of national or international stature to come do a project with you, there's a lot of back and forth," Dixon said. "But when you say, 'Hey, do you want to come do this thing and celebrate Wes Montgomery?' every guitarist in the world says, 'Yes, absolutely. How can I be a part?'"
Dixon, who teaches jazz studies at Northwestern University, said a cultural-exchange trip he made to Russia in 2012 illustrated Montgomery's stature.
A civic official in Krasnodar said he was a musician, Dixon recalled.
"He said, 'I want you to hear my CD.' He played me a Wes Montgomery CD. I was thinking, 'What? This is Wes Montgomery.' The guy said, 'This is my sound.' He identified with Wes Montgomery," Dixon said. "His influence on guitar knows no boundaries."
Documented, finally
"Wes Bound" is billed as the first documentary film devoted to Montgomery.
Finch, a former news director for Indianapolis TV stations who now teaches journalism and mass communications at Washington & Lee University in Virginia, said the musician's personality is reason enough to remember him 100 years after his birth.
"Wes Montgomery was generally regarded as a really nice guy," Finch said. "He was approachable, with no ego at all. And his humanity translated into his music."
The film is narrated by Eric Deggans, television critic for NPR and an alum of Indiana University.
Finch estimates that he recorded 50 hours of video for the 60-minute documentary, including interviews with A-list guitarists ranging from George Benson and Pat Metheny to Slash and Eric Johnson.
"The equipment geeks are going to be sorely disappointed," Finch said. "I don't talk about when [Montgomery] transitioned from a Gibson ES-355 guitar to an L-5. I don't even bring it up. Or when [he] played with a Fender amp versus a Standel. I learned about those things, but it's a human story and a musical story—not an equipment story."
Beyond Finch's footage, the documentary includes home movies made by Montgomery himself.
Robert Montgomery, 61, the youngest child of Wes and Serene, provided the project with 8 mm silent films that show family interactions as well as Wes onstage at the Newport Jazz Festival.
Robert was 6 years old when his father died. In "Wes Bound," Robert participates in the visits with Benson, Metheny and other musicians.
"The informal theme of the film became, 'Tell me about my dad, the guy I barely knew,'" Finch said. "I had Robert not as an interviewer, but I called him a 'conversation leader.'"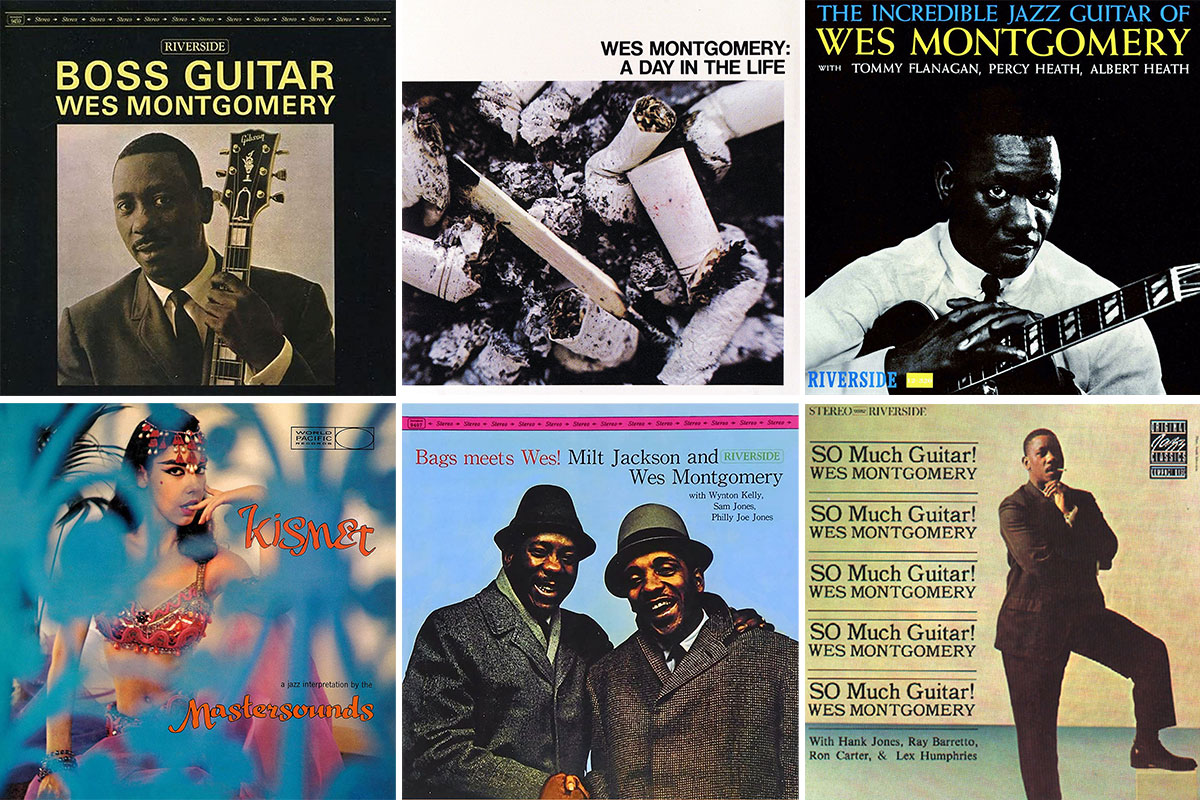 California dreaming
After spending the first years of his life in Indianapolis, Montgomery moved to Columbus, Ohio, with his father after his parents divorced. Montgomery graduated from Champion High School in Columbus and then moved back to Indianapolis.
For a brief time, Montgomery, Serene and their children lived near San Francisco.
"Wes had a love affair with California because he had so much success when he went out there," Dixon said.
Serene, however, held the deciding vote on where the family lived. One of the home movies in "Wes Bound" shows Serene walking outside during an Indianapolis winter.
"This really underscored that she did not want to live out west permanently," Finch said. "She wanted four seasons, so she's happy it's winter."
That apparently didn't diminish her husband's affection for the West Coast. Finch said the number of images Montgomery captured there is amusing.
"It's as if he's saying, 'Look, Serene, we could live here.' It's neighborhood after neighborhood: Southern California, Northern California, Seattle," Finch said.
After the family's move back to Indianapolis, Montgomery transitioned from making jazz recordings to covering pop hits of the day augmented by string arrangements.
The list of cover songs that nudged Montgomery into the mainstream includes "California Dreaming" by the Mamas & the Papas, "Windy" by the Association and "A Day in the Life" by the Beatles.
"To say it was controversial might be an understatement in the world of jazz," Dixon said. "Wes is somebody who was this jazz icon and then he went the pop route. It broke some musicians' hearts."
Montgomery's reputation wasn't damaged in the long run, Dixon said. Today, he's viewed as a forefather of the jazz fusion and smooth jazz styles.
"History looks on Wes very favorably, because he was able to exist in both arenas—and do it so well," Dixon said. "Now jazz musicians say, 'Not only was he iconic in jazz, he was a pop star. Wow, you can have both worlds.'"
Filmmaker Finch said accusations of "selling out" likely didn't bother Montgomery, who had his family's financial survival in mind when recording "Windy," which ascended to No. 44 on Billboard magazine's Hot 100 chart.
"Wes was not a babe in the woods," Finch said. "He knew what was going on. But he was totally fine with reaching a broader audience."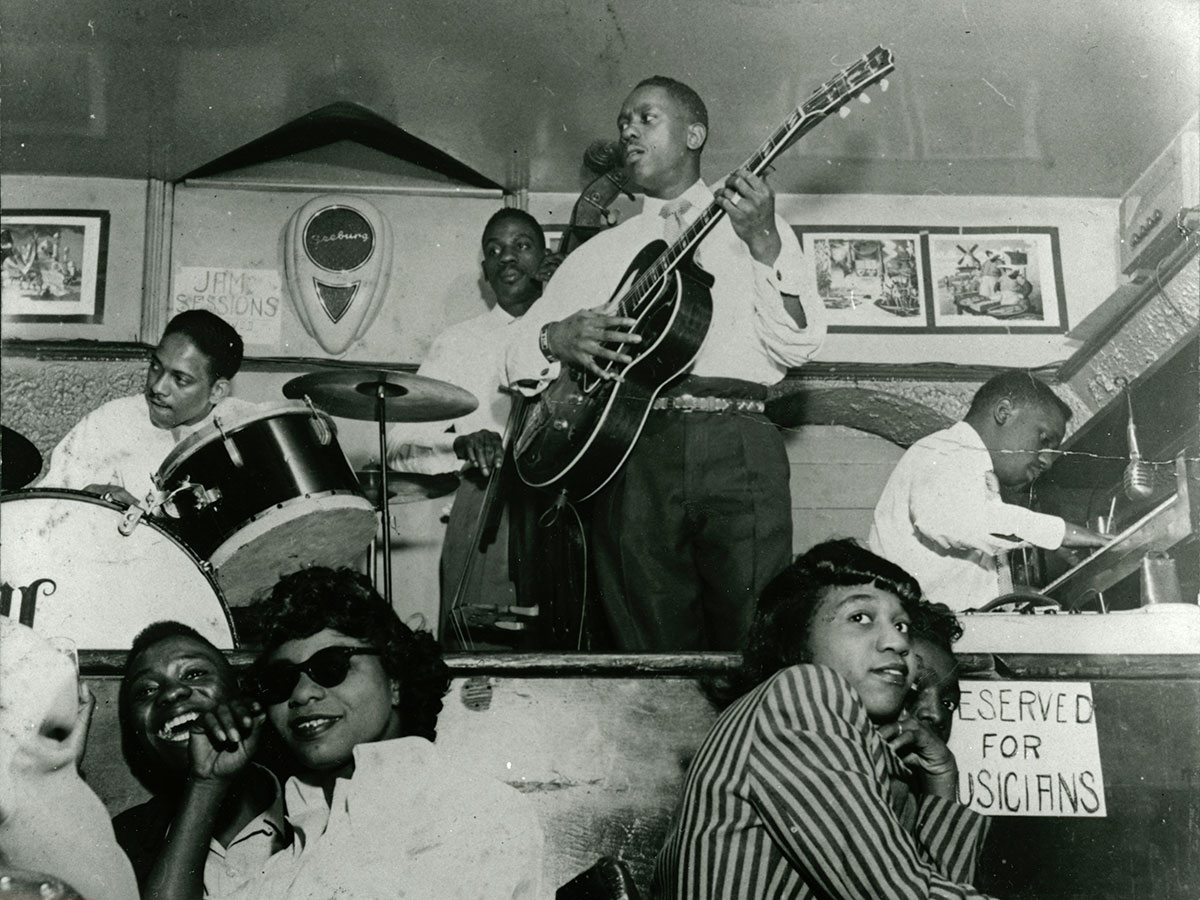 Avenue sounds
Lasana Kazembe, a poet, teaching artist and assistant professor of education at IUPUI, said he draws influence from Montgomery's 1963 album titled "Boss Guitar."
"You can put every track of that album on repeat," Kazembe said. "I love writing to it."
As The Cabaret's artist in residence, Kazembe is organizing a spoken-word program for the May 13 event titled "In Our Own Sweet Way: Honoring the Artistic Legacy of Wes Montgomery." Kazembe will collaborate with Indianapolis artists Manon Voice and Bashiri Asad for the presentation.
When discussing the challenges of writing words to pay tribute to instrumental music, Kazembe said he's guided by tone, tempo and "the colors in the music."
"When I'm writing, I'm thinking about feeling, I'm thinking about thought, I'm thinking about the blend of ingredients that go into giving birth to a creative piece," he said.
For Montgomery, the influence of Indianapolis began with jazz pianist Erroll Grandy, who was born in 1918 and mentored the guitarist.
On 1959's "The Wes Montgomery Trio" album, Montgomery included "Missile Blues," a composition inspired by the nightclub on West Street. His "Naptown Blues" appeared on a 1966 album titled "Goin' Out of My Head."
Among the musicians to emerge from the city's Indiana Avenue scene, Montgomery was one of the first. J.J. Johnson, whose influence on jazz trombone rivals Montgomery's on guitar, graduated from Crispus Attucks High School and began touring in 1942. Saxophone player Jimmy Coe, another Attucks alum, replaced Charlie Parker in Jay McShann's band in the early 1940s.
In the 1950s, the floodgates opened for Indianapolis talent. Montgomery and his two brothers, bass player Monk and pianist and vibraphone player Buddy, collaborated in multiple band configurations, including the Montgomery-Johnson Quintet.
Featuring Pookie Johnson on saxophone and Sonny Johnson on drums, the Indianapolis group traveled to New York City in 1955 for a recording session with producer Quincy Jones and Epic Records. But the label didn't release the music, which eventually surfaced in 2015 on a Resonance Records compilation of Wes Montgomery rarities titled "In the Beginning."
Other musicians from Indianapolis made significant contributions to jazz, including trumpet player Freddie Hubbard and trombone player Slide Hampton. David Baker and Larry Ridley became acclaimed educators. Leroy Vinnegar developed a signature "walking" bass guitar style, and Melvin Rhyne was known as a master of the Hammond B-3 organ. On the cutting edge, saxophone player James Spaulding played in Sun Ra's band and trombone player Phil Ranelin founded experimental group the Tribe.
"It's an amazing, rich corpus of creative expression," Kazembe said of Indiana Avenue.
Although the Madam Walker Legacy Center stands as a landmark of entertainment on Indiana Avenue, other physical reminders are rare. Montgomery, whose grave can be visited at New Crown Cemetery, 2101 Churchman Ave., was commemorated by the 1970 naming of Wes Montgomery Park, 3400 N. Hawthorne Lane.
A mural of Montgomery and other Indianapolis jazz musicians painted by Pamela Bliss is seen on the south side of Musicians' Repair & Sales, 332 N. Capitol Ave.
"We have lost a part of this history in terms of people knowing," Dixon said. "There's very few people who know about the great legacy of Indiana Avenue. With programs like [The Cabaret event in May], we are pushing back and intend to change that."•
Please enable JavaScript to view this content.