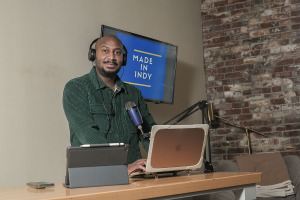 Kendall Antron did not want to live the suburban life any longer than necessary when he returned to Indiana after a decade away from home.
Antron, 33, studied theater at Howard University in Washington, D.C., and lived in Los Angeles, where he pursued a songwriting career.
He returned to Indiana in 2019 and spent three years living with family in Zionsville. But his experience living in big cities left him wanting more.
"When I moved back to Indy, I made it my mission to not be one of those suburb folks," Antron said. "There was an influx of individuals who were not from Indianapolis living downtown. I just think that Indianapolis had progressed in so many different ways in the 10 years that I hadn't been here."
Last year, Antron settled into an apartment on the west side of downtown. His home doubles as his office, where he hosts his podcast, "Made In Indy," which features interviews with Indianapolis-area artists, creators and entrepreneurs.
He's now one of downtown's nearly 29,000 residents, up from about 15,000 in 2010. It's a number that has been growing as developers continue to add apartment and condo units in the Mile Square and downtown neighborhoods.
Most of that growth has been in rental units. In fact, more than 3,000 apartments were added downtown in the past five years, including 260 high-end units in the former AT&T office building, now called 220 Meridian, and 78 units at Block 20, a newly constructed building of flats and town houses next to the Athenaeum in the Mass Ave neighborhood.
And more than 1,700 apartments are set to be added this year and next.
Even with the growth, downtown's apartment vacancy rate is less than 6%, a number that's improved after a stumble during the pandemic.
Residents told IBJ they choose to live downtown because of its walkability, vibrancy, convenience and access to entertainment and restaurants. But they also have concerns about housing affordability, homelessness and crime, which they recognize are problems in most large cities.
Those who talked with IBJ—and many who answered a survey about downtown—say they plan to stay. And developers and real estate brokers are optimistic that the new apartment units coming online will be filled without a noticeable hit to downtown's vacancy rate.
Steve LaMotte, an apartment broker in the Indianapolis office of Dallas-based CBRE, said interest in multifamily development downtown is strong because of the city's economy, its proximity to logistics hubs and its location along the interstate system. And LaMotte, who recently attended the National Multifamily Housing Council's annual conference in Las Vegas, said no one is building downtown with unrealistic expectations about downtown's office sector.
"I look at what's being built today and the pipeline and think those decisions are being made on the basis of zero change in more return-to-work," LaMotte said. "I don't think anybody's disillusioned. We're just not going back to a five-day-in-the-office program across the city or across the country."
Antron is among those with no plans to leave. He appreciates that downtown allows him to live in a diverse community with cultural and entertainment options.
"Some people might say this is a bad thing, but downtown is so unpredictable and so vibrant," Antron said. "I think that there's a sense, if you're living in the suburbs or other parts of Indianapolis, that it can feel a bit mundane. But there's a spark that [downtown] has, whether you're talking about sports, whether you're talking about conventions, whether you're just looking at the beautiful JW Marriott."
Things to do
That spark is also what keeps Jenai Brackett; her husband, Neal; and their 3-year-old daughter, Asha, at the house they own near the Central Canal.
The Bracketts bucked assumptions from friends and family by buying and staying downtown, where they visit museums and use the Indianapolis Cultural Trail. Living near the canal reminds Jenai, 36, of her experience growing up in San Antonio where the River Walk is one of the city's signature features.
"I think that downtown is very family-friendly," she said. "It continues to get developed, and I think a lot of people with young children are deciding to stay downtown."
Together, her family gets around downtown on foot, bike and scooter without needing to use their car. The Bracketts enjoy getting off work from their jobs as attorneys, meeting friends for dinner, and attending a Pacers game or comedy show.
Living downtown means it's not an all-night investment to go out. They're just a few minutes from their destination instead of needing to drive 30-45 minutes each way from the suburbs. That even decreases the time they need to pay a babysitter.
That time savings applies to the workday as well.
"I go to the office every day, and I can see [the energy] again," said Neal, 34. "My friends live on the north side, and really all they do is drive [downtown], go through all the traffic, pay for parking and then leave. That's their view of downtown, and it's work, and I get that. But for us, it's all the stuff."
While Neal acknowledged that crime can be a concern in parts of downtown, he said the harshest criticisms often come from people who rarely visit the city.
"It's a city, right? And, so, you're going to get some of the good and some of the bad, but that's not even our experience," he said. "We feel completely safe, and we've got our 3-year-old daughter there. And we love walking around and never have any hesitation to do so."
For attorney Danny Lewallen, living downtown also means everything he needs is within a five- to 10-minute walk. He has not owned a car for about five years.
From his condo on North New Jersey Street, Lewallen, 34, can quickly get to the grocery store, dry cleaner, his favorite restaurants and the Mass Ave Cultural District. Attending the 2021 NCAA men's basketball championship game on a whim counts as one of his highlights of living downtown.
"It makes my life easier, more fun to have everything kind of right there at your fingertips," Lewallen said. "Just to be able to kind of have my entire world in a 1-mile radius has really improved my way of life and my way of doing things."
A higher price
Although the pandemic hit downtown's office sector hardest, the residential sector didn't escape its impact. The apartment occupancy rate dipped to 87% in 2020 as the pandemic made moving difficult and sent office workers home. But in 2022, the occupancy rate hit 94.7%, the highest figure reported since at least 2018 by Chicago-based Cushman & Wakefield's annual publication, "Indiana Apartment Market."
"We got a lot of people reverse commuting, or just working from home, and they want to do it in downtown because they think it's an attractive place to live," said Jim Crossin, vice president of development and a principal at Indianapolis-based Flaherty & Collins Properties.
Cushman & Wakefield reported the cost to rent a downtown apartment increased 10.1% in 2022, to $1,420. It was the most expensive rate for a unit in the Indianapolis area, which had an overall average monthly rent of $1,160.
Downtown renters paid more last year for everything, from studios to four-bedroom units. The average cost of a downtown studio apartment in 2022 was $1,051—an increase of nearly $200 a month over the past four years.
George Tikijian, a multifamily broker with Cushman & Wakefield's Indianapolis office, said downtown rent increases the past three years lagged those of the suburbs, especially in Carmel and Fishers, he said.
According to rent.com, the average rent in Carmel is $988 for a studio apartment, $1,552 for one bedroom and $1,909 for two bedrooms. A renter in Fishers can expect to pay about $1,205 for a studio, $1,648 for a one-bedroom apartment and $2,056 for a two-bedroom unit.
"Occupancy is fully back" downtown, Tikijian said. "I'd say rents are still sort of catching up. Prior to the pandemic, rents downtown were quite a bit higher than the suburbs."
As rents continue to increase downtown, residents and city officials worry about the higher cost of living.
So far, the rent hikes have not led to higher vacancy rates. But LaMar Holliday, who sells affordable housing properties as owner of Holliday Homes Realty, said ensuring the availability of affordable housing is important to the city's future.
"I think it's a missed opportunity to not have everyone from different incomes experience what downtown has to offer," said Holliday, who is also president of the Kennedy-King Neighborhood Association (the neighborhood runs from East 16th Street to East 22nd Street and from Central Avenue to the Monon Trail). "Your income should not limit you from experiencing the offerings of downtown Indy."
Constant change
The growth in downtown apartments over the past decade has not been concentrated in one section.
CityWay, a complex that includes 650 apartments, retail, a hotel and restaurants along South and Delaware streets, is on the south side of downtown, near Gainbridge Fieldhouse and the headquarters of Elevance Health and Eli Lilly and Co. A group backed by Indiana Pacers owner Herb Simon is planning a $300 million development nearby that includes a 26-story apartment tower.
Apartment projects—many of them student-focused—have opened near IUPUI, on downtown's west side, including the 632 MLK Apartments and Lux on Capitol.
And near the City-County Building on the east side of downtown, the 28-story 360 Market Tower opened in 2018 with nearly 300 apartments and a Whole Foods Market (one of three downtown grocery stores) on the ground floor. It sits near the low-rise Artistry, E'Laan and Grid apartment buildings.
But one of the most striking residential transformations over the past decade has occurred on the north side of downtown, along Pennsylvania Street, where the former home of The Indianapolis Star was torn down to make way for Pulliam Square, which opened in 2015 with 145 units, and then The Whit, which opened in 2019 with more than 330 apartments. Other nearby buildings have been transformed into apartments and condos.
The change was enough to force the city of Indianapolis to move its fireworks show, which had been staged off the top of the nearby Regions Tower from 1971 through 2019. Downtown Indy Inc. CEO Taylor Schaffer said that had to change because of the proximity of The Whit and Pulliam Square developments.
"To me, that [change] represents in so many ways this shift that we're seeing in terms of who downtown is for, how downtown needs to operate, what investments are important downtown and what it means to have a truly livable downtown and not just a place that's catering to those commuting to it," Schaffer said.
A population shift toward downtown began about 30 years ago, she said. That followed years of depopulation that began first with interstate construction, which decimated downtown's historically Black neighborhoods and cultural centers, and then white residents fleeing to the suburbs.
"It is always astonishing to me that Center Township is still at a population that is about half of what it was in the '60s, and yet you've never had as much residential density as you have in the Mile Square," Schaffer said.
Joe Everhart, a former Old Northside resident who owns the Everhart Studio real estate company, told a story about a friend who used to live downtown when the city had the unfortunate "India-no-place" moniker.
The friend presumed he could lie in a cot in the middle of New York Street at 6 p.m. on a Friday and not get hit if he moved by 6 a.m. Monday. But development like Bottleworks District show how much that has changed, he said.
"I just about freaked when I walked into The Garage [Food Hall at Bottleworks] during the week a couple weeks ago and could not believe how insanely busy it was," Everhart said. "The chance for that surviving 10 years ago would have been close to zero."
And more people are coming. Major downtown projects expected to fully open by the end of 2024 include:
◗ Gathyr: Indianapolis-based 1820 Ventures LLC plans to complete the first piece of its Elevator Hill project in the second quarter of this year in the 1100 block of East Market Street. The $20 million Gathyr building will have 103 apartments, including six affordable units. More apartments are also in the early stages for Elevator Hill, including a 175-unit property near the middle of the $250 million campus.
◗ Industry: Industry Indianapolis, an 11-story, $66 million project developed by Denver-based Charles Street Investment Partners, will have 213 apartments when it opens this spring at 421 N. Pennsylvania St. Rents are from $1,300 to more than $3,500, according to the Industry website.
◗ Rise on Meridian: The $56 million, 253-unit apartment building developed by Indianapolis-based TWG Development will include first-floor retail, a parking garage and at least 50 affordable units just north of Interstate 70 at 915 S. Meridian St. The project is expected to be complete by the first quarter of 2024.
Another notable project on the way is 1820 Ventures' Cole Motor campus, which will break ground this year and include 120 to 145 apartments. The mixed-use project on East Market Street, just inside Interstate 65/70, will redevelop Marion County's Jail II and Arrestee Processing Center and feature a 60,000-square-foot live music venue operated by the owners of The Vogue.
Jeremy Stephenson, managing partner of 1820 Ventures, said the project will reconnect near-east-side neighborhoods that were separated by the interstates and create a new corridor on Market Street, along with a new link on College Avenue between Fountain Square and the Old Northside.
"It's not just about downtown itself," Stephenson said. "It's around what insulates it, and I think there are some unique, interesting neighborhoods in about every direction."
Andrew Urban, vice president of commercial services for the Indianapolis office of Toronto-based Colliers International, said higher interest rates have "kind of put a pause" on the development pipeline but downtown residential development still has a positive tailwind.
Amenities matter
Older office buildings, especially ones without complex floor plans, are prime candidates to be converted to multifamily residential.
"At the end of the day, it offers people a unique living style that's attractive to certain demographics," Urban said. "The ability to live in an urban center, have walkability and access to nightlife, entertainment, friends, etc."
The draw of living near the office has diminished with the rise in remote and hybrid work, which means lifestyle has grown in importance, according to Urban.
That means areas like Mass Ave, Bottleworks District, Fountain Square and the Wholesale District near Gainbridge Fieldhouse are important assets the city can use to increase its downtown population base.
"I think those are key amenities to continue to draw residents downtown to keep them there, and those are differentiators that you can't get in a suburban environment," Urban said.
The massive Eleven Park project planned by Keystone Group on the western edge of downtown would have a soccer stadium as the centerpiece of a development that would include hundreds of apartments, along with a hotel, retail and office buildings.
And developments like the Indiana University Health campus, Elanco Animal Health headquarters and IUPUI's transformation could include mixed-use developments used to attract residents.
"We need to make sure that people want to work downtown. We want to make sure they want to visit downtown. But we also want to make sure people want to live downtown. It's really all three," said Charles Richardson, a Fletcher Place resident and co-chair of the Rethink Coalition, which aims to reconnect neighborhoods divided by downtown's interstates.
The city will also need to invest in services to support residential growth, Urban said. That will mean directing more money to public safety, roads, infrastructure, bike lanes and bus lanes, which are investments that sometimes take 10 to 15 years to pay off.
"You've got to make them today to make it more livable, to make it a more engaged and more connected community," Urban said. "And I think that's where we'd like to see a bit more proactivity and more vision-setting from the leadership."•
Please enable JavaScript to view this content.