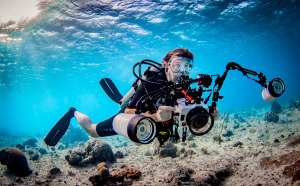 An unconventional factory sits off West 33rd Street, coated in a blue sea mural. There, Ikelite Underwater Systems operates an international business of manufacturing, marketing and selling underwater photography equipment.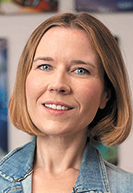 Though headquartered in the not-so-hot scuba diving scene two blocks east of Crown Hill Cemetery, President and CEO Jean Rydberg said the Indianapolis company has the benefit of being centrally located.
"I sometimes joke that we're in the center of the diving community because we're equal distances from [both oceans]," Rydberg said.
The 22-employee, family-owned business offers underwater camera casings to 95 countries through distributors and resellers. Compared to coastal competitors, Ikelite enjoys the affordability and the manufacturing concentration in Indiana.
Since its 1962 inception by Rydberg's late father, Ike Brigham, the company has become a staple in the diving and photography industries.
Brigham was a recreational Great Lakes scuba diver, car collector and furniture repairman when he purchased the inventory of a garage-based dive shop. At the time, diving lights were unreliable.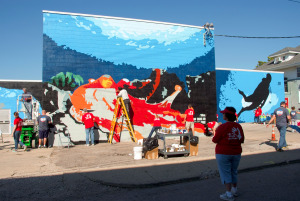 "He was coming back from one trip, back to Indianapolis with, like, six flooded flashlights in his trunk and was pretty upset about it and started thinking about different ways to design a flashlight," Rydberg said.
He designed a new type of O-ring sealed flashlight, molded in his shop's oven. Brigham marketed the devices through local dive shows and received calls asking for "Ike's lights." He morphed this into the business's name, Ikelite.
Brigham was inducted into the international Diving Equipment and Manufacturing Association Hall of Fame in 2001. He died of COPD and chronic emphysema in 2006, leaving the business to Rydberg and her younger brother, John Brigham.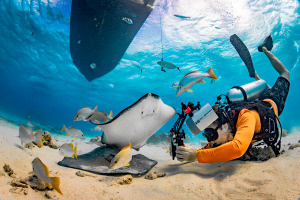 New beginning
Rydberg was about to turn 25 when she took control of Ikelite. At first, this was daunting: Many employees had been at the company for 30 years and the takeover didn't come with training.
"He wasn't the type of person that was like, 'I'm gonna get my kids into this and I'm going to groom them to take over for me,'" Rydberg said. "It was more like, this was his thing."
Both divers and diving business owners skew older. Retirees have more time to travel, and Rydberg said most business owners in the industry are in their 50s, 60s, 70s and even 80s. That made taking over Ikelite as a young adult challenging.
But Rydberg was armed with a degree in astronomy and astrophysics and was assisted by longtime employees. Among them was General Manager David Combs, who started at the company in 1971. Combs was instrumental in securing a $50,000 grant the company received from the Indiana Economic Development Corp. last September, Rydberg said.
The grant allowed Ikelite, which had been ordering its necessary machine parts, to bring machine production in-house. But for Rydberg and the staff, it serves now as a memory of Combs.
"[He] was simultaneously finding out that he had terminal pancreatic cancer, and he ended up passing away from that this year," Rydberg said.
The grant provided a bright spot through the pandemic. As a global company, Rydberg said, the firm saw a mixed bag of impacts. Travel restrictions made sales in Europe decline, but domestic sales stayed about the same. While travel declined nationwide, people near bodies of water were eager to try new things and get outdoors during the pandemic.
The company also fought supply chain problems—issues helped by the grant—but the challenges change every few months, she said. She cited the war in Ukraine as something that has impacted the company, saying she is surprised when something on the news ties back to her work.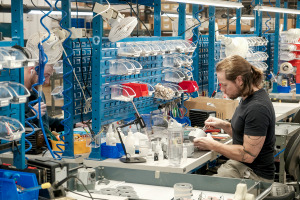 All-in-one
Now, at 40 years old, Rydberg is starting to see the industry trend younger. She oversees the busy Indianapolis facility.
"We do machining, electronics assembly. We do all of our basic product assembly here. We do all of our design work here. We do machining both of things that are molded externally and of raw materials like aluminum, some plastics that we machine, and then we do all of our sales and service here," Rydberg said. "We do all of our product photography, videography, marketing, media, website—all that we do ourselves."
The group has to compete with large, powerhouse manufacturers. To do so, Rydberg said, the company looks for ways employees can be creative and operate on a higher level.
"We can't, as an Indianapolis manufacturer, keep fighting inflation and fighting the competition of, you know, primarily Asian manufacturing by just having more and more people that can only push buttons," she said.
In her experience, Rydberg said, a lot of potential employees don't have enough education. On the other end of the spectrum, those with enough education expect to immediately make a lot of money. Ikelite requires a lot of job-specific training, meaning it takes time for new hires to become capable employees.
"Nobody is coming out of college knowing how to make something that's gonna work at 200 feet deep," she said.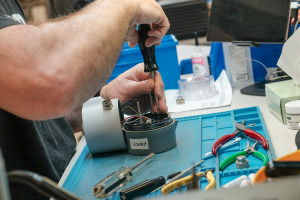 Ikelite works to provide strong customer service, Rydberg said. Customers can expect responses to calls and emails, and the company even services broken devices from all over the world. She said the business encourages customers to reach out not only when things are going wrong, but also when they're going right.
"We have a customer photos site where we share some customer photos and videos," she said. "It really makes us feel like part of this community even though we're just sitting, you know, in a building on 33rd Street."
Ken Kiefer, an underwater photographer based in Texas, is an ambassador for Ikelite. He tests products and gives honest feedback to the manufacturer.
"I really love how great they are at service and the fact that they care so much about making sure everything works perfectly," Kiefer said.
He also recounted a time he shot photos and videos of an underwater robot for Houston Mechatronics. The team, made partially of ex-NASA engineers, told him making machinery work underwater is more difficult than making it for space.
Marine researchers also make use of their products through Ikelite's ambassador program. Brian Zgliczynski, a marine ecologist with Scripps Institute of Oceanography at Sandin Lab in California, uses Ikelite products to photograph coral reefs and track how they change due to climate change and human activity. The institute photographs coral reefs year over year and creates 3D models to show change.
Ikelite provides the institute with an ambassadorship, which has been ongoing for a decade.
Zgliczynski said the company is always willing to answer researchers' questions and customize camera housings to their needs. But, he prefers to keep the camera housings the same as they would be off the shelf so that other researchers can easily replicate the experiment.
While the vision for the business was focused on underwater nature photography in lakes and oceans, Rydberg said underwater studio photography is becoming increasingly popular. Photographers will switch up typical photo shoots by using an underwater casing, like the variety made by Ikelite.
"People doing things like underwater maternity photography, underwater portraiture, underwater fine art stuff," she said. "So that's increasingly a big part of our business outside of just the hobby of scuba diving."
The company is always working on a dozen new products, but the next step might be outside of the underwater photography box. Rydberg hopes to find a secondary use for the in-house machinery the company has worked to curate. Ikelite could supply small run parts and design services to other businesses, but Rydberg said it's a matter of finding the right people.•
Please enable JavaScript to view this content.