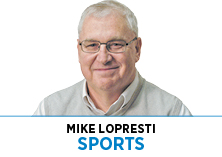 You've heard about veterans in college football. You've heard about the value of experience. Now meet the quarterback for the University of Indianapolis. Bryce Stancombe finished his high school career at Bloomington South seven years ago.
Or put it another way. When he made UIndy his college choice way back in 2014, Andrew Luck was in only his third season as quarterback for the Colts. Stancombe has been around long enough to see Luck retire and Jacoby Brissett and Philip Rivers come and go, and now Carson Wentz play on two bad ankles. His Greyhound career is now on its third U.S. president. The freshmen Stancombe is throwing to this season were in the seventh grade when he had his first practice at UIndy.
"I think everybody's journey is a little bit different," he said the other day after practice. "Obviously, mine is way different."
Or this from his coach, Chris Keevers: "He's changed his body; he looks like a man. He's seen the good times, the bad times. He's been through it all. All I can say [is], it's a real advantage for us to have a guy with that much experience, because nothing fazes him."
If you think Stancombe has the playbook down backward and forward by now, just think how well he must know campus. "Like the back of my hand," Stancombe said.
Yeah, we know what you're wondering.
How could a guy be in his seventh year of college football?
Well, it's not because he needed the extra time to make grades. Stancombe is an academic all-conference selection who already has his master's. Now he's closing in on his MBA. So, here goes …
The college recruiters weren't hanging around Bloomington South much back in Stancombe's high school days. The Panthers went 1-9 his sophomore season, 4-7 his junior year. But things began to happen his senior lap; he helped South to an 11-2 record and a trip to the semistate (the 27-24 overtime loss to Indianapolis Cathedral still leaves a sour aftertaste seven years later). By then, several schools were interested, none more than the University of Indianapolis. So, he became a Greyhound, never imagining the extended tour of duty to come. "If somebody wrote this story about it [back then], you wouldn't believe it," he said.
He was third on the depth chart in 2014, never played and took a redshirt. He moved into the starting spot during the 2015 season when the No. 1 quarterback was injured, and he threw nine touchdown passes with only one interception. In his first college start, he put up 396 yards. He was backup in 2017 and 2018 and figured his final season in 2019 would be his moment.
That's when things get a little complicated. The Greyhounds also had TJ Edwards and the two were so close on the depth chart, there was thought they might even alternate. "I just did not think that was going to be the best for me or the program, or for TJ," Stancombe said. "I just thought it would be better for me to just sit that year out."
So he did. No football, no classes. He hung around the program to help cheer, but otherwise was a civilian onlooker. Another face in the crowd. The year would have still counted against him in Division I college football, where the career clock never stops, but this was "kind of the D-II loophole," Stancombe said.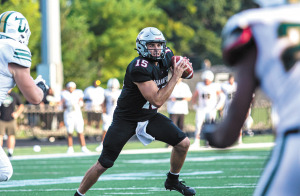 He saved a season of eligibility, even if it wasn't much fun being a total bystander. "It was very difficult. I wouldn't lie," he said. "It's hard enough to go in and get your work done when you're playing. It definitely tests you."
To fill the time, he worked construction for his grandfather's company back in Bloomington, just as he did most summers. Compared to that labor, avoiding blitzing linebackers is cake.
"I think that stuff beats you up more than football does," he said.
But he never lost sight of the dream, even as it became something of a personal Seven Years War. "Most guys wouldn't have done what he's done," Keevers said. "Most guys would have walked away. But he loves football."
Stancombe was back in 2020, figuring that would finally be his farewell season. Then came COVID. The Greyhounds got in three games in an abbreviated spring schedule, and he played well. The NCAA granted every athlete an extra year because of the virus, so Stancombe suddenly had the choice to return yet again.
"No hesitation," he said of his decision. "I put the work in, I wanted to see it pay off."
So here he is, the crimson-and-gray picture of perseverance.
"Never give up. My family's been big on that," he said. "You keep going until you break through. I'm doing what I love, which makes it a little bit easier. Just waking up every day and trying to grind." He tries to get 1% better every day, a mantra he picked up from his quarterback idol, Tom Brady. Yeah, he rooted for the New England Patriots against the Colts and Peyton Manning all those Brady years.
Probably not a really popular stand for his friends and family who are Colts fans. "Absolutely not," he said. He even rooted for Chicago against the Colts in the Super Bowl because Bears quarterback Rex Grossman is a Bloomington guy.
Stancombe has thrown 27 touchdown passes as a Greyhound with only two—count 'em, two—interceptions in 401 career attempts. UIndy dropped a couple of close early games but is 3-2 after smashing Southwest Baptist 77-10 in its conference opener.
He's a leader in the locker room, never mind the generation gap. He turns 25 next month. Some of his teammates are barely 18. He's Facebook; they're TikTok. "I don't think they're hanging out a lot on the weekends," Keevers said. "But he does a good job of bringing the guys in, staying tight together, communicating. He's smart enough to keep his guys close."
Oh, the kidding Stancombe has to endure from his teammates. He's the old man. He's Grandpa. "I get all types of jokes," he said. "They don't stop."
But one thing will stop soon: Stancombe's UIndy career. Finally. "It's going to end for sure," he said. "But I'll keep playing football as long as I'm allowed to keep playing." And then? Maybe coaching, to put the love of the game to a different use. Or the MBA should open doors in the business world. "He's going to get a lot of education out of this, going to make a lot of money," Keevers said.
It's been a long road from Bloomington South, but some of his high school teammates have kept in touch. "They're all grown up; some of them have got kids," Stancombe said. "They like to give me a hard time about it, like I don't want to grow up."
He has a stock answer. "I'm doing what I want to do. You guys go ahead with the full-time jobs."
Besides, isn't Bryce Stancombe having a lot more fun on Saturdays?
"That's for sure."•
__________
Lopresti is a lifelong resident of Richmond and a graduate of Ball State University. He was a columnist for USA Today and Gannett newspapers for 31 years; he covered 34 Final Fours, 30 Super Bowls, 32 World Series and 16 Olympics. His column appears weekly. He can be reached at mjl5853@aol.com.
Please enable JavaScript to view this content.