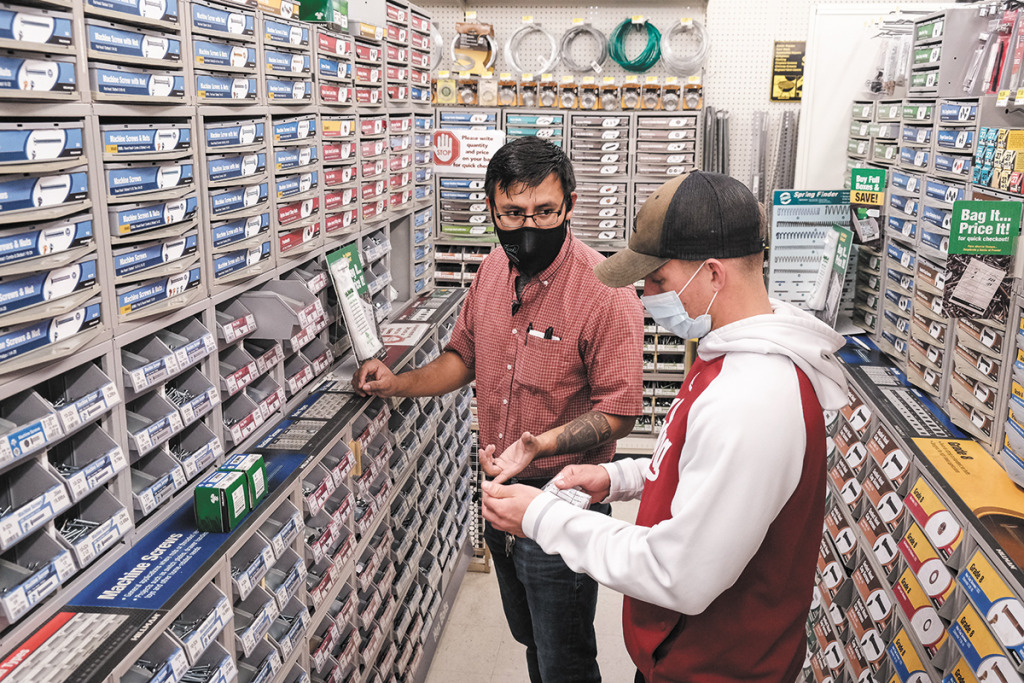 As Indiana sees its number of COVID-19 cases surge, some Hoosiers might be wondering where the biggest outbreaks are happening. A busy party center in the suburbs? A business conference center downtown? Gyms, bars and restaurants in the hippest neighborhoods?
New daily COVID cases across Indiana have soared from fewer than 350 in late June to more than 2,000 in late October, indicating the disease has yet to run its course and that people need to keep taking it seriously—including keeping an eye on locations of large outbreaks.
Unfortunately, everyone can keep wondering, because that information is not available to the public below the county level. You can't find it by ZIP code, neighborhood, retail strip or workplace. The only places mentioned by name on the Indiana State Department of Health dashboard are schools and long-term-care facilities.
Other than that, the state doesn't post any identifying data on a website or dashboard, where people could identify COVID hot spots and track their spread.
That's even though Indiana collects reams of information on COVID-19 outbreaks and cases, thanks to the work of about 1,200 contact tracers who spend their days calling people who have tested positive for the disease, interviewing them in-depth, and tracing their movements and recent contacts.
RELATED
Learn
about Gov. Eric Holcomb's reactions to key COVID data.
The state health department said it releases information down to the county level, because it is "the most robust and stable data available." It said the ZIP-code-level data and below "is often unstable and does not accurately reflect the level of transmission because testing rates can vary significantly."
At Gov. Eric Holcomb's weekly press conference on Oct. 28, Dr. Kris Box, the state health commissioner, said her department shares and investigates information on specific sites with local health officials, but it does not discuss them publicly. She did not say why.
"We don't publicly announce certain businesses or so-and-so's wedding or so-and-so's funeral," she said.
Indiana is not alone in withholding what some would deem vital health information. Most states gather data from their contact-tracing programs, but only 17 post the data on a government website, according to a study by Johns Hopkins Center for Health Security and National Public Radio. "The data and results gathered from contact tracing can be even more useful to citizens, allowing the public to see whether cases are rising or falling and in what areas," the report said.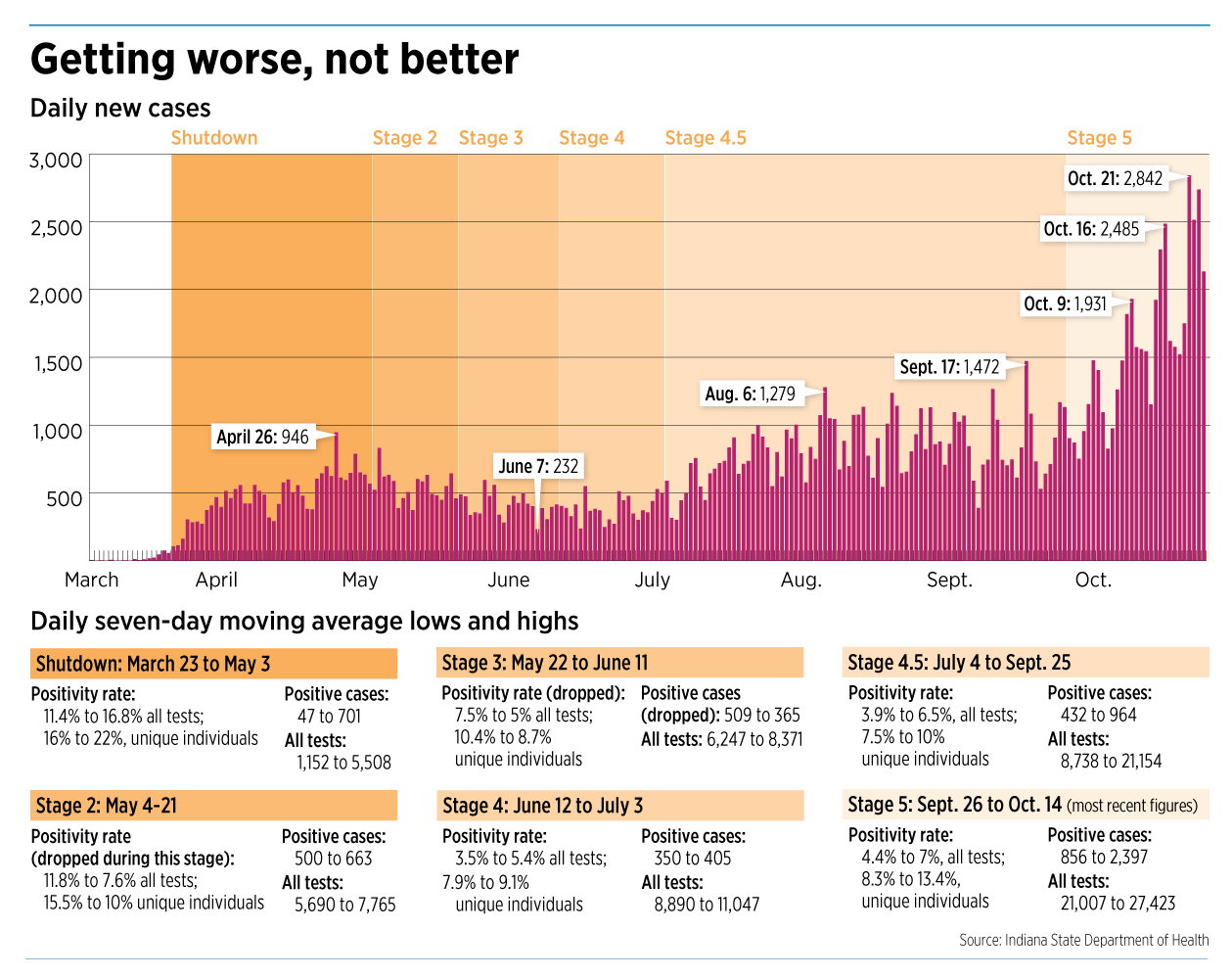 Of the 17 states that publish results—even general results, without identifying material—some go to lengths to break the information down into useful categories for the public.
Louisiana's dashboard, for example, shows the number of outbreaks and positive cases by category, such as bars, gyms, day care centers and churches. From a glance at the numbers, readers might be surprised to see that food-processing plants top the list, with 589 positive cases, far ahead of bars (468), restaurants (167), religious events (59) and gyms (31).
On its state website, New Jersey posts the number of contact tracers on the job from week to week, and how successful those tracers are at reaching people quickly. The state's dashboard shows contact tracers typically reach only 44% of new cases within 24 hours—and nearly half of those cases refused to provide contacts. Maryland, on the other hand, is able to call about 90% of new cases within 24 hours, but like New Jersey, found that only about half of the cases provided information on their contacts.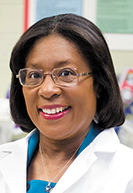 Why the spike?
Around Indiana, meanwhile, some county health officials say they are not seeing huge outbreaks at specific locations or by type of activity. Rather, new cases are showing up in small numbers across almost every locality, including areas that earlier in the pandemic had been largely spared.
That finding puts a dart in a common perception that the disease spreads most often through large events, such as weddings or sports activities, in what have become known as "super-spreaders."
"We've looked at weddings, we looked at church gatherings, we looked at sports activities," said Dr. Virginia Caine, director of the Marion County Department of Public Health. "We have not been able to find any recent super-spreaders."
Like many health officials interviewed for this story, she attributed much of the surge to careless behavior born of pandemic fatigue—individuals wearied of seven months of various restrictions who let their guard down for lunch with a friend, or shopping at a crowded store without a face mask or 6 feet of social distancing.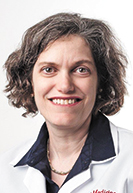 Last month, when Holcomb moved the state to Stage 5, he urged Hoosiers to continue wearing masks and practice 6 feet of social distancing. Under Stage 5, capacity limits were lifted on restaurants, bars, nightclubs, fitness centers, convention centers, cultural and tourism sites, horse-racing facilities and raceways.
But some infectious-disease physicians and public health officials say people have been too quick to ditch their masks—either tired of them or openly contemptuous of the idea that the government could order citizens to cover their faces. Either way, Holcomb's directive on masks and social distancing carries no penalties.
Dr. Amy Beth Kressel, medical director of infection prevention at Eskenazi Health, cited numerous medical studies that concluded people can slow the transmission of the deadly infection by wearing face masks. But at the end of a lengthy discussion, she sounded resigned that some people are not following that advice.
"When I go out shopping, people are now very lackadaisical," Kressel said. "There's tremendous pushback. People are claiming a personal-liberty exemption from wearing masks."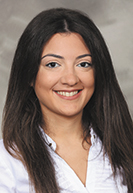 Dr. Lana Dbeibo, medical director of infection prevention at Indiana University Health's Methodist Hospital, agreed that people have let down their guard.
"As people start getting more tired because of how protracted this course has been for the pandemic, we see an uptick in the number of cases and a surge again," she said. "We know that these measures work when we actually follow them. And we've seen this happen over and over again."
Like many others, she said she was unaware of any so-called super-spreader events. And some health officials say that, although there might not be any such large events to point to, lots of small events, such as a family gathering, are probably behind the growth in cases. You might call them "small spreaders."
"Almost every instance that we see or hear about [involving a positive case], someone went to a concert or a family event to a bar for some weekend," said Dr. Robin Ledyard, chief medical officer of Community Health Network. "And you'll have two or three or four people that get it from that incident. And then … it tends to spread from there."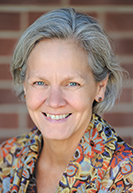 What's safe?
So, with Indiana now in Stage 5, should people feel comfortable going shopping? Or to the gym? Or to church?
In each case, health officials say, it depends. Will the crowds be massive and boisterous? Will most people be wearing masks? Will people be standing shoulder-to-shoulder at the concession stand?
As numbers steadily rise, the work mushrooms for contact tracers, who are tracking down people with positive tests and doing the laborious phone interviews and follow-ups that capture that data—all in the hopes of reducing further spread.
For instance, through their questioning, contact tracers might identify someone who came in close contact with the infected person but is showing no symptoms and might be unwittingly spreading the virus to others. Encouraging that person to self-quarantine can help contain the virus.
Contact tracing is a big job, and most tracers aren't career epidemiologists or public health officers but have taken a temporary job to help officials gather information one conversation at a time.
In May, Indiana handed the job of doing the bulk of the state's contact tracing to an outside vendor, Maximus Inc., based in suburban Washington, D.C. The company, with more than 34,000 workers and nearly $3 billion in annual revenue, agreed to hire 500 tracers in Indiana. They ask infected people about their medical treatments, whether they have traveled, and with whom they have interacted.
Indiana gave the company a $43-million-a-year contract for the job. As of Oct. 26, the state had more than 1,200 contact tracers on hand. The tracers have made more than 695,000 calls and sent more than 990,000 texts, connecting with approximately 75% of the people, the state health department said.
Every few weeks, state health officials give a brief update on contact-tracing efforts at Holcomb's press conferences. They talk about how many people have been hired, and how many phone calls they've made and texts they've sent.
Lack of disclosure
Yet what they don't say is what most people might find most interesting: Where are the hot spots, and how is the disease spreading from location to location? That's information that even the most dogged person could not extrapolate from the state's available raw data and spreadsheets.
Yet the U.S. Centers for Disease Control and Prevention makes the argument that health officials and the public at-large should know more, rather than less, about super-spreading events, known as SSEs in the health care industry.
"Although SSEs appear to be difficult to predict and therefore difficult to prevent, understanding the pathogen, host, environmental, and behavioral drivers of SSEs can inform strategies for SSE prevention and control," the CDC said in a June report.
Around the world, some of the largest super-spreading events have happened aboard ships, including Navy carriers and cruise ships, according to a report this month on Vox.com. But they are also happening in smaller settings, like churches, bars, event venues and workplaces.
"If you could reduce super-spreading, you could have a massive impact on the pandemic," Elizabeth McGraw, director of the Center for Infectious Disease Dynamics at Pennsylvania State University, told Vox.com.
In Indiana, the state health department leads the charge in understanding where and why cases are cropping up. It funnels each positive case into the state's contact-tracing system, in which Maximus workers make the first phone calls.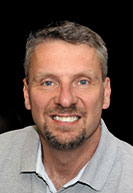 If the state-level contact tracers are unable to reach the infected person within 48 hours, they turn the file over to the county health department, which tries again to make contact, said Thomas Duszynski, former epidemiologist for the state health department and now director of epidemiology education at the Indiana University Fairbanks School of Public Health.
Duszynski said the Fairbanks School has 133 contact tracers and makes calls on behalf of the Marion County Department of Public Health. "If we can't reach them by phone, we physically go out to the house and try to knock on their door, wearing masks and gloves and protective equipment and we give them a mask if they don't have one," he said.
With all that legwork and phone-calling, Marion County was able to reach about 65% of positive cases over the summer, Caine said. That figure dipped to 58% in September. She said the county's goal is to reach 70% of people who have tested positive.
This might be a make-or-break moment for contact tracing. The practice is at its most effective, Duszynski said, at two phases in a pandemic. The first is when things begin, and officials seek to stop the spread in a community with aggressive tracing, trying to identify everyone who's been exposed.
The second, he said, is before cases start piling up way faster than anyone can make calls, and things spiral out of control.
"Let's put this finally to bed and identify all those people exposed or infected so that we can minimize the spread in the population," he said. "When you get into the height of a pandemic … contact tracing is less effective, just because there's so much … it's everywhere."
Now, the question is, has Indiana already passed that point? And would Hoosiers do a better job policing their own conduct if the state shared more information on outbreak locations?•
Please enable JavaScript to view this content.