Jessica Smith got the bad news in a telephone call in mid-September. Crowne Plaza at Union Station, where she had worked for six years as catering sales manager, told her she would lose her job at the end of the month—and with it, her health insurance.
Smith felt disappointed and in a mild panic. Her employer-sponsored plan covered her husband and 2-year-old son, in addition to herself. She needed to find new coverage fast.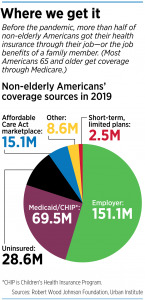 "Losing insurance is a big, big thing," she said.
But it would not be easy to find a job at another hotel. Downtown hotels have been battered by COVID-19 as dozens of convention and sports events canceled their bookings. Hotels furloughed hundreds of workers in the spring and summer, but allowed many to keep their benefits, hoping business would resume after a few months.
When business failed to pick back up in late summer and fall, hotels started cutting workers loose—taking away their health coverage in the process.
Smith spent weeks on the phone and in front of her computer, trying to figure out how to buy health insurance on her own. She talked to dozens of insurance agents and tried to navigate her way through confusing websites.
It's been a maddening experience. Smith, 39, had always been covered through a company plan, ever since graduating from Ball State University in 2003 and holding a succession of jobs. At all those companies, she had a human resources manager or benefits coordinator to guide her through her choices.
"I've never needed to look for insurance on my own, let alone for my family," she said. "I feel like I'm having to play the role of my own benefits coordinator. And to me, it's kind of a needle in a haystack, trying to figure out what makes the most sense."
She's not alone. More than 10 million Americans will lose their employer-sponsored health insurance this year as a result of a pandemic-related job loss in their household, according to estimates from the Robert Wood Johnson Foundation and the Urban Institute.
"Many of these people may struggle to find replacement coverage because they are unfamiliar with or ineligible for Medicaid or subsidized health plans through the health insurance marketplaces, or because they cannot afford premiums even if eligible for marketplace premium tax credits," said the study, which was published in September.
For many, it's the worst possible time to lose health care: in the midst of a pandemic that has sent millions of Americans to the hospital. It's a national crisis, some say, coming in the midst of historic levels of unemployment.
"Any economic shock that destroys jobs also destroys access to health coverage," according to an August report from the Economic Policy Institute, a nonpartisan think tank based in Washington, D.C.
COVID-19 was one such shock, the report said, causing a near-total shutdown of huge swaths of the U.S. economy in March and April. And while job growth had a large bounce-back in the summer, the overall level of employment remains depressed relative to pre-COVID benchmarks.
Fitting the pattern
Indiana has been something of a poster child for the economic collapse. The state's unemployment rate skyrocketed to 16.9% in April. Leading the way were job losses in the leisure and hospitality sector (down 116,000), manufacturing (down 78,200) and private educational and health services (down 54,200).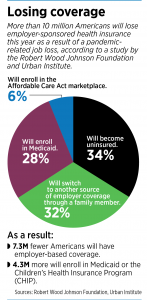 By mid-summer, things began to pick up for some sectors, and Indiana's jobless rate rebounded, falling to 6.4% in August. But other sectors, including hotels and conventions, continued to struggle. Workers like Smith are now receiving pink slips and facing the task of finding their own health insurance.
"In a pandemic, what happens if we do get sick and we haven't secured insurance yet?" Smith wondered. At the Crowne Plaza, she had carried a family plan through Cigna and had dental, vision and life insurance.
That's a common scenario; Indiana relies heavily on employer-sponsored plans for health care. About 54% of Hoosiers, or 3.5 million people, are insured through employer plans, above the national average of 49%, according to the Kaiser Family Foundation. No surrounding state has a higher reliance on company plans.
Hoosiers also get coverage in other ways: 18% through Medicaid, 15% through Medicare, 5% through other group plans, and 1% through the military. About 8% are uninsured.
There are essentially four options in the stressful process of finding health insurance on your own:
◗ Insurance through a spouse's or other family member's employer. When you lose your job and insurance, your spouse's plan will typically allow you to join, even if it's not open enrollment season, through a "change of life event."
◗ The Affordable Care Act marketplace, an online exchange for people to shop for coverage and enroll in a public plan. In Indiana, three companies offer plans: CareSource Indiana, Celtic Insurance and Anthem Inc. Their average monthly premiums range from $540.39 to $769.46.
Although those premiums might seem pricey to someone out of work, the Affordable Care Act offers subsidies to reduce monthly premiums and out-of-pocket costs. To qualify, households must have income less than four times the federal poverty level; for a family of four, that's $104,800.
◗ COBRA. The Consolidated Omnibus Budget Reconciliation Act allows people who work at companies with 20 or more employees to pay to continue their workplace insurance. However, workers must carry the entire cost of the plan, which can cost $600 or more a month for a family because employers are no longer contributing to the cost.
◗ A government plan, such as Medicaid or Medicare. Indiana has numerous Medicaid plans for low-income and disabled people. The most popular one, the Healthy Indiana Plan, has more than 400,000 members, using funds in part from the Affordable Care Act.
Indiana Chamber of Commerce President Kevin Brinegar said businesses are "strongly aware" that employees are their most valuable asset, and are working to help them keep coverage. The organization said the state should pass work-share legislation, which would allow workers to keep benefits and partial unemployment even if companies cut their workforce.
Otherwise known as "short-term compensation," the programs allow employers to reduce work hours during economic downturns while employees collect partial unemployment benefits. Supporters say the program is a win-win: Employees keep their jobs and their benefits and employers keep skilled laborers.
But the bill has never gained much traction in the Legislature, and in some years, hasn't even received a hearing. Twenty-eight states already have work-share laws, Brinegar said.
"Far fewer job and benefit losses would have occurred and will take place in the future if Indiana finally adopts work-share legislation," he said.
Government plans growing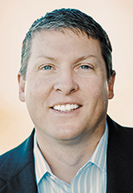 Some insurance companies say they are seeing a migration of customers from employer-sponsored plans to government plans for the needy. Indianapolis-based Anthem Inc., for one, said membership in its commercial sector dropped by 290,000, or about 2%, in the three months ending June 30. At the same time, membership in its Medicaid plans climbed about 7%.
In Indiana, Anthem has seen some employers drop coverage, but not many. Overall, Anthem membership for companies with 50 or fewer employees declined less than 1% from March through August, said Joseph Gilbert, Anthem's regional vice president of small group sales for Indiana.
"We see and hear distress," Gilbert said. "We know people are dropping coverage. … But so far, it's held remarkably steady."
Anthem did not say how many people have lost coverage in Indiana overall, nor how the large employer plans have fared. But the insurer said it plans to launch a product in December called Anthem Enhanced Choice, designed especially for people without employer coverage who are looking for an individual plan.
Anthem said the policy's costs will be "substantially lower" than similar plans on the Affordable Care Act marketplace, but gave no specifics.
In the meantime, doctors and hospitals are sounding the alarm about patients who need care but are going without insurance.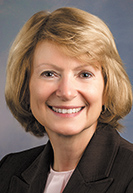 The Indiana State Medical Association, the state's largest organization of doctors, estimates that as many as 1 million Hoosiers might have lost employer-sponsored health coverage during the pandemic. It is asking the newly uninsured to reach out to the Indiana Family and Social Services Administration and not-for-profit groups such as Covering Kids & Families of Indiana, for free expert advice on getting coverage. They can also see if they are eligible for food and cash assistance.
"We are all doing our part to prevent the spread of COVID-19, but people also need to maintain their everyday health," said Dr. Lisa Hatcher, a family practice physician in Columbia City and immediate past president of the Indiana State Medical Association. "It's just as important to continue screenings, well visits, vaccinations and monitoring for concerns that, without a checkup, could lead to catastrophic outcomes."
The Indiana Hospital Association, which represents hundreds of hospitals across the state, said it expects Indiana's most popular Medicaid program, the Healthy Indiana Plan for low-income Hoosiers, to grow as more people lose their employer-sponsored health coverage. The hospital association pointed out that its members pay more than $300 million a year to the state in hospital assessment fees that Indiana uses to leverage federal matching dollars to fund the Healthy Indiana Plan.
In addition, said Brian Tabor, the association's president, they pay $800 million a year to the state to leverage other federal funding, including for Medicaid programs.
"Hospitals remain committed to caring for all Hoosiers during this health emergency and beyond," Tabor said.
A flaw in the system?
Some patient advocates say the pandemic has magnified a huge flaw in the U.S health care system—its heavy dependence on employer-sponsored and -subsidized plans. No other industrialized country has such a system.
"The pandemic has made it painfully clear to millions more working Americans what independent contractors, gig workers, and small and medium-sized business owners already know: Tying health insurance to jobs is bad policy for workers and employers both," said Fran Quigley, director of the Health and Human Rights Clinic and Indiana University McKinney School of Law.
He added: "The pandemic gives the U.S. the opportunity and obligation to following the rest of the world's example and once and for all de-link health insurance from employment."
But for newly unemployed people, such as Smith, a debate about national health care policy doesn't help in the here and now.
As of late September, Smith was still looking for insurance and had not made a decision. She had entered her information on several generic health care sites, which resulted in more than 50 insurance agents calling her in the days afterward.
"That was my first mistake," she said. "I was inundated with phone calls."
She was also waiting for more information on COBRA from Cigna to see how much she would have to pay to continue her previous coverage. Her husband, a social worker, is interviewing with a company that could offer insurance, but it's unclear how long the waiting period might be.
And Smith has filled out a lot of information on the Affordable Care Act website, a process she said was more confusing than helpful.
"I wish this was a class they taught in high school or college," she said. "Somebody needs to teach people how to decipher insurance. … It's so challenging to not only be out of work, but out of insurance, to not know if you can financially support and protect your family."•
Please enable JavaScript to view this content.