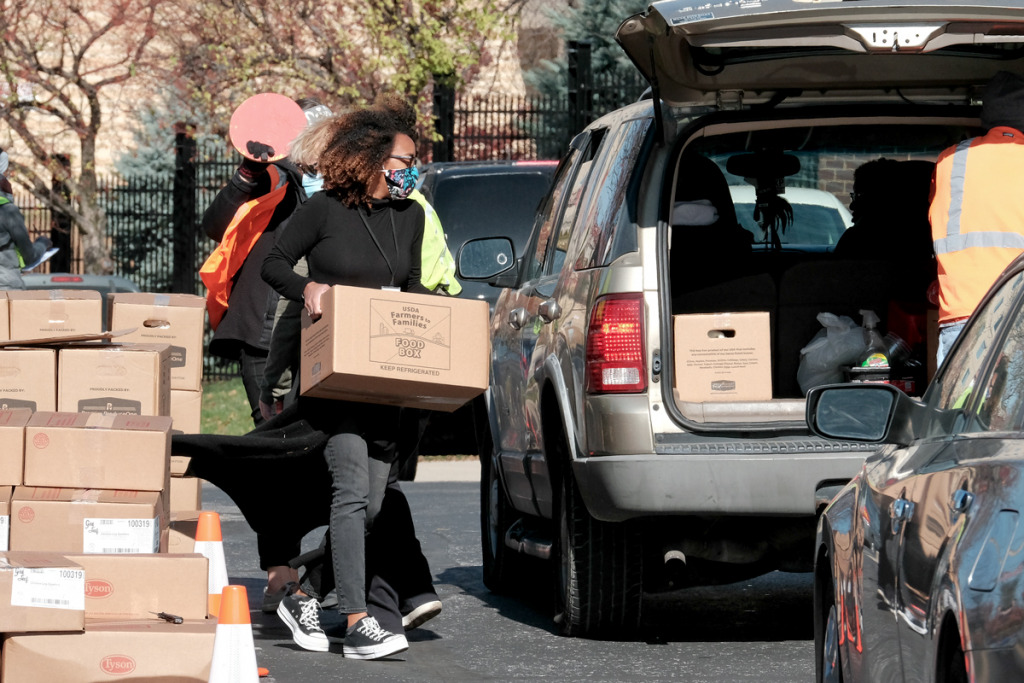 A broad coalition of corporate, not-for-profit and government organizations is launching perhaps the most ambitious food-relief and sustainability program here in years, Food Secure Indy.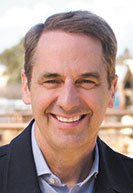 The goal is to provide an additional 740,000 meals a month in Marion County on a regular basis by 2023. That's the number of meals needed to close the estimated "meal gap" at homes, schools and shelters. If successful, leaders say, the effort could wipe out food insecurity in Indianapolis, and could be replicated in other counties around the state.
"It's in our hands," said Jeff Simmons, CEO of Elanco Animal Health Inc., a Greenfield-based maker of animal vaccines, pet medicines and other products, in a keynote speech Oct. 23 at IBJ's annual Hunger & Health panel discussion. "Hungry children cannot learn. Hungry adults cannot perform on the job. Hungry seniors cannot maintain health."
Simmons, a longtime board member at Gleaners Food Bank of Indiana and unofficial leader of the Food Secure Indy drive, said that, if successful, the program could create a sustainable supply of meals for Hoosiers within two or three years.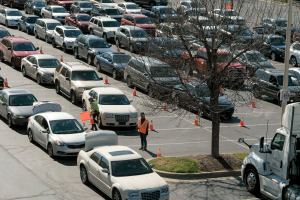 The effort is gaining momentum at a time the pandemic has caused demand for food to soar. Gleaners said demand rose 107% for the year ending Sept. 30. As a result, the organization has been setting up mobile, drive-thru distribution sites around central Indiana, including at Lucas Oil Stadium, Victory Field and the Indianapolis Motor Speedway, in addition to its massive pantry on the southwest side.
Any Hoosier who needs food can drive up to one of the sites during a scheduled distribution without any pre-registration or proof of need.
The cars started lining up three hours early outside Victory Field on Monday, as staff members and Gleaners volunteers unloaded skids of boxed food from trucks at the baseball stadium's parking lot downtown.
"If you say you need food, we give you food," said Treva Burgess, Gleaners' manager of community engagement, as she stacked boxes. "We're not the food police."
At Second Helpings, another major Indianapolis-based hunger-relief organization, officials say the demand has grown so sharply that they are making more than 50,000 hot meals a week, roughly double their pre-pandemic volume, to serve at homeless shelters, domestic-abuse shelters and children's clubs.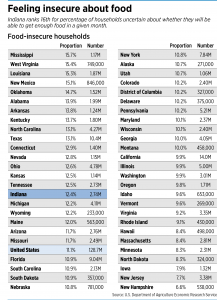 And Meals on Wheels of Central Indiana, an organization that delivers low-cost meals to the homebound and chronically ill, also is dealing with a steep increase in demand. To help low-income clients, it has boosted financial assistance by 160% to $220,000.
All across central Indiana, food organizations are scrambling to keep up, as the pandemic causes people to lose their jobs or watch their incomes fall short.
Health consequences
COVID-19 has escalated "food insecurity"—a term describing a household's uncertainty about providing enough nutritious food for every person. If unaddressed, food insecurity can lead to poor diet choices, nutritional deficiencies and chronic health problems, including cardiovascular disease, diabetes and kidney disease.
Across the United States, not knowing where to get the next meal—or food for school lunches and work lunchboxes—puts stress on millions of households. An analysis by the Washington, D.C.-based Brookings Institution conducted this summer found that 27.5% of households with children were food-insecure. Another analysis by researchers at Northwestern University found food insecurity has more than tripled during the pandemic among households with children, to 29.5%.
"COVID has just wreaked havoc on so many things: on public health, on economic stability and obviously on food insecurity," Luis Guardia, president of the Food, Research and Action Center, told the New York Times.
The Indy Hunger Network said 28% of people in Marion County need food assistance—up from 20% before the pandemic.
Simmons said addressing that need requires a deliberate collaboration among the corporate, not-for-profit and government sectors. Already, the movement has had buy-in from a who's who of local power organizations, including Anthem Inc., Corteva Agriscience, the Indiana Pacers, AgriNovus and Central Indiana Corporate Partnership, as well as Elanco Animal Health. Participants in the public sector include Gov. Eric Holcomb, Mayor Joe Hogsett and the Indiana Family & Social Services Administration.
On the not-for-profit side, participants include Gleaners, Indy Hunger Network, Second Helpings, Preventia Group, United Way of Central Indiana, Flanner House, Midwest Food Bank and Feeding Indiana's Hungry.
Hyperconnectivity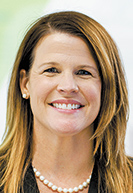 The Food Secure Indy initiative is geared toward maximizing current efforts and connecting them in a way that hasn't been done before, said Margie Craft, a senior adviser at Elanco and project lead for Food Secure Indy.
"We know that there's an awful lot of excellent work being done in this space," she said. "But how do we allow the experts in each of these areas to continue to do what they do, but with the hyperconnectivity that we haven't had before? That's the key."
The initiative traces its origins back to the Great Recession more than a decade ago, when hunger-relief organizations around central Indiana saw a sharply increased need but were unsure how to meet it.
A group of community leaders got together, including Simmons, Jim Morris (former chief of staff for Mayor Richard Lugar and former director of community development for the Lilly Endowment) and David Miner (former executive at Elanco and later board chair of Bread for the World, a Christian advocacy organization based in Washington, D.C., that advocates for policy changes to end hunger).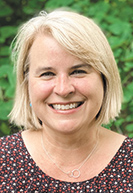 "And we said, 'Let's take an analytical approach to this: How many meals does Indianapolis need?'" Simmons recalled. "We came up with a plan, made a lot of progress. We felt like we were close to having a food-secure Indy."
An Elanco spokeswoman said that private support and focus on the issue fell away over time as the food challenge started to ease. Simmons added that a change of people in various roles added to the issue fading from prominence.
But in the process, the group developed the Indy Hunger Network, a not-for-profit that operates as a sort-of think tank—looking at the big picture of hunger efforts to see how all the pieces fit together.
Kate Howe, the organization's managing director since 2016, said hunger-relief efforts around Indianapolis are ample, but the outcome could be much stronger under a sustained, coordinated effort such as Food Secure Indy.
"I think bringing everyone together to figure out, 'What are the most important things we could change?' could make a major impact on hunger in our city," she said.
'All hands on deck'
In the spring, as COVID-19 began to close schools and businesses, some community leaders began to wonder how the thousands of students who depended on schools for breakfast and lunch would get enough to eat.
Private industry, organized by Elanco, raised $1.6 million, enough for 1 million meals. That quick success convinced Simmons the time was ripe to tackle food insecurity in Indianapolis.
"I'd say the band got back together on hunger and said, 'Hey, let's start calling people—the governor the mayor, all the hunger organizations, and really, the three pillars: nonprofits, government and private industry. … Let's lean in on hunger. Let's get this back together.'"
Such an ambitious move, of course, will require financial backing and leadership from organizations across central Indiana. And last month, Elanco, which spun off from Eli Lilly and Co. in 2018, tried to set an example when it unveiled its corporate sustainability goals for the next decade. Chief among them was a pledge to make 57 million more people more food-secure by "providing access to nutritious protein," with a focus on Indianapolis. The company did not say how much that goal would cost, but it added that the most significant way to achieve the goal is by increasing the health of 3 billion animals with vaccines, parasite protection and other measures.
The Food Secure Indy program dovetails with some efforts already underway. Gov. Eric Holcomb recently created several task forces to look at ways to improve the hunger-relief system at a state level, and to review how federal nutrition programs are administered here, including school meals, the Supplemental Nutrition Assistance Program (called "SNAP" and formerly known as the food stamp program) and the Women's, Infants and Children (WIC) nutrition program.
The task forces will make recommendations to the governor's office in coming weeks. The Indiana Family & Social Services Administration, which administers many state food-aid programs, said it would join forces with Food Secure Indy.
"We are excited to join this all-hands-on-deck partnership to make Indianapolis a hunger-free city, and we look forward to supporting it however we can," said Dr. Jennifer Sullivan, FSSA's secretary, in a statement to IBJ.
Mayor Joe Hogsett's office called the program "an exciting initiative" and said it would jump in with local expertise and programs. "We're proud to participate and look forward to seeing the results of this collaborative effort to end hunger in our city and ensure that food access is not dependent on one's ZIP code," Taylor Schaffer, Hogsett's spokeswoman, said in an email to IBJ.
Long lines
At Victory Field, hundreds of cars wrapped around the baseball stadium hours before the giveaway began. Then for hours, cars inched their way into one of four lanes in the parking lot toward the pickup site.
At the front of the lines, Gleaners staffers and volunteers loaded into cars boxes containing enough food for a week or so for a household: apples, potatoes, chicken nuggets, milk, cheese, butter, cabbage, sour cream, hot dogs, liquid eggs and a 10-pound bag of chicken legs.
"This is a big help. Thank you so much," said Rodney Cook of Southport, as volunteers loaded his car with boxes of food. He said he was furloughed for several months from his job as a furniture mover during the pandemic and is now working only part time.
Gleaners had to cut off the line of cars at about 2:30 p.m.—before the scheduled end of 4 p.m.—to ensure that everyone in line at that time received food. A total of 1,008 households was served, with some cars picking up food for multiple households.
Gleaners CEO John Elliott said his organization is expanding as quickly as it can to keep up with the growing need. At its main pantry, it is planning to add 40,000 square feet to the existing 32,000 square feet of combined cooler and freezer space. "We're doing it at the pace our donors support the program," he said.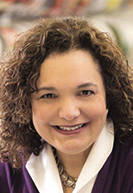 Gleaners, founded in 1980, serves 21 counties in central and southeastern Indiana. It relies mostly on financial donations, rather than food donations, so it can buy nutritious food in bulk and repackage it for tens of thousands of pickups a week. Its main pantry, just east of the Indianapolis International Airport, is open for drive-thru pickup three days a week.
Second Helpings, which bills itself as a leader in the fight to reduce food waste, has been distributing food at double the rate of a year ago. It works with wholesalers, grocery stores, farmers, caterers, restaurants and event centers to gather leftover bulk and prepared foods and cook it for local homeless shelters and other needy outlets.
The group said it welcomes a new collaborative effort to address food insecurity. Such a move, officials said, could finally make a meaningful dent in the huge and growing demand.
"Not-for-profit organizations can't win the battle against hunger alone," said Jennifer Vigran, CEO of Second Helpings. "It requires the resolve of our whole community—government officials and the corporate world as well."•
Please enable JavaScript to view this content.