Two years into the pandemic, local malls and shopping centers are continuing to grapple with the decline in brick-and-mortar retail demand that started long before the coronavirus hit. More properties are looking to reinvent themselves with a focus on amenities other than shopping.
Already, Indianapolis-based Kite Realty Group Trust added a residential component to Glendale Town Center through a partnership with Indianapolis-based Milhaus LLC and converted the vacant Macy's store into a series of smaller-footprint storefronts. The $55 million endeavor, which began in mid-2019, was completed last year.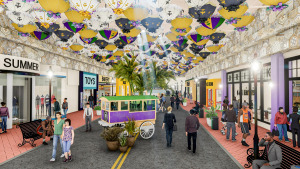 Last November, Lafayette Square Mall owner Fabio de la Cruz announced plans for a $200 million revamp of that mall and surrounding property, with promises of drastic changes to the 1.2-million-square foot indoor shopping facility that would include new entertainment areas, housing, office space, a hotel and green space.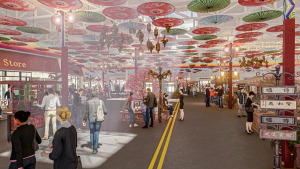 Then, last month, Indianapolis-based Simon Property Group Inc. announced it had formalized in December its exit from Circle Centre Mall's ownership and management structure. It sold its stake to 17 other institutions that have been involved in the 27-year-old mall since its inception. Those owners plan to repurpose the downtown property but it's unclear what direction they will take.
Experts say nearly every mall in the United States is looking for ways to differentiate itself, but most have generally the same plan: Create new experiences people are willing to travel to and pay for. The concepts range from bowling alleys, to arcades, to rock climbing centers, to amusement parks.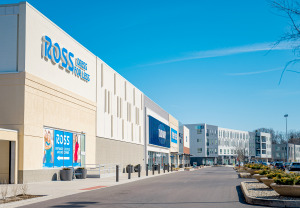 "I think every mall owner is looking for an experiential driver," said Catherine Esselman, a former real estate broker and city strategist who recently began her own firm, Cat Consulting LLC.
"Those are key for food-and-beverage tenants, and I think those concepts will continue to range in scope. Malls will continue to be destination points for families and for corporate events," along with those who are looking to fill some time, Esselman said.
Simon this month announced the Tippecanoe Mall in Lafayette will add a Malibu Jack's, which features big-screen televisions, go-karts, laser tag, bowling and amusement park rides.
Esselman said that, while the practice of anchoring malls with large retailers hasn't entirely disappeared, those anchors are more likely to be modern concepts like H&M, Five Below, Target or entertainment options rather than JCPenney, Carson's, Macy's and Sears.
And experiential tenants have a different leasing strategy than do traditional box stores, she said, with a focus on lower rents and shorter terms.
"I think the lines are getting so blurred, and they will continue to blur as to what a traditional model is. It can't stay in the traditional lens: AAA, credit-worthy retailers with 10-year deals and five-year options," she said. "Those deals just all have to be evaluated case by case—owners are doing a lot of work to market the property."
It's not entirely clear how much space is available across central Indiana's largest shopping center and mall properties, which account for more than 8 million square feet of space, because property owners generally don't publicize that information.
Walk-throughs of most malls found that 10% to 15% of visible storefronts are often empty—and for some properties, that figure is much higher.
Movie mayhem
Josh Poag, founder of Memphis, Tennessee-based Poag Shopping Centers LLC, said the company's Shops at Perry Crossing is about 82% occupied, Several tenants left during the pandemic, including Claddagh Irish Pub and Stacked Pickle.
Poag said the mall has recovered from the 21% year-over-year decline in traffic it saw from 2019 to 2020 and is in discussions with potential tenants about taking over some of the remaining vacant spaces. The effort follows Poag's regaining control of the property after a lender tried to foreclose on it in August 2020, when the company missed the deadline to pay off its debt.
Poag said he sees value in more traditional entertainment anchors like movie theaters, which seem to be on the mend after a rough two years.
"Prior to COVID, we really loved movie theaters—we were dependent on them," he said. "But today, there's a lot of stuff going on in the movie industry that makes me nervous. Long term, we still like theaters—we still think they drive traffic and I'm not looking to exit my theaters … but there are question marks there for the future."
Fewer people go out to see movies now, Poag said, instead waiting for films to be released on home-streaming services. Large theater chains (such as AMC, which anchors Perry Crossing) are facing financial challenges, and it will likely be a while before the industry fully recovers, he added.
John Talbott, director of the Indiana University Kelley School of Business Center for Research and Education in Retail, predicted theaters will have to offer engaging experiences that go beyond the films they show. Higher-end dining—which some theater chains have already added—and more immersive experiences will play a role in that, he said.
A recent report by Hollywood trade publication Variety found that 25% of people still haven't returned to theaters since the pandemic began—however, those who have, have returned in force.
Since December, "Spider-Man: No Way Home" has accumulated $792 million at the domestic box office—second-most all time. And "The Batman," which released March 4, earned $145 million in its opening weekend, second only to "Spider-Man" since the pandemic began.
Future efforts
The city has generally been supportive of mall redevelopment, particularly for new commercial uses, even going so far as to offer incentives for projects like those at Glendale Town Center and Lafayette Square.
Glendale received $9 million in tax-increment financing for its redevelopment effort, and the city is considering support for the west-side property.
De la Cruz, who owns Indianapolis-based investment firm Sojos Capital LLC, told IBJ his firm's transformation of Lafayette Square to Window to the World—the name he's given the property—will consist of far more than retail. He envisions office space, a concert area, multifamily and single-family housing, and dozens of restaurants.
"We're talking about maybe 7% of the whole parcel [that will be retail uses], and that won't be essential," he said. "We're also trying to be really conscious about picking the right tenants, because one of the things that don't die are the service stores" that can't necessarily be replaced by Amazon.
City officials are also keeping a close eye on what might occur with Circle Centre.
Department of Metropolitan Development Director Scarlett Andrews said Circle Centre continues to have an outsized presence in the Indianapolis shopping landscape, largely because of its prime location downtown. But the property is set to undergo dramatic shifts. Ownership group Circle Centre Partners LP has hired five design teams to pitch ideas for ways to remake it.
The mall already has some entertainment elements, like Tilt, Helium Comedy Club and Punchbowl Social—along with a variety of restaurants. It's also in the process of adding a coworking space through a partnership with Columbus, Ohio-based Co-hatch.
"I think Circle Centre is paramount in our mind, in terms of the overall future success of malls," Andrews said, adding that the city has renewed its focus on properties such as Washington Square Mall and Lafayette Square.
"Malls—not just since the pandemic, but even before the pandemic—were starting to diversify the types of uses within their spaces," she said. "Circle Centre had already moved to a model where they were getting revenue from office leases and restaurants and arcades—they already diversified their various revenue sources, so they aren't fully dependent on retail. I think the successful malls that you see around the county are also doing that."
Nationally, Simon was rumored before the pandemic to be in discussion with Seattle-based Amazon about adding last-mile distribution facilities to some mall properties, given the space available from the loss of so many anchors.
A Simon spokesperson did not respond to requests for comment for this story.
IU's Talbott said he expects a few area properties—namely, Castleton Square, Greenwood Park and The Fashion Mall at Keystone—will be able to continue operating largely the same way they have for decades, because they're in heavily populated areas and are owned by Simon, the nation's largest shopping mall owner.
They'll have to adapt somewhat to the shifting retail landscape, even possibly bringing in some entertainment-related tenants or distribution facilities, but the changes will be minor, he said.
"They'll change—visitors will see different restaurants in there, different retailers, but largely I think the way they work will continue to work. But that's not the case with all malls."•
Please enable JavaScript to view this content.