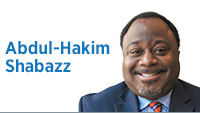 I have never been a big fan of increasing the minimum wage. The reason is that I believe there should be a price to pay for having no education or work ethic.
However, with that said, there is a movement afoot in this country to raise the minimum wage to $15 an hour.
The U.S. House of Representatives has voted in support of that increase. Meanwhile, legislatures in New Jersey, Maryland and my home state of Illinois all have adopted the $15-an-hour minimum wage, which would go into effect under varying timetables.
In addition, several other states are on track to raise their minimum wages. Never mind the fact that we are in a universe of record unemployment and a skilled-worker shortage, which are resulting in higher wages.
Allow me to share some facts about the minimum wage. Less than 4% of the full-time workforce makes minimum wage. And out of that 4%, most are under age 25 and most work in the service or food industry. Nearly half never finished high school, and about 30% have only a high school diploma. About 68% are single.
Now, I'm not saying an employer shouldn't pay his or her employees more. I am a free-market capitalist. I am a firm believer in the freedom to sell your labor and skills at whatever rate you can get, or what the market will bear. If you can get $200 an hour for making a cheeseburger, more power to you.
However, I also believe that, if the goal is to raise wages for the lower end of the economic spectrum, there is a better way.
Eliminate taxes for people who make less than $10 an hour.
Since they won't have to pay taxes, employers will not be required to do any withholding in their paychecks, so they all get an instant raise.
I did a little math using salarycalculator.com. People making $10 an hour and working full time have an annual salary of slightly more than $18,000 a year. Their taxable income, though, is just under $11,000, provided they have no deductions.
They will pay about $2,700 in federal and Social Security taxes. By not having them pay taxes, we put that money in their pockets. Moreover, if you account for state and local income taxes, that number is likely north of $3,000. And the workers don't have to wait until tax time to get their money back, since there is no withholding. They only have to file if they make more than $18,000 annually.
Here is another benefit: Since they now have extra cash, they don't need as much government assistance. That translates into savings in various social programs, such as the Supplemental Nutrition Assistance Program, or SNAP.
There is one loser in all this: the government, since it would take in fewer taxes. But that's not all bad. According to the Tax Foundation, the top 50% of taxpayers are paying 90% of the taxes, anyway. If you're making minimum wage, you're not in that 50%.
So, let's do a quick recap. Those who make less will now have more money in their pockets, which means more empowerment and less government dependency.
The rest of us won't have to pay as much for social programs. And the government, rather than the rest of us, will have to make do with less money.
It's a win for workers, business and consumers. The only loser is the government because it gets less revenue. What a shame.•
__________
Shabazz is an attorney, radio talk show host and political commentator, college professor and stand-up comedian. Send comments to ibjedit@ibj.com.

Click here for more Forefront columns.
Please enable JavaScript to view this content.