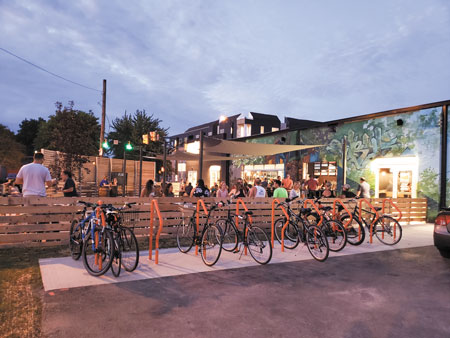 At Upland Brewing Co.'s newest pub, which opened Aug. 1 at 1201 Prospect St. in Fountain Square, everything serves a larger purpose: the roomy outdoor patio with its mural of treehouses and adventurers, the on-site bicycle shop, the indoor mural that is based on the label for a soon-to-be-released beer called Breaking Away.
It's all meant to convey the Upland brand—a spirit of curiosity, outdoor activities and community-mindedness, all infused with a Hoosier sensibility.
"We have 13,000 square feet here to tell the story of Upland," said David Bower, 36, president of the Bloomington-based company. "This location offers the whole scope of the brand."
And it's a brand that appears to be resonating with customers.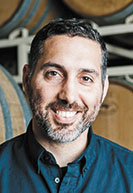 Upland, whose main brewery and first brewpub opened in Bloomington in 1998, now produces 16,000 barrels of beer a year in Bloomington, at both a main production brewery and a separate brewery that produces sour ales. Based on volume, it's the state's third-largest brewer behind Indianapolis-based Sun King Brewing Co. and Munster-based 3 Floyds Brewing Co.
The privately held company does not disclose sales numbers, but its leaders said revenue is up about 9% this year, with growth in both retail and wholesale sales. Over the past three to four years, annual revenue growth had been about 5%.
Last year, Upland sold about 3,000 to 4,000 barrels of its beer at its own retail establishments, which include two brewpubs in Indianapolis and one each in Carmel, Columbus and Bloomington, as well as tasting facilities at its two Bloomington breweries.
The remaining barrels are sold to distributors, who in turn sell Upland beers to bars, restaurants, grocers and liquor stores around Indiana and beyond.
Upland's beer is distributed in all or portions of 24 states, from Maine to California, including all of Indiana, Illinois, Michigan and Wisconsin.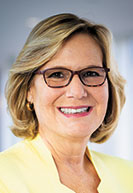 Last year, Upland began distributing its sour beers in Canada, Europe, Russia and Japan. The sour beers are the only ones Upland sells internationally. That's in part because the beers are aged, meaning they have a longer shelf life and can better withstand long-distance shipping.
Despite its wide distribution footprint, though, Upland's core market is here.
"Ninety percent of what we're selling is here in Indiana," said Pete Batule, 38, Upland's chief operating officer.
And, Batule said, Indianapolis represents both Upland's largest single market and the market in which it sees most growth potential.
That means each of Upland's retail locations does double duty. They're places where customers can relax and enjoy food and beer, yes. But they're also places to nurture existing customers and reach new ones—customers who might later decide to seek out Upland at their local retailer.
Marketing and community engagement are key tools for craft breweries, says Mark Lasbury, managing editor at Indianapolis-based craft-beer-industry promoter Indiana on Tap.
"It's very important for craft beer, because craft beer is a product that people don't need. You have to sell them on it," Lasbury said. "Make them part of the family, then they'll search you out."
Lasbury said about 15% of Indiana's breweries have off-site locations—tasting rooms, restaurants or similar facilities in a location other than their primary brewing location.
Upland is especially good at blending each of its locations into their surrounding communities, Lasbury said. "Every one of their locations has a specific feel, has a nice menu, feels different than any of the other places, yet everybody's comfortable."
As examples, Lasbury cited Upland's Pump House in Columbus. When Upland renovated the former pump house, it took pains to blend the historic character of the 1903 building with the restaurant's modern decor.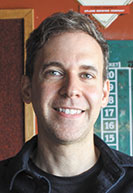 The tasting room at the Wood Shop in Bloomington, where Upland brews all its sour beers, keeps the emphasis on the sours—a type of beer that's tricky to make and not nearly as common as other varieties.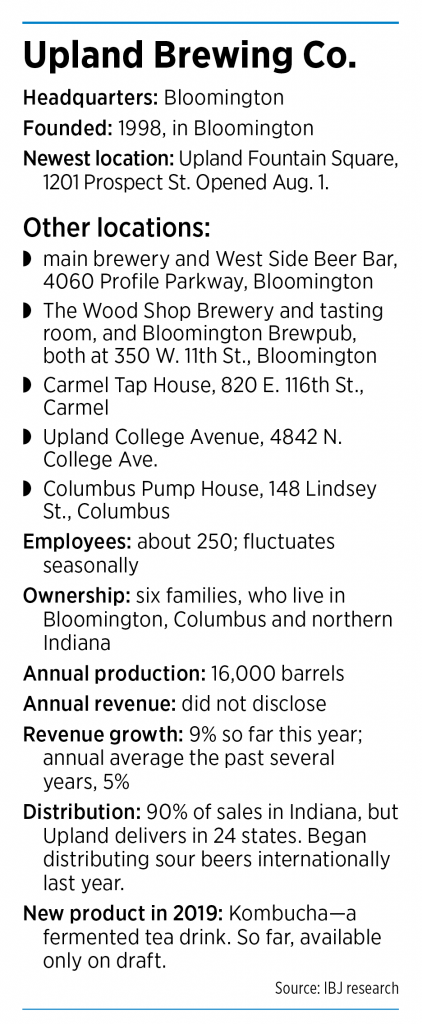 And even before its Fountain Square location opened, Lasbury said, Upland was already building neighborhood connections by sponsoring community events—Fountain Square's Fridays on the Plaza summer concert series and a movie series at the White Rabbit Cabaret.
The Fountain Square brewpub, in a building formerly occupied by the discount store Value World, is Upland's third Indianapolis-area location, in addition to brewpubs on College Avenue and in Carmel.
The Fountain Square venue is built around a large U-shaped bar with 26 taps, including a couple reserved for kombucha—the increasingly popular fermented tea drink Upland started brewing in Bloomington on a trial basis this year.
It also includes a small brewing operation Upland will use for small-batch and experimental brews, as well as for barrel aging of small-batch spirits.
"This is our trial space," Batule said of the Fountain Square brewery.
And there's a 1,000-square-foot bike shop operated by Indianapolis-based Gray Goat Bicycle Co. This is the fourth store for Gray Goat, which also has locations at 7750 S. Meridian St. and in Carmel and Franklin.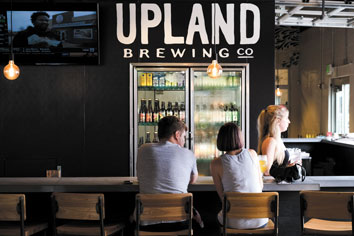 Fountain Square is Upland's first location to partner with an outside retailer. The Gray Goat partnership, Bower said, makes sense because many of Upland's customers are also cyclists, and the pairing fits Upland's brand identity. "This is a way for us to really put a stake in the ground."
The brewer already sponsors an amateur cycling team, Team Upland Brewing, and its Fountain Square location hosted the American Diabetes Association's Tour de Cure fundraising ride/walk/run earlier this month.
Upland's branding tactics seem like smart strategy to Kim Donahue, a senior lecturer in marketing at Indiana University's Kelley School of Business at IUPUI.
"I think of it as a very innovative approach," Donahue said. "It's not a new idea, but it's not a common idea."
As another example, Donahue cited the Norwalk, Connecticut-based Stew Leonard's chain of grocery stores. The family-owned company began as a dairy and opened its first retail location in 1969.
Today, the company operates six Stew Leonard's stores in Connecticut and New York, with a seventh set to open in September in New Jersey. The stores have attracted national notice for their entertaining atmosphere that includes costumed characters, animatronics, entertainment and petting zoos.
"They really built their brand by the way they managed their physical outlet," Donahue said.
At this point, Upland says it has no plans to open additional retail locations—but it's also not ruling that out. "We're always adapting and open to new adventures," Batule said.
Bower agreed. "If, five years ago, you would have asked us if we'd open a large brewery in Fountain Square with a bike shop, we probably would have said no."•
Please enable JavaScript to view this content.