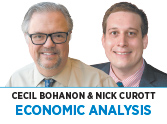 Despite what we've been told, trade wars are not easy to win. This became very apparent last week. Any tariff the United States imposes on foreign imports can be offset by interventions in the currency market.
Suppose a shipload of toys to be sold to Walmart has a Chinese price of 13 million RMB. (RMB is the renminbi—the Chinese currency.) At an exchange rate of 6.5 RMB to the dollar, the toys cost Walmart $2 million. Add a new 10% U.S. tariff and Walmart's bill goes to $2.2 million. The alleged benefit of trade protection is that Walmart will now turn the shipment down and re-source the production to the United States. (The benefit is dubious, but that's another column.)
However, suppose the value of the dollar rises to 7.15 RMB? The 13 million Chinese price to Walmart falls to $1.81 million, so the tariff-inclusive price becomes $2 million. The tariff is neutralized by the rise in the value of the dollar. (Remember, when the dollar rises, the RMB falls.)
Can China do this? Yes, it's simple. The Chinese, who tightly monitor the value of the RMB, simply direct the Bank of China to issue new RMB to buy up U.S. dollars in the currency market. This bids up the value of the dollar relative to the RMB. Will China do this? That's exactly what its officials were signaling when they engineered the RMB to fall below the benchmark 7 RNB per dollar in early August, after President Trump threatened new tariffs on Chinese goods.
OK, why not direct our Central Bank, the Federal Reserve, to offset the Chinese action? It's not that simple. The president and his economic advisers cannot force the Federal Reserve chair to intervene in foreign exchange markets. Given that Fed Chair Jerome Powell adamantly denied the Fed's recent interest rate cut was at all related to political pressure, we suspect the Fed will not be responsive to the president's angry tweets on the matter.
The president could order the U.S. Department of Treasury to use its Exchange Stabilization Fund to intervene in the currency market. But the fund has only about $100 billion and can be increased only via congressional authorization. The amount of currency that changes hands in the world market is around $5 trillion every day. There is no way Treasury action alone could offset Chinese intervention. Alas, trade wars are not easy to win.•
__________
Bohanon and Curott are professors of economics at Ball State University. Send comments to ibjedit@ibj.com.
Please enable JavaScript to view this content.