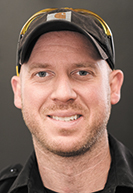 Supply-chain and labor issues have forced the owner of Indianapolis-based Trust Hardware to close two of his three stores—and he's facing a lawsuit from one of his landlords as a result.
Adam Taylor says he officially closed his north-side Binford Shoppes store, 5868 E. 71st St., on Nov. 3. His downtown store, at 911 Massachusetts Ave., closed a few weeks later. Taylor's remaining location, at 11135 Pendleton Pike in Lawrence, remains open.
Taylor's landlord on the north side, Binford Shoppes LLC, filed suit against Taylor and Trust Hardware-Binford LLC. on Nov. 12.
Taylor opened the Binford Shoppes store in October 2020. He had signed a five-year lease with Binford Shoppes, with three additional five-year renewal options after that. Under the terms of the agreement, which was filed along with the lawsuit, the rent was to be $6,161 per month in the first year.
In its complaint, the landlord said it filed suit against Trust Hardware after it failed to make its August, September and October payments, then vacated the store in early November.
Binford Shoppes said it had notified Trust Hardware on Sept. 27, that it would terminate the retailer's right to possess the property unless the past-due amounts were paid in full by 5 p.m. Oct. 1.
The tenant failed to make that deadline and negotiated an agreement under which it would pay $39,641 in rent, and cover the landlord's attorneys' fees and expenses, by the end of the year. Those payments were to be made in seven separate installments between Oct. 1 and Dec. 31.
Binford Shoppes says Trust Hardware failed to make its scheduled Nov. 3 payment of $4,000 and, on that day, the retailer's attorney notified the landlord that the store had decided to cease business operations.
Taylor told IBJ on Monday that he was forced to close the Binford store because supply-chain problems made inventory expensive and hard to secure, and workforce issues made it hard to hire enough people at competitive wages.
One of Trust Hardware's hallmarks is its 24-hour-per-day operating model, so the business needs employees to staff the store at all hours.
"There's only so much you can fight," Taylor said. "Everything kind of hit all at once."
Taylor closed the Mass Ave store for similar reasons. For now, he said, the Lawrence store is continuing to operate.
The Mass Ave store was Taylor's newest: It opened in April. The Lawrence store has been in operation since 2012.
The Lawrence location is doing better because it has an established customer base, Taylor said, and he's hopeful he can keep that store going. But low inventory levels made it tough for the two new stores to gain a foothold. "All stores take time to get going, even in good times."
Once the seasonally strong spring and summer seasons were over, Taylor said, it was no longer feasible to keep those two newer stores running.
The plaintiff is asking the court to enter a judgement against Trust Hardware in the amount of $381,478 for unpaid rent and other fees and expenses, plus a judgement against Taylor as the guarantor of the lease. The complainant also asks the court to award it possession of the store's inventory, equipment and fixtures as collateral.
Binford Shoppes is represented by Matthew Barr of the Indianapolis law firm Rubin and Levin P.C. Barr declined to comment on the case.
Please enable JavaScript to view this content.