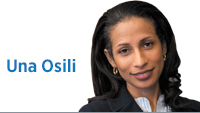 This past month, we marked the first anniversary of the Russian invasion of Ukraine. With its images of the incredible courage and the hardship of the Ukrainian people, the war has galvanized attention to respond to Europe's most significant humanitarian and refugee crisis since the Second World War.
Sadly, the war in Ukraine is not the only international humanitarian crisis with far-reaching implications.
Last month, the world also watched the devastating aftermath of massive earthquakes in southern and central Turkey and northern and western Syria, killing over 50,000 people. In addition to losing so many friends and family members, millions in the region have lost their homes and require food, shelter and medical assistance.
Both the Ukrainian and Turkish-Syrian crises have had ripple effects here in Indiana.
In the past year, it has been inspiring to see how the war in Ukraine has propelled the world to help through innovative, grassroots actions. Many funders and donors have responded to the humanitarian crisis, often working closely with local organizations and volunteers. Because of the complex political situation, potential donors have often had to be creative.
One innovative example of such giving was the thousands of people here in Indiana and around the world who rented out Ukrainian Airbnbs over the past year with no intention of visiting. Called the "pay don't stay" movement, this has been an effort to get money directly into the hands of local people.
In response to the recent Turkish and Syrian earthquakes, students at Indiana University set up a Go Fund Me account to raise money for this devastating crisis. In a few short weeks, more than $26,000 has been collected to support local relief efforts on the Turkey-Syrian border.
Still, no matter how generous the initial actions of many donors are, early indicators suggest that fundraising results might need to catch up to the mounting needs.
In addition, many observers are concerned that giving will slow as news coverage fades. Yet the ongoing humanitarian need will continue to be staggering—with mounting costs for the immediate and longer-term recovery.
As the international response to these devastating crises unfolds, it is possible to highlight new ways of giving and emerging areas of opportunity.
In a new report, Digital for Good, the Lilly Family School of Philanthropy explores how technology-enabled giving will likely shape the giving landscape for years to come.
Just as COVID-19 necessitated new forms of giving, contactless giving has emerged as an effective way to donate across borders in response to the invasion of Ukraine and the recovery efforts in Turkey and Syria.
Giving vehicles such as crowdfunding, round-up donation apps and integrated donation buttons allow donors to participate more efficiently in local and cross-border philanthropy.
For new ways of giving to grow, financial institutions are vital in ensuring that digital donations are safe, secure and efficient. Policymakers can assist in building an enabling environment for cross-border giving.
As a growing number of people generously donate money online, online crowdfunding platforms can also commit their efforts to transparency and verification of actions.
In times of crisis, we must support organizations with a track record in humanitarian relief and development. Speed and efficiency in transferring funds is not enough. We also need to connect donors to local organizations with the knowledge and deep expertise in communities.
Most of all, we can commit to supporting longer-term recovery after the news coverage wanes.•
__________
Osili is professor of economics and associate dean for research and international programs at Indiana University Lilly Family School of Philanthropy. Send comments to ibjedit@ibj.com.
Please enable JavaScript to view this content.