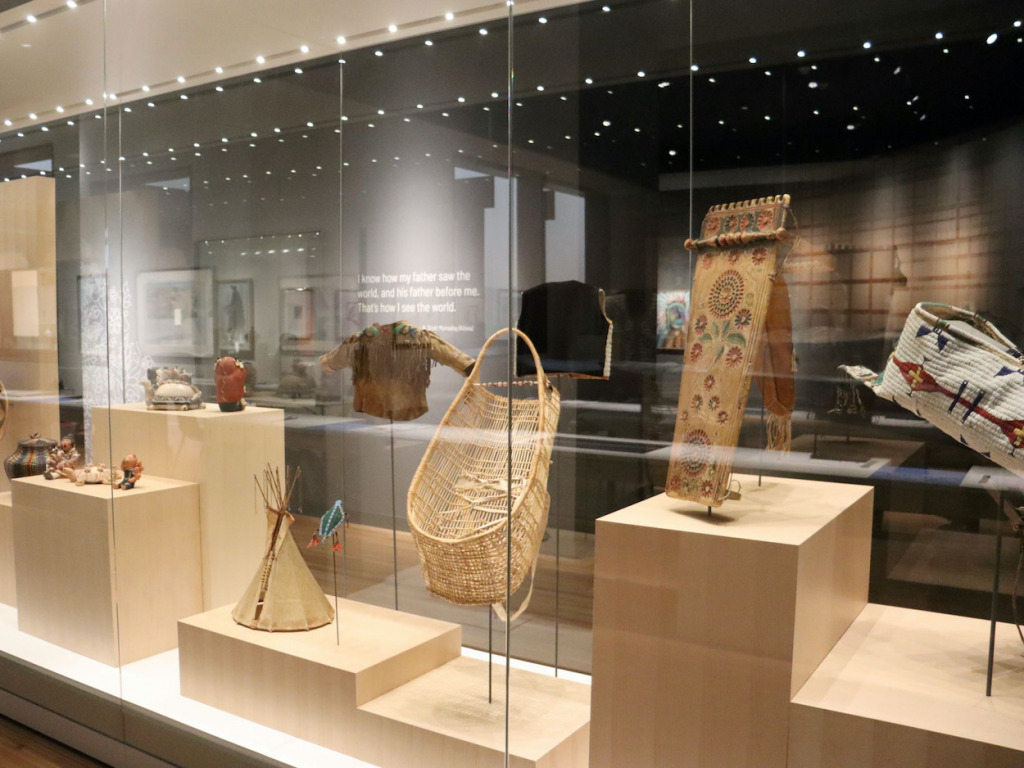 Artworks arranged by geographic region are out at the Eiteljorg Museum of American Indians and Western Art, where newly redesigned Native American Galleries instead focus on three themes: relation, continuation and innovation.
The $6 million upgrade of the museum's second floor exhibition space doesn't constrain examples of creativity to "wetlands," "plains" or "plateau." Visitors can use touch-screen digital hubs to learn more about Tyra Shackleford's "The Lady," a finger-woven shawl that extends 9 feet in length to pay tribute to Chickasaw women, or Geo Neptune's "Ceremony of the Singing Stars," a basket boasting an array of vibrant colors.
"The Lady" and "Ceremony of the Singing Stars" were created in 2017, when the pieces were showcased at the Eiteljorg's Indian Market and Festival and acquired for the museum's permanent collection.
Dorene Red Cloud, associate curator of Native American art at the museum, describes the revamped galleries as a "reinstall" of paintings, textiles, sculptures and jewelry.
"Hopefully, it will allow for a new appreciation for the diversity in Native art, both old and new and in between," Red Cloud said. "And also promote excitement about, 'Oh, I see this connection from this older piece to now. What's it going to be like in the future?' It's good to get people thinking that way."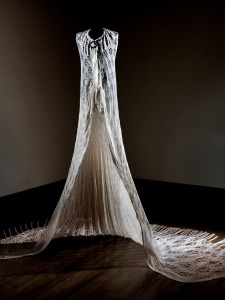 Text accompanying the present exhibition, "Expressions of Life: Native Art in North America," which opened with the revamped galleries on June 25, characterizes the past geographical format of displaying Native art as representing "the colonial gaze."
The relation, continuation and innovation themes "address commonalities in Native life and art."
It's also possible to interpret a chronological aspect to the themes. Relating to animals, plants and spiritual entities was part of Native life before Europeans arrived in North America.
Continuation connotes perseverance once Europeans colonized. "We Native peoples are still around," Red Cloud said. "You hear people say, 'Oh, there's no more Indians' or 'They're all gone.' We're still here."
And innovation can be inferred as Native artists creating on their own terms today.
Red Cloud, an enrolled member of the Oglala Sioux Tribe, said it's encouraging that organizations are ceding oversight of Native art exhibitions.
"You're going to see more and more museums and institutions turning to Native peoples to be the expert and authority on the art," she said.
Executing the first makeover of its Native American Galleries since the museum opened in 1989, the Eiteljorg is stepping into the 21st century with touch-screen digital hubs.
Canadian-based Origin Studios contributed to the design of the new-look galleries. Sarah Beam-Borg, director of business and project development at Origin, said the touch-screen stations allow the museum flexibility when updating descriptions of what's on display.
"The digital labels are tied into their collection management database," Beam-Borg said. "So that information can be updated once in the collection database and it appears here. But it also can appear online for outreach learning."
Please enable JavaScript to view this content.