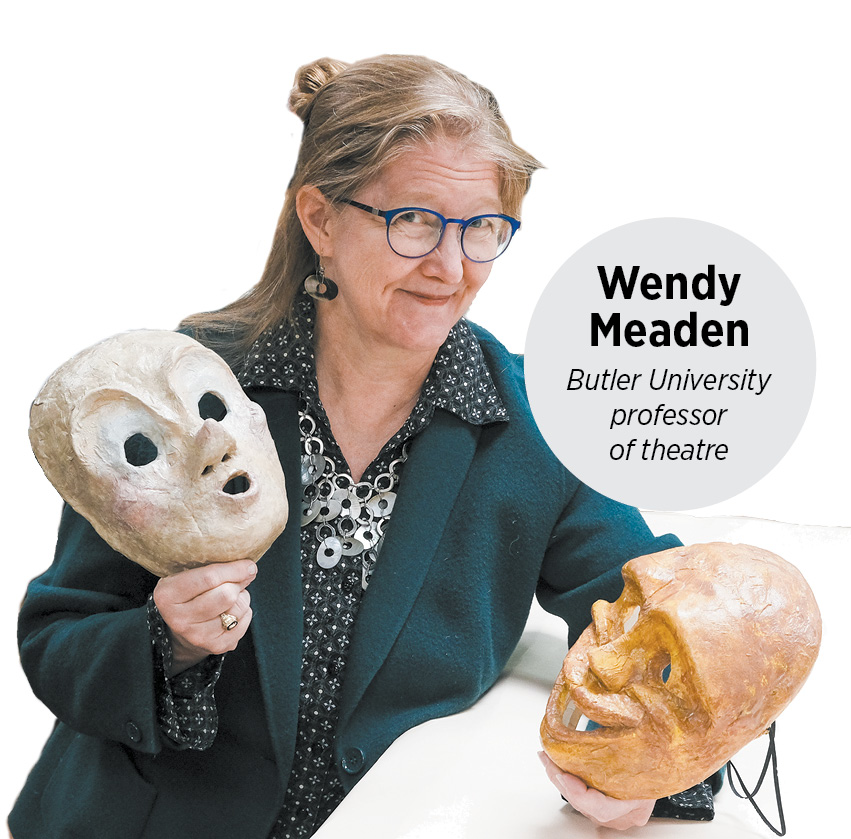 You might think of masks as kid stuff—something to wear on Halloween. But Wendy Meaden, a professor of theatre at Butler University, views them as powerful communication tools.
Meaden, 55, is a costume designer with a special interest in masks. Before joining Butler's faculty in 2000, she spent 10 seasons as lead draper and tailor at the Indiana Repertory Theatre. She's also done work for The Children's Museum of Indianapolis, Phoenix Theatre and numerous other entities, both in- and out-of-state.
She's currently working with former Indianapolis artist Michael Brown on a textbook, "Masks Inside Out," that's expected to publish late this year.
What intrigues you about masks?
The idea of transformation. In social masking, transformation allows people to wear a mask and commune with gods, nature, spirits, ancestors, but also to function in the society without people retaliating to them. There are some cultures where people wear masks during processes of judging people who've done wrongdoing. And then they can mete out punishment. And it's the mask—and the culture accepts that it is the mask—who is judging and meting out punishment, not other people.
What kind of research are you doing for your book?
A lot of the research is drawing on the resources that I teach the class from, which is existing scholarship. But I traveled last summer on a faculty fellowship and spent a month in Europe interviewing mask-makers, visiting different mask artists' workshops and seeing masked theater. I've done some traveling in the United States. And nowadays, we can do Zoom interviews (via videoconferencing), which is much less expensive and less time-consuming than travel. I've also been working with different companies and different individual artists to talk about what they do and why they do it.
Do you have a favorite play or production where you felt like masks were especially well used?
I think the work that (theater troupe) Familie Floez does in Germany is amazing. And Vamos Theatre Co. (in England) does some work right now that I really love. They're using full masks to create characters, but the work is all silent. So it's wordless mask work. And the topics that they're covering are things which people find difficult to discuss. …. They just did a piece on PTSD which was really, really powerful. They did another one on dementia, which was beautiful and sweet and lovely. It's called "Finding Joy."
Why are masks useful in productions that address tough subjects?
When we as an audience respond to things that are difficult, if we have a personal connection with another human, sometimes we put up barriers because we don't want to be hurt. But when we see a puppet or a mask, we think, "Oh, it's just a puppet or a mask. No big deal." And we'll listen and pay attention—because it's just a puppet or a mask, right? No big deal. It's just an inanimate object. And that's where we get drawn in to experiencing what's going on onstage, without putting up barriers.
So it's a degree of separation?
Mm-hmm. Sometimes the use of masks or puppets allows us to address issues that we would not be comfortable addressing with real people.•
Please enable JavaScript to view this content.