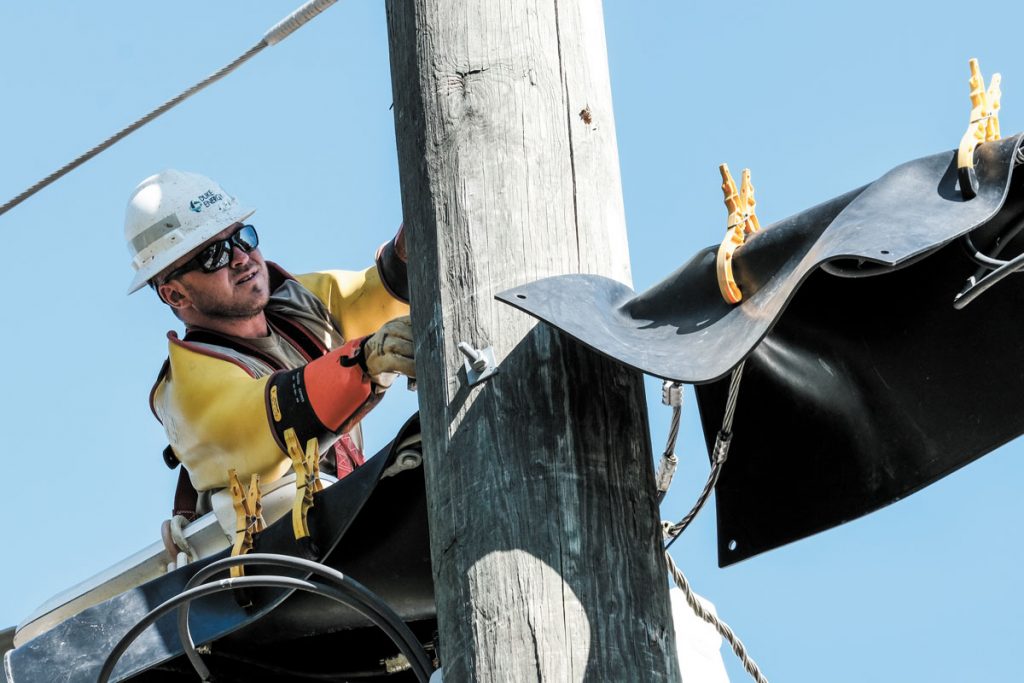 In a career spanning nearly 40 years, Glenn Watkins, a utility consultant based in Virginia, has analyzed hundreds of rate cases and provided expert testimony to regulators and courts in 23 states.
But when reading through a filing by Duke Energy Indiana in recent weeks, he grew puzzled in trying to understand the utility's request for a 15% increase in customer rates. Duke's exhibits and work papers, he said, were not documented, cross-referenced or linked in any way.
Watkins, president of suburban Richmond-based Technical Associates, was hired by the Indiana Office of Utility Consumer Counselor to analyze the case. He said he and his staff spent more than a month trying to understand, follow and verify Duke's forecasts.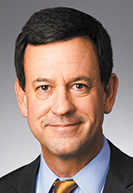 Frustrated, he wrote this to the Indiana Utility Regulatory Commission on Oct. 15: "I cannot verify, reconcile, or understand how Duke's revenues were derived or even if they are consistent with forecasts."
Another outside expert, Jonathan F. Wallach of Resource Insight Inc. in Boston ran into similar problems. Hired by consumer group Citizens Actions Coalition of Indiana, Wallach said he found that some of Duke's work papers in the rate case did not contain any formulas he could analyze—just tens of thousands of rows of data pasted in from a proprietary software model he could not verify. He said Duke could not explain how the model worked, or where to find supporting information.
"In my experience, I have never seen a rate filing that compares to this in terms of the unsupported, inadequate, unorganized and undocumented presentation of evidence," Wallach wrote to the IURC on Oct. 11.
Other key parties in the case—including huge customers Walmart Inc., Kroger Co. and Nucor Steel-Indiana, along with the OUCC and Citizens Action Coalition—have asked state regulators to order Duke to refile all its work papers and exhibits, with formulas and linked spreadsheets. The IURC has yet to rule on the motion.
It's been only three months since Duke filed the rate request. But already, the case is getting huge pushback from customers, environmentalists, consumer groups and outside utility experts.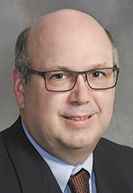 Many are accusing Duke, the state's largest electric utility, of making it difficult to examine key financial information, thus obstructing the normal give and take of the regulatory process. Some of them also say the rate increase seems unjustified and extraordinary.
The pushback could be a huge challenge for Duke, which says it needs to raise rates to improve the reliability of electric service, offset costs of generating cleaner energy and serve a growing customer base.
The company said the rate increase, if granted, would generate an additional $395 million in annual revenue, a significant boost. Last year, Duke Energy Indiana had operating revenue of $3.04 billion, up less than 1% from 2017.
If the utility receives state permission to increase rates, more than 800,000 customers could see their monthly bills jump—but by different amounts. A typical residential customer using 1,000 kilowatt hours a month could see a monthly increase of 20.4%, or about $23. A commercial business would see an average increase of 18%.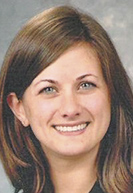 A heavy-industrial consumer, such as a steel mill, would see rates climb about 13%, while a light-industrial customer, such as a metal shop, would see an 18% increase.
'More than transparent'
In trying to make the case it needs the money, Duke Energy Indiana, which is part of Charlotte, North Carolina-based Duke Energy Corp., said it has turned over voluminous amounts of data to interested parties. And rather than obstructing the flow of information, the utility said it has responded to more than 80 sets of discovery requests, comprising more than 1,000 individual data sets. It said it has provided even more information through conference calls and emails, exceeding the state's rules in order to help outside parties.
"We feel we've been more than transparent, more than accommodating to the other parties," Stan Pinegar, Duke Energy Indiana's president, told IBJ. "We've got a lot of issues in this case. We understand that."
Utility rate cases are normally adversarial affairs, with lawyers on both sides taking testimony, examining witnesses and introducing evidence.

But in recent years, utility cases have grown even more complex, as regulators have granted "intervenor status" to a wider circle of interested parties, such as large customers, environmental groups and labor councils. That gives the intervenors the right to examine the company's filings and challenge any evidence.
Greg Ellis, who worked as an administrative law judge at the IURC for six years before joining the Indiana Chamber as vice president for energy and environmental policy, said the cases are growing more expensive as a result. And in the process, he said, many of the utilities' regulatory costs get rolled back into higher rates.
"A lot of these cases have gotten so complicated, with lots of lawyers all around," he said.
But some intervenors say they're playing a critical watchdog role in demanding utilities provide all relevant information to prove they need extra funds.
Citizens Action Coalition said it has been trying to dig into Duke's filings in this case but has been frustrated by inconsistent data or a lack of information. As one example, it said the residential connection charge and energy rates shown in one exhibit were different from those in a companion work paper.
"Generally speaking, it is messy, disorganized, riddled with errors, and essentially embodies the largest electric utility not putting forward enough organization and resources to make this case transparent or logical," said Jennifer Washburn, a Citizens Action Coalition attorney.
When asked about that by IBJ, Duke said that, due to a prior agreement with the parties, it filed multiple work papers under various methods.
"This was clearly delineated in our testimony," the company said in a statement. "In addition, we have pointed this out to the parties on at least two occasions."
'Serious deficiencies'
Citizens Action Coalition said certain parties began to uncover "serious deficiencies" in Duke's case in late August, or nearly two months after the utility filed its rate-increase request. In early September, it reached out to Duke for more information to show how it classified and allocated costs—a requirement in rate cases.
According to a rule published by the U.S. General Accounting Office in state utility matters: "To the extent a forward-looking test year employs a model, that model must be completely transparent, the assumptions fully explicit, and the results fully replicable by any party and by Commission staff."
Citizens Action Coalition said Duke's response—an offer to view the complete cost-of-service study, a critical submission, at Duke's Plainfield office—was unacceptable. In a motion filed Oct. 15, the coalition asked state regulators to order Duke to refile paperwork and supporting documents with links.
In response to complaints from outside experts that the cost-of-service study had no intact formulas, just voluminous amounts of data pasted in from another model, Duke said it used a "sophisticated proprietary model" to run the study, and provided the inputs and results to the parties in its initial filings.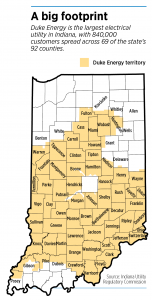 "We have made the model available on site and via Skype to the parties," the utility said in a statement. "We also created a replica cost of service study in Excel format so they could see the formulas and have agreed to perform cost of service model runs for them."
Other parties in the rate case, including Walmart, Kroger and Nucor Steel, did not return calls to IBJ, although they filed motions asking Duke to furnish more information.
Parties that have joined CAC's motion to have Duke provide more information are the Indiana Office of Utility Consumer Counselor, the Indiana Community Action Association, the Indiana Laborers District Council, the Sierra Club and the Environmental Working Group.
Duke said it has met all of Indiana's requirements in its filing, and has been timely in its responses. It said other parties overstepped their deadlines in challenging the company's information, because they were required to file challenges within 20 days of the filing, "yet they made their claims 105 days after the filing."
"Furthermore, we've taken additional steps to assist the parties, including the creation of data in different formats to try and accommodate their requests and have had multiple information conversations over the phone and in person with them," the utility said in a statement.
Pinegar, the utility's Indiana president, said the utility has attended three public-comment forums around the state to hear issues and engage with customers.
"I have complete confidence in this case," he said. "I'm satisfied with everything we have to do to be as transparent as possible."•
Please enable JavaScript to view this content.