To meet the water demands of a new innovation district planned for Boone County, state officials are exploring the idea of tapping into the aquifer along the Wabash River in Tippecanoe County, downstream of Lafayette.
Hydrologists and engineers say transporting as much as 100 million gallons of water a day through a 35-mile pipeline to support the manufacturing hub is feasible without hurting existing homeowners and businesses that rely on the water supply. But such a significant project would take years to complete and experts say the cost would be high.
"The local aquifer is highly productive and, because it is adjacent to the river, the impacts of additional pumping are less likely to affect existing water users," said Jack Wittman, principal geoscientist for Intera, a Texas-based engineering consulting firm that has been retained by the state of Indiana to identify potential water resources for the innovation district.
Wittman led a six-month study of central Indiana's water resources and their impacts on the ability to sustain economic development across the state. Commissioned by the Indiana Finance Authority, the Central Indiana Water Study concluded last year and found that while the region is well-positioned in the coming decades when it comes to water resources, some counties are better served than others.
Boone County is among those that have less water available for development.
That's important because the Indiana Economic Development Corp. has identified at least 7,000 acres in Boone County for a large-scale research and innovation park—not unlike the North Carolina Research Triangle—due to its location between Indianapolis and Purdue University and its proximity to Interstate 65.
The site, situated between Hazelrigg Road and State Road 32, has been dubbed the LEAP Lebanon Innovation and Research District, with LEAP short for Limitless Exploration/Advanced Pace.

The only named tenant so far for the district is Indianapolis-based pharmaceutical giant Eli Lilly and Co., which plans to invest $2.1 billion to build two manufacturing sites east of I-65 and north of Lebanon.
But large-scale manufacturing requires enormous amounts of water. In fact, as much as 12% of the public water supply in the United States is taken up by industrial and manufacturing businesses, according to the U.S. Environmental Protection Agency
"We have known for quite some time in Boone County that long-term water accessibility was going to be an issue," said Molly Whitehead, president of the Boone County Economic Development Corp. "Water will have to come outside Boone County to support this district, and the state has been exploring a variety of different options."
IEDC officials declined to say whether tapping into the Wabash aquifer was one of the options and it's not clear who would pay for the project. But the IEDC did say the LEAP district provides incentive for addressing the area's water needs.
"LEAP has a double benefit: driving future-focused innovation to the LEAP park and addressing an existing water-supply issue in the area," IEDC Executive Vice President David Rosenberg said in a statement to IBJ. "The water issue is complex and evolving, so it's too early to confirm specifics, but there are multiple options on the table."
Elected officials and residents in Boone County have said they are familiar with a state plan to bring water from the Wabash aquifer. But landowners have expressed frustration with a perceived lack of transparency from state officials.
Land grab
It was November of last year when attorneys from Indianapolis-based Cushman & Wakefield first approached Jim Love with an offer to buy his 200 acres of farmland northwest of Lebanon.
It wasn't the first time the third-generation farmer had been approached about selling his property, but he was struck by the caginess of the lawyers, who would say only that they were representing "a well-qualified client."
Love later discovered that his neighbors were also contacted about selling their land to a mysterious client. By March, the secret was out: The IEDC was surreptitiously snatching up property through a limited liability corporation with the goal of building a massive innovation park for high-tech companies.
Love and other residents concerned with the potential loss of farmland formed the Boone County Preservation Group, which stirred up enough attention that the IEDC agreed to meet privately with the organization, along with officials from Boone County and the city of Lebanon.
It was during that meeting that IEDC officials divulged the plan to take water from the Wabash aquifer to support the innovation district, according to several people who participated in the discussion.
"It sounded so freaking far-fetched," Love recalls.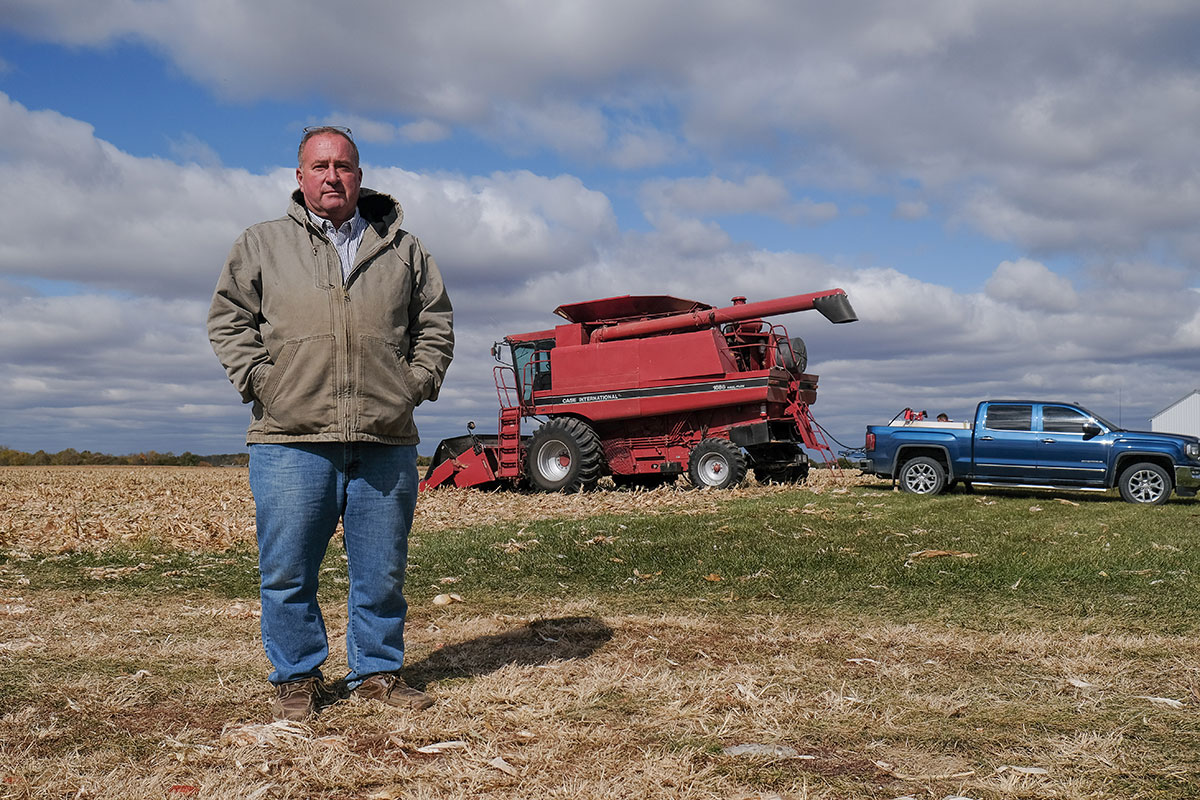 Boone County currently relies on multiple source points for its water. In the southeastern part of the county, Whitestown and Zionsville mostly rely on the White River basin, while Lebanon draws about 4 million to 5 million gallons of water a day from Sugar Creek to the north. Most of the county's rural residents rely on groundwater from wells.
Officials in Clinton County say they were approached by the IEDC last December about potentially tapping into the county's water supply, but test drills didn't produce enough water, said Kent Brewer, chairman of the Frankfort Utility Service Board.
That led the state to other options, including the Wabash pipeline. But because that would take years to complete, the state is seeking to bring in roughly 5 million to 10 million gallons of water a day from Citizens Energy to support the first phase of the LEAP development, which would include Lilly's planned manufacturing sites. A Citizens spokesman said the company is under a confidentiality agreement with the IEDC and can't comment about Boone County.
While there has been pushback from longtime Boone County residents about the overall project, local officials are excited about the possibilities.
Lebanon Mayor Matt Gentry, who previously served on the Indiana Water Infrastructure Taskforce, said the Wabash pipeline could eventually serve the water needs of the greater central Indiana region.
Once the water comes to Lebanon, it would be used by the future tenants of the LEAP district and Lebanon residents, Gentry said. It would then be treated and discharged into Eagle Creek Reservoir, allowing Indianapolis residents to reuse that water later.
"It's shifting water from the Wabash River basin to the White River basin," Gentry said. "That's part of the broader vision for this—to make sure Indianapolis has water going forward."
Lingering concerns
At more than 500 miles long, the Wabash River is the state's second-largest tributary, after the Ohio River. The Wabash flows from northeastern Indiana across the state, forming the border between Illinois and Indiana south of Terre Haute. It continues all the way to its terminus at the Ohio River, where Illinois, Indiana and Kentucky meet. Including its connected rivers and streams, the Wabash provides drinking water to nearly three out of four Indiana counties, according to suburban Washington, D.C.-based The Nature Conservancy.
Wittman, the water expert with Intera, said additional commercial, business and residential development in Boone County could be accommodated if water is pumped from Tippecanoe County, but that more data on groundwater levels and stream flows is needed to better monitor and manage the resource.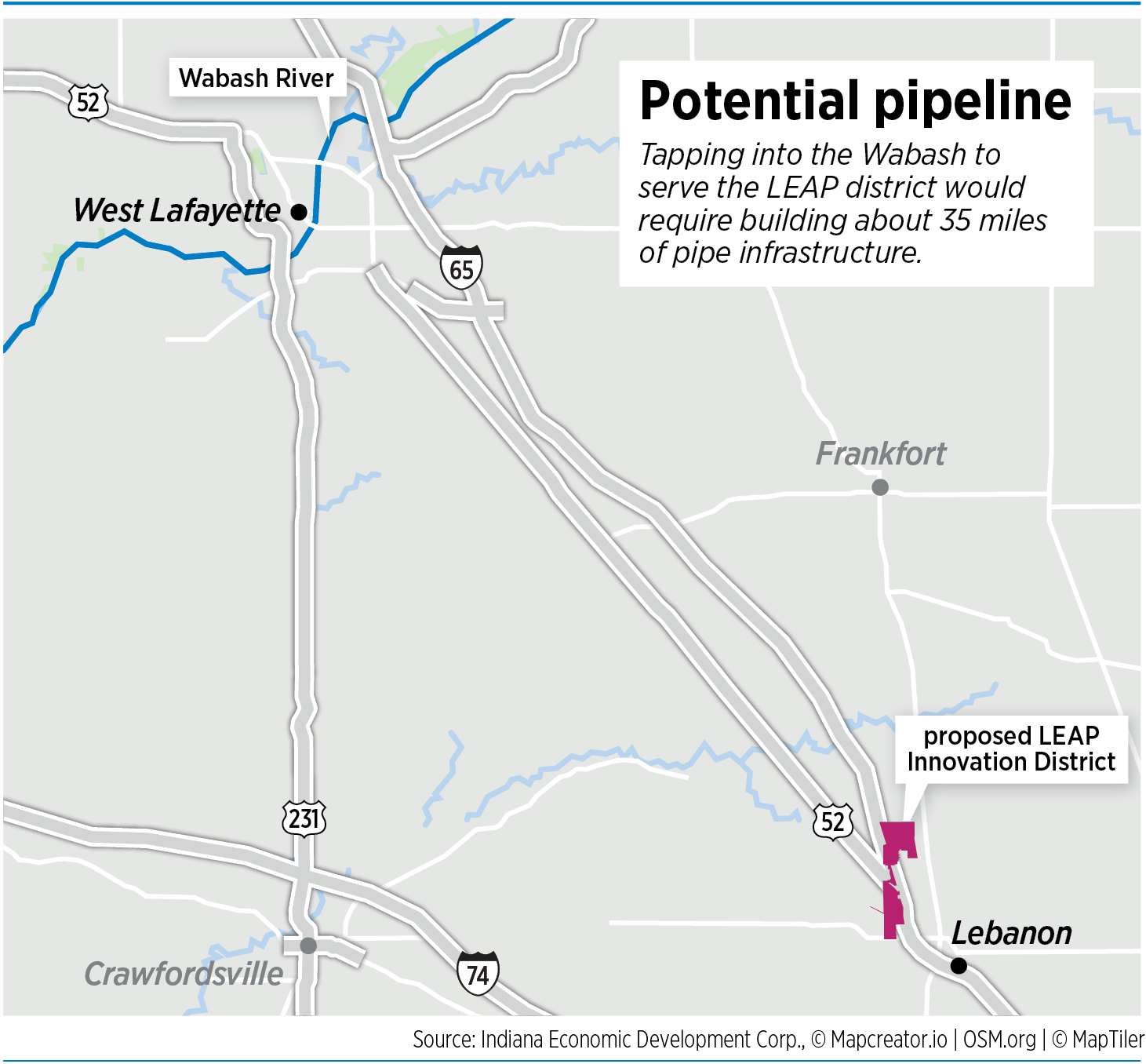 "In other states, thousands of monitoring wells are used to track seasonal changes in rivers and aquifers," Wittman said, adding that Indiana "has started on a new path" to water management that includes more real-time monitoring and pumping data.
Loring Nies, professor of civil engineering and environmental and ecological engineering at Purdue University, said piping water is feasible but not always the best solution. "We know how to move water around, but it's expensive," he said. "It's not the most economical way to do things."
He worries that the river would be more stressed during the low-flow months of September and October. And he said a water management plan should include conservation and reuse.
During a recent drive around the state, Nies noticed the Wabash, Sugar Creek and other tributaries were very low.
"If you have users taking serious water from the Wabash and not returning it to the Wabash, I would have serious concerns about that," Nies said.
"I would argue it would be far more effective to come up with water reuse plans than to think about building a water aquaduct from the Wabash down to Boone County."
He hopes planners and manufacturers involved in the LEAP district will come up with a plan to reuse and recycle water, he said, a practice not yet widespread in otherwise water-rich Indiana.
"A big development like this might be what it takes to get people thinking about it."•
Please enable JavaScript to view this content.