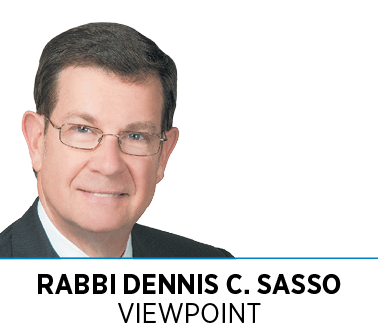 I believe each generation should examine previous assumptions, challenge earlier truth claims, confront the past. In doing so, we must recognize that collective identities are not of one piece. Nations, like persons, are living, complex entities.
Actors in history are seldom saints. The biblical account of the flood says: "Noah was a righteous man in his generation." A commentary notes: "In his generation" indicates the relative goodness of his character in a depraved generation. And yet, he becomes the ancestor of a new humanity. Ecclesiastes reminds us: "Surely, there is no one on earth who is (fully) righteous, who does (only) good and never sins" (7:20).
Iconoclasm, the tearing down of idols or venerated images, is a practice of ancient vintage. In antiquity, the Egyptians destroyed images of pharaohs with whose religious and political innovations successive monarchs disagreed. In the early 21st century, the Taliban blew up the sixth century statues of the Buddhas of Bamyan in Afghanistan because they deemed them to be offensive idols. On July 9, 1776, American patriots took down the statue of King George III in New York.
Public art speaks to people in different ways. As a Jew, I find the iconography of many medieval churches offensive. At the entrance of Notre Dame, as in many other European cathedrals, are two statues. One depicts Ecclesia, the Church, grand and proud, scepter in hand and crown on her head, often holding a globe of the earth to symbolize triumph and conquest. Opposite it is Synagoga, destitute, gaze downward, with a broken spear and tablets falling off her hands, blindfolded, representing the vanquished, blind Jews. The statues speak of a bygone age, a period for which the Catholic Church has repented and sought to rectify, as we continue to write new chapters of interfaith history.
What about the taking down of Confederate statues in 2020? Monuments that cause present anguish, that betray our democratic ideals, that celebrate racist ideas and the individuals who fought for them to undermine the Union, do not belong in the public square. They should be stored in museums as educational reminders of what America does not represent. Other statues, such as those of Washington, Jefferson and Roosevelt, represent individuals who achieved their rightful place in history despite human shortcomings, and merit thoughtful consideration.
This moment in America calls for a deliberate effort to acknowledge the historical record, atone for past racist abuses and heal our national conscience. We need to be intentional about what we stand for, whom we honor and what are the symbols that best speak to the values of our nation. The decision by the state of Mississippi to abandon the flag bearing the Confederate symbol is a much-delayed, but purposeful move in that direction. Influencing the decision-making process should be our motto: E Pluribus Unum—"Out of the many—One." We must be united in diversity, not separated by differences.
The past needs to be learned, owned and outgrown. We must confront the realities and the ghosts of our racist past. We need to acknowledge and repair the persistent issues of systemic racism. In doing so, let us not rush to hide all the evidence. Let us look at it straight in the face, and say to it, "Not Now and Never Again!"•
__________
Sasso is senior rabbi at Congregation Beth-El Zedeck.
Please enable JavaScript to view this content.