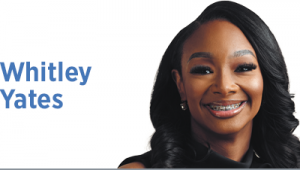 Diversity, equity and inclusion in all its glory has become one of the fastest-growing industries within the United States. We have witnessed the performative pledges, virtue signaling, and the most recent political appointment of Supreme Court Justice Ketanji Brown Jackson.
One could assume that America is becoming more open to the idea that diverse cultural representation is of value and creates a more successful society. In the political sphere, the liberal movement has spent decades rebranding itself as a beacon of inclusivity and diverse representation, while lambasting the Republican Party for being lily white. Any attempts from Republicans to appeal to diverse audiences have been lauded as merely performative or tokenism. This stark dichotomy begs the question: Who holds the power to validate or invalidate diversity initiatives?
There is a pervasive idea that having an elected representative from your own race or cultural group leads to economic progress for that community. Many believe the connectivity of a shared lived experience uniquely positions politicians of color to be able to effect substantive change. According to a 2020 Pew Research survey, many Black Americans perceive political representation as a catalyst for increased racial equality. This creates the perfect conditions for commodification. "Commodification" in this instance is the conversion of racial or cultural value into market value to be traded as a common good. Over the past 15 years, we have watched nontraditional items such as attention and outrage be commodified as political currency. We are watching as corporations, institutions and political players turn color and culture into a quota, ultimately reducing traits that once possessed intrinsic value into economic value. This reduction of identity to a visible physical characteristic ignores the many other aspects that represent the total complexity of who we are and, often, ignores what we can offer. Creating a consensus that diversity and inclusion can be valuable within the political sphere or corporate arena is only a portion of the work that must be done. Being cognizant of the difference between authentic initiatives and those that propagate racial capitalism is the key to effectiveness. To question intentionality is necessary; discerning whether the goal is to provide greater opportunity or to create better optics is also imperative. What results can be seen or felt that create a larger impact for everyone? A symbol of diversity without the substance to create change is futile.
When the Indiana Republican Party first announced my position and the Indiana Republican Diversity Leadership Series, many people wondered if we were playing into identity politics and going down the course of commodification for political benefit. Two years later, some of the largest skeptics have become supporters. We have connected with over a hundred diverse leaders across the state. We have witnessed our cohort build relationships, take on political leadership roles, and create new coalitions and minority scholarships to further education access. Their engagement and success are not siloed or directed by us; they are self-governed and propelled by their own propensity for change.
Many times, we become fixated on the visibility of difference without looking at the viability of dimensional depth. Ideas are overlooked to solely celebrate identity. You can have diversity programs to intentionally increase representation without leaving a group of people feeling misused. But understand that your intentions, execution and the results you produce will be the determining factors of true transformation.•
__________
Yates is director of diversity for the Indiana Republican Party, a political commentator and a law degree candidate. Send comments to ibjedit@ibj.com.

Click here for more Forefront columns.
Please enable JavaScript to view this content.