It's a brand-new disease, and scientists are scrambling to understand it. But this much is clear: COVID-19 is not showing much mercy to seniors, or to people with high blood pressure, diabetes and other chronic conditions.
And that could be troublesome for Indiana, a state not generally known for a young, healthy population.
As Indiana moves forward with reopening stores, restaurants and offices, certain Hoosiers will face higher risk of infection, hospitalization and death, based on early data gathered by the Indiana State Department of Health, local hospital systems and health-research institutions.
By age group, it's senior citizens. People 70 and older account for nearly three-fourths of all COVID-19 deaths in Indiana, while people under 40 account for barely 1%.
By race, it's African Americans. Black Hoosiers make up less than 10% of Indiana's population, but account for nearly 17% of deaths.
---
Patients under age 40
account for only 1.2%
of Indiana deaths
from COVID-19.

---
And by general health, it's people suffering from a variety of chronic conditions. People with high blood pressure represent just 9% of cases in Indiana, but account for 24% of the state's intensive-care cases. Likewise, diabetes, chronic obstructive pulmonary disease, kidney disease and congestive heart failure can triple the likelihood that a person who tests positive for the disease will need an ICU bed.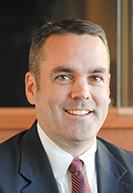 "A lot of times, these things kind of go together like bad actors," said Dr. Patrick McGill, chief analytics officer at Community Health Network. "So you see diabetes, obesity, high blood pressure, all these things run together. Usually, if you have one, you have the other two. And that doesn't help when you're fighting a tough virus."
Indiana is battling an outsized share of cases and deaths from the disease. It ranks 13th in the nation for deaths per capita (19 per 100,000) and 14th for cases per capita (329 per 100,000), according to Centers for Disease Control and Prevention data anlyzed by The Washington Post.
Other states are digging deep, too, in an effort to understand who is most at risk from a disease that has already claimed more than 70,000 lives in the United States, including more than 1,300 in Indiana.
A recent study of thousands of hospitalized coronavirus patients in the New York City area found nearly all had at least one major chronic health condition. Nearly 90% had two. Only 6% had no underlying health conditions.
Health challenges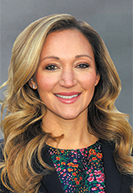 On that score, Indiana could face an uphill battle in beating the disease. The state has an outsized reputation for being unhealthy, ranking 10th in the nation for smoking and 12th for obesity, according to America's Health Rankings, issued annually by United Health Foundation. Indiana also ranks high for diabetes, high blood pressure and other high-risk factors for COVID-19.
Across central Indiana, doctors and researchers say they are hesitant to draw conclusions based on preliminary data. But they point to the pattern that has shown most people who get infected will have only light symptoms and not need hospital care.
"A majority of individuals with COVID-19 have mild symptoms and should monitor them and contact their health care provider if symptoms worsen, especially wheezing or shortness of breath," says a fact sheet on the Indiana State Department of Health website. "Individuals who do not need to be hospitalized can self-isolate at home."
The U.S. Centers for Disease Control and Prevention agrees.
But the bad news is, those who get sick enough to land in the ICU with a ventilator can face tough odds of recovering. Those who do recover and go home might have to deal with a range of side effects, from kidney damage to strokes.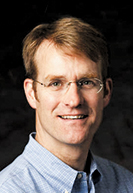 "Some people recover and are doing great. Other people have some long-lasting problems," said Dr. Lindsay Weaver, an emergency physician at Methodist Hospital and chief medical officer for the state health department. "These are all things we're trying to follow over time."
Other doctors put it even more bluntly. Patients who are sick enough to require a ventilator, said Christopher Doehring, vice president of medical affairs at Franciscan Health Indianapolis, have a high risk of taking a turn for the worse.
"Once you are really sick, all bets are off," he said.
Delving into demographics
In recent weeks, the state health department has begun including demographic breakdowns on its coronavirus dashboard. By scrolling through the dashboard day after day, you can get a sense of who is suffering most from the virus, by age, race and gender.
As of figures reported May 4, men are more likely than women in Indiana to die from the disease (53.5% compared with 44.6%), but health officials say it's unclear why.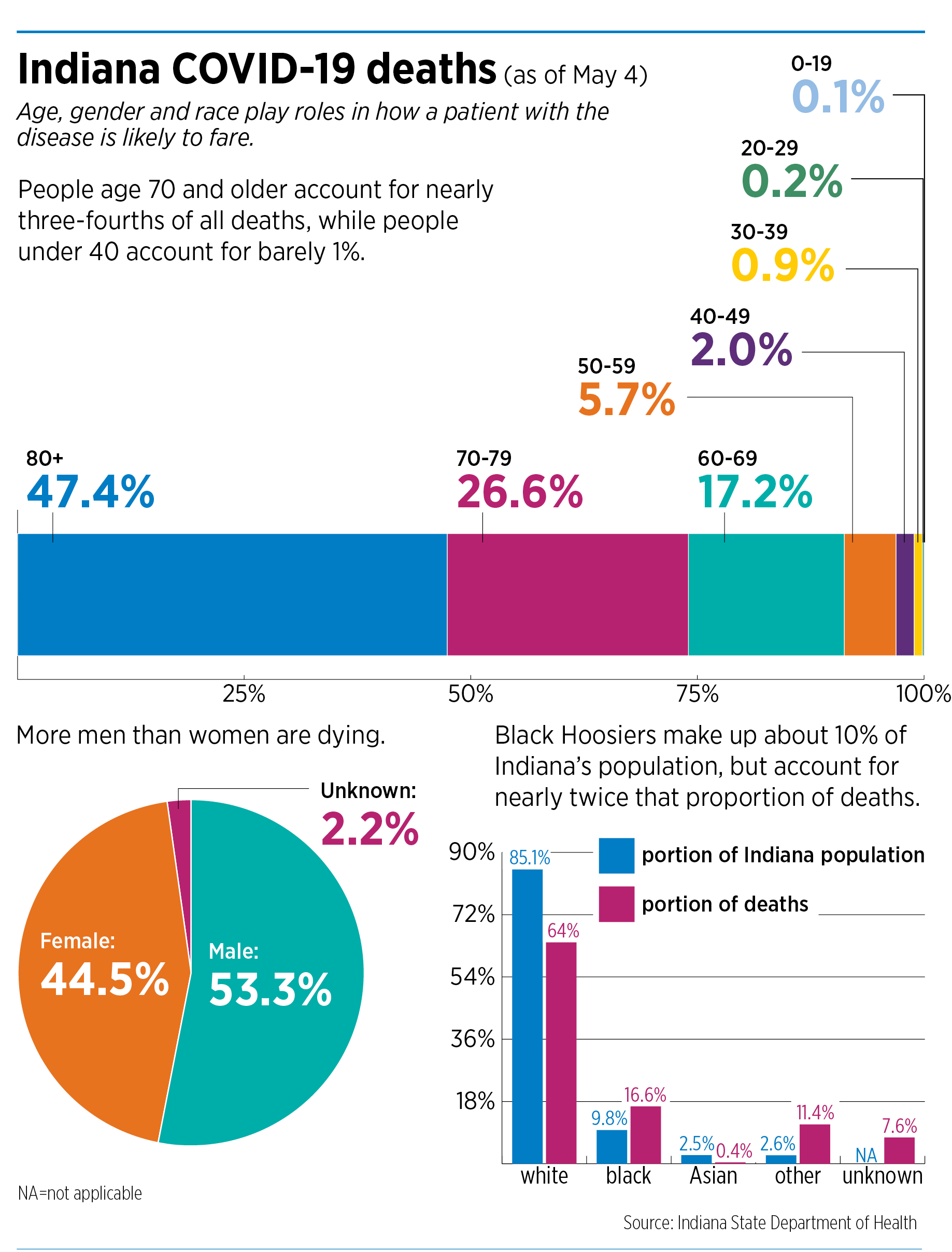 The age disparity is also unmistakable. At some hospital systems, such as Indiana University Health, patients with COVID-19 over the age of 60 accounted for 90% of deaths.
"I don't really know any other disease that impacts the elderly like that," said Dr. Jonathan Gottlieb, chief medical officer at Indiana University Health. "I've been a critical care doctor for a long time. And age is not in your favor with disease [in general]. But this is pretty striking."
Of all races, blacks have the highest percentage of deaths: 16.1%, although they make up just 9.8% of Indiana's population. State health officials said the disparity mirrors other health metrics that are known to be significant risk factors for deaths, including diabetes and heart disease.
Black residents are also more likely to have jobs in health care, transportation, food supply and human services—all industries that have been deemed essential and don't allow remote-work options, the African American Legacy Fund of Indianapolis said in a statement last month about the new numbers.
"They risk more public exposure, even with the mandated stay-at-home orders," the legacy fund said. "Black residents must travel to jobs in nursing homes or manufacturing and often have to travel outside of their neighborhoods to get essential items. This current public health emergency has unmasked massive historical injustices in our populations, the impact of residential segregation and the entrenched disinvestment in our communities."
Gathering research
Indiana has not yet broken down COVID-19 data by health condition. But Regenstrief Institute, a medical-research organization based in Indianapolis, has published a detailed breakdown by about a dozen health conditions, from kidney disease to cancer.
The Regenstrief information, pulled from numerous databases, including local hospitals and the Indiana Health Information Exchange, shows that certain underlying medical conditions can double or triple a person's chance of needing intensive care after testing positive for COVID-19. At the top of the list are hypertension, diabetes and chronic obstructive pulmonary disease, or COPD.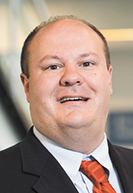 Regenstrief, along with the Fairbanks School of Public Health at IUPUI, is now trying to build a more intensive database to understand who is most vulnerable.
Earlier this month, the two organizations launched an international survey, using the Microsoft News platform, asking people who have had symptoms to describe how they were faring. So far, more than 70,000 people have responded, including about 20,000 from Japan.
Later this month, researchers will begin analyzing the responses, breaking them down by ZIP code, general health conditions and demography.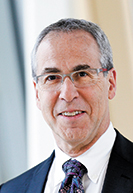 "We hope we can start to monitor patterns and keep an eye on those patterns just the same way we're keeping an eye on the new cases that are reported in the state's website and the hospitalizations that are being reported on Regenstrief's website," said Brian Dixon, director of public health informatics for the two organizations.
But for now, researchers have only a broad outline of how the virus behaves and who is most vulnerable. Compare that with the flu, which has been studied for more than a century, yielding reams of data from which to draw conclusions.
"We've been studying the flu for decades, and so we know how many people have come in contact with it. And when you see a mutation each year, you can adjust for that mutation," said McGill of Community Health. "We don't have all that background with coronavirus. And so we're trying to learn—as we're trying to gather this epidemiology data, we're trying to build testing capabilities. We're trying to do all of this at once.
"And that's why, I think, it's so difficult to give definitive answers."•
Please enable JavaScript to view this content.