The downtown location of Scotty's Brewhouse apparently is too big for the amount of traffic the restaurant generates.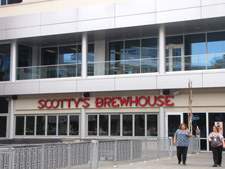 Founder Scott Wise is searching for a tenant to sublease about 2,500 square feet within the existing 12,000-square-foot space at 1 Virginia Ave. a block north of Bankers Life Fieldhouse.

Wise recently tweeted that the space is available, which he says in marketing materials would be "great" for a bagel or sandwich shop, or convenience or cupcake store.

The space Wise would relinquish runs from the west wall to where the U-shaped bar is located. He said the bar would be dismantled in favor of a longer, straight configuration to accommodate another tenant.

"There's just a lot of space that's not being used smartly," Wise said.

Wise, who operates six Scotty's Brewhouse locations in Indiana, said the size of his restaurants typically range from 8,000 to 10,000 square feet. He opted for more space downtown because he thought traffic would be greater.

The location draws a large lunch crowd, he said, but many evenings are slow without the support of an Indiana Pacers game or downtown convention.

"I thought that the bigger I could make my restaurants, the more money I could make," Wise said. "And that's a stupid proposition to make."

His smallest restaurant, in Mishawaka, is only 7,000 square feet but is more profitable than his other locations, Wise said, because he's able to maximize his space.

Wise's landlord downtown is Allen Commercial Group, which owns the building known as Allen Plaza. Scotty's Brewhouse opened there in 2009.

Wise also owns Thr3e Wise Men Brewing Co. in Broad Ripple.