It appears the historic Buggs Temple won't stay unoccupied for long, after tenants Creation Cafe and Euphoria Events abruptly closed their doors Tuesday.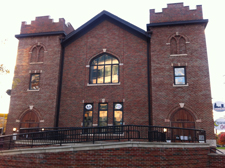 One of the city's largest caterers, Thomas Caterers of Distinction Inc., has agreed to lease both levels while it pursues a purchase of the two-story building, owner Kelly Early said Wednesday.

"Our plan is to gut it out and just make it an open event space so people can come in and do whatever they want," she said. "Hopefully, not too much needs to be done."

Early's mother, Susan Thomas-Crannell, founded Thomas Caterers in 1984. With $4.7 million in revenue last year, the company has grown to become the city's third-largest caterer, trailing only Kahn's Catering and Ritz Charles, according to IBJ statistics.

Thomas Caterers' kitchen and offices are located at 4440 N. Keystone Ave. It operates an events facility, D'amore, on the top floor of Chase Tower, and has the food contract at the Scottish Rite Cathedral.

With the Buggs Temple, Early is shooting for a studio-warehouse look to give clients an option that falls between the gothic-style Scottish Rite and the modern-looking Chase space.

Early hopes to open in the spring.

"The fact that it has outside event space and is along the [Central] Canal makes it a wonderful events facility," she said.

A representative of the building's owner said that the five-year lease for Creation Cafe and Euphoria Events expired Oct. 20, and the two sides were too far apart in negotiating a new agreement.

Creation Cafe co-owners Lynn Shepherd and Amy Hornsby posted a note on the restaurant's website, indicating they are searching for a new location to reopen the restaurant.

Buggs Temple, built in 1918 at 337 W. 11th St., underwent a $3.5 million renovation that dragged from late 2003 to 2007. When the building reopened, the downstairs eatery was known as the Grille at Buggs Temple and the upstairs restaurant was called Tavern at the Temple. Creation Cafe and Euphoria replaced those tenants in 2009.