The $5 million redevelopment of Historic Central State on the city's west side is nearing its first milestone, as work on the project's centerpiece nears completion.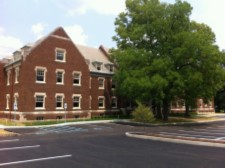 Reverie Estates is redeveloping four buildings on the 115 acres along West Washington Street with the help of a $3 million loan from the Local Initiatives Support Corp.

Reverie is converting the administration building, now known as the Central State Mansion, into 67 dormitory-type rooms for student housing. It welcomed its first tenant late last month, Reverie President Chris Piazza said.

Monthly rental rates range from $375 to $425.

"We're getting a ton of traffic and the response has been wonderful," he said.

Reverie tried to recapture as much as possible the essence of the 1938 building, which anchors the redevelopment. Chairs in the study came from an old library in St. Louis, for instance, and the seats in the movie room from an old theater in Ohio.

"What always impresses me about Chris' work is that he doesn't throw anything away," LISC Executive Director Bill Taft said.

Piazza hopes to attract a brewery to occupy the kitchen and dining building. Other plans call for an event center, and office and industrial space.

The Christel House Academy West charter school is set to open on the property this month. And a senior-housing project by Pedcor Cos. off Warman Avenue to the east should be finished by the end of the year. It follows Pedcor's The Steeples on Washington, a 144-unit affordable-rate apartment complex, built in 2011.

The city of Indianapolis owned the land and sold or donated pieces of it, while investing in infrastructure improvements and granting a tax abatement for development.