HANGZHOU, China—Americans in China don't have to travel far to find a familiar face—that of Col. Harlan Sanders, the iconic founder of KFC.
It's not exactly the face we know. Louisville-based Yum! Brands, which owns KFC, Pizza Hut and Taco Bell, has given him Asian features. He looks like Confusius dressed in a white suit and string tie, as one news story on the chain's phenomenal success here put it.
In 1987, KFC became the first fast-food chain to enter mainland China, and it's never looked back. The chain has more than 3,200 locations in the country, including 350 in Shanghai alone.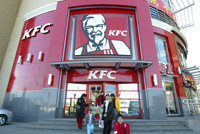 Yum—which also operates 800 Pizza Huts here—now makes more money in China than it does from its 20,000 U.S. restaurants. And it's not finished yet. In 2010, it added almost one KFC a day in China.
McDonalds's is here as well, but on a far smaller scale. Two KFCs sit within walking distance of our hotel—both cavernous locations that were packed when I stopped for a visit. Finding a McDonald's takes a longer stroll.
"Their food is not as great as KFC's," said Zhang Xu, a 24-year-old graduate student in language translation at Zhejiang University here. "McDonald's sells a lot of beef. We like chicken."
But KFC's success goes deeper than differences in the Chinese palate. The chain has prospered partly because it didn't just transplant the look and feel of U.S. restaurants to China.
The differences start with the menu, which includes such items as rice porridge, bamboo shoots and spicy tofu chicken.
"A strategy that works well in a stable and mature market economy would most likely not work well in China, given the diversity of its people, geography, the heritage of a rich and complex culture, and a rapidly and continuously changing business environment since China's economic reforms commenced in 1978," Warren Liu, a former executive with Yum's predecessor company, wrote in his book "KFC in China: Secret Recipe for Success."
The company succeeded in China after initially stumbling in Hong Kong, where it quickly opened and closed 11 restaurants in the mid-1970s. When it came back a decade later, it relied heavily on local investors with local expertise.
"Once they made the investment in some really local management talent, they've done extremely well," said Benjamin Shobert, an Indianapolis consultant who is part of our contingent of IU professors, Hoosier entrepreneurs and journalists visiting China this week.
But not everyone is swept up in KFC mania. Zhang, the graduate student, said he stays away.
"I used to go there when I was a high school student. But later, I read scary articles about how bad they were to health," he said.
Please enable JavaScript to view this content.