Anthem Blue Cross and Blue Shield of Indiana is doling out $3.1 million to Indianapolis-area doctors—its first payments
based on a local quality measuring system.
The state's largest health insurer made its payments contingent
on primary care doctors' scores on quality reports generated by Quality Health First, a program of the Indiana Health
Information Exchange in Indianapolis.
The payouts, which averaged $3,730 for the 831 participating doctors, are
a big milestone for Anthem. In recent years, it has resisted boosting its payments to doctors unless they agreed to tie the
extra compensation to their performance on quality measures.
In fact, health insurance plans around the country,
even the federal Medicare program, are pushing doctors to make at least some of their pay dependent on measures of quality.
And doctors are taking notice.

Lee
"The interest in the program has dramatically increased," said Dr. David Lee, vice president
of health care management for Anthem, which is a subsidiary of Indianapolis-based WellPoint Inc. Anthem started to count physicians'
scores toward the bonuses in October 2008.
The payouts are also a milestone for Quality Health First, which has
an ambitious goal of reaching doctors statewide by the end of the first quarter 2010.
Quality Health First, which
recently added UnitedHealthcare as its second insurer participant, is trying to establish itself as a preferred alternative
for doctors in contrast to the pay-for-performance programs run individually by health insurers.
Those programs
"have credibility issues with physicians," said Dr. Greg Larkin, chief medical officer at the Indiana Health Information
Exchange, which oversees the Quality Health First program.
But Quality Health First allows doctors to correct
errors in its reports before they're submitted to Anthem. Local doctors, who have been receiving reports since the beginning
of the year, like that feature.
"They're actually working with the doctors to make sure that quality
is improved, not just that it's punitive," said Dr. Louis Winternheimer, medical director of the Raphael Health
Center in Indianapolis. "From my point of view, that is a huge plus."
The quality reports score doctors
in 26 areas, such as the percentage of their diabetic patients who are getting their blood sugar checked regularly, or the
percentage of a doctor's patients over 50 who have had a colonoscopy.
Anthem graded physicians on only
10 of those areas. For instance, it is not yet grading doctors for how healthy their patients are because structuring bonus
payments on such measures is highly complicated.
The money is nice
Anthem assessed
its first grades in July and, depending on how the doctors scored, is now paying them an extra 1 percent to 10 percent when
they see Anthem patients.
All doctors in the program got bonuses this first year, though the best performers
got the largest amounts. Lee said that eventually Anthem will not pay bonuses to the lowest performers.
St. Francis
Medical Group in Indianapolis scored in the 50th percentile on the Quality Health First reports, making it eligible to receive
a bonus of 5 percent on office visits by Anthem patients next year.

Loomis
Dr. Glenn Loomis, president of the medical group, said the Quality Health First reports help
give him a clearer picture of the actual performance of his 55 doctors. And he lauded Anthem's payments for beginning
to shift the rules in favor of quality, instead of just paying doctors based on the volume of patients they see and procedures
they do.
"Like any industry, people in health care are very smart, and they learn to maximize their reimbursement
depending on what the rules are at a given time," he said.
Indianapolis-based American Health Network has
yet to receive performance-based pay from Anthem. Its doctors are among about 270 that Anthe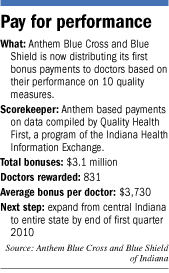 m is paying a
2.5-percent bonus just to participate. They later will switch to performance-based
bonuses.
The program is time-consuming, said the network's CEO,
Dr. Ben Park, because the first reports from Quality Health First were about 70 percent wrong. But
as the network's doctors corrected the reports, later versions have gotten better and better.
Park said money is the motivating factor to participate. Indiana primary-care
doctors earn, on average, about $165,000 a year. So the top performers could bring
in an extra $16,000.
"That's nice. It's enough to get people to participate,"
Park said, although he estimates it costs about $10,000 for each of his doctors to do the extra reporting
required for these pay-for-performance programs.
As other insurers like UnitedHealthcare come aboard, the bonuses
could get even larger. Some of Park's doctors also have received bonus payments from a similar program run by the federal
Medicare program.
Anthem is also offering another 2 percent in payments if physicians prescribe cheaper generic
drugs as often as they can, or perform well on other cost-saving measures.
So, conceivably, a doctor could receive
a bonus of 12 percent of his pay. The results so far are much more modest. The average $3,730 payouts represent about 2 percent
of each doctor's pay.
Making a difference?

It's too early
to tell whether Quality Health First can bring a big improvement in the quality of care in Indiana and make a big dent in
the cost.
The performance of similar programs around the country can give some clue.
Nearly half
of 26 pay-for-performance programs surveyed last month said the quality scores were improving. The survey, conducted by San
Francisco software firm MedVantage Inc., measured 26 programs aimed at hospitals.
Clinical quality also has improved
in the nation's largest program, operated in California by the Integrated Healthcare Association. It includes 35,000
doctors and eight health insurers, including another WellPoint subsidiary called Anthem Blue Cross.
But according
to a self-evaluation released by the association in July, those improvements have been marginal at best compared with national
norms, prompting health insurers to threaten to decrease the size of their incentive payments.
Those payments
represented only about 2 percent of physician revenue, anyway, and participating doctors have said the payments need to reach
about 5 percent to prompt significant change.
"While overall results are encouraging, they do not demonstrate
widespread breakthroughs or improvements," the report stated. "Therefore, health plans are questioning their return
on investment for incentive payments."
Anthem's Lee said the pay-for-performance linked to Quality
Health First is only one part in a far broader effort to reform how doctors and hospitals are paid.
"I
believe that reimbursement reform is the heart of the solution to reforming our health care system," he said. "Quality
Health First is one step to reimbursing physicians and ultimately hospitals based on the clinical outcomes that they obtain."•
Please enable JavaScript to view this content.